Sponsored by Greythorne by Crystal Smith, published by Houghton Mifflin Harcourt.
Brimming with deliciously mysterious magic, political intrigue, and a passionate heroine who will do anything to save the ones she loves—this highly anticipated sequel to Bloodleaf, praised as "enchanting, visceral, and twisty" by Laura Sebastian, won't disappoint.
Hey YA Readers!
Find your biweekly roundup of excellent YA ebook deals below. It's a long holiday weekend here in the US, so you won't be getting your regular Monday newsletter. Instead, I encourage you to grab a book or two here and spend the time you'd read the newsletter dipping into a great book.
Deals are current as of Friday, September 4. As always, a new month means many new deals, so this is going to be pretty epic!
Frankly In Love by David Yoon is $2.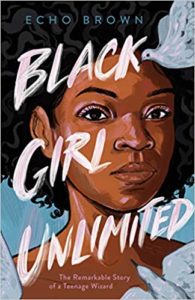 Echo Brown's incredible and moving Black Girl Unlimited is $3.
Have you read Hearts Unbroken by Cynthia Leitich Smith? For $1, you have no reason not to.
My own anthology (Don't) Call Me Crazy: 33 Voices Start the Conversation About Mental Health is still on sale for $2.
Light It Up by Kekla Magoon is $3, and it's going to be on my ereader very soon.
Still looking to upgrade your anti-racism? This Book Is Anti-Racist by Tiffany Jewell is $3.
Cult books your jam? The Liar's Daughter by Megan Cooley Peterson is $2.
Thought it's not technically YA, Silvia Moreno-Garcia's Signal to Noise has incredible crossover appeal and it's on sale for $!.
Need fantasy in your life? East by Edith Pattou is $3.
Haven't read Dear Martin or need a refresher before the sequel comes out? Grab it for $2!
One of my all-time favorite books is also $2. Grab We Are Okay by Nina LaCour!
Love a good sports book? Here To Stay by Sara Farizan is $2.
Get even more of your fantasy fix with The Kingdom by Jess Rothenberg for $3.
Spontaneous by Aaron Starmer — becoming a Netflix adaptation soon — is on sale for $3.
Last, but not least, stock up on some Jacqueline Woodson books, including brown girl dreaming, If You Come Softly, and Harbor Me are all $3.
---
Have a great weekend, and I'll see you again on Thursday.
— Kelly Jensen, @heykellyjensen on Instagram and editor of Body Talk, (Don't) Call Me Crazy, and Here We Are.