Sponsored by Vault Comics and #1 New York Times Bestselling author Brandon Sanderson's new, original hardcover graphic novel DARK ONE!
From Brandon Sanderson comes Dark One, the first in a series of original graphic novels, from Vault Comics. Order now!
Some worlds are made to be broken. Paul Tanasin is a young man haunted by visions of a dark and fantastic world―visions he initially believes are hallucinations. But when he discovers they are prophecies from Mirandus, a world in which he's destined to become a fearsome destroyer, he'll have to embrace the fear, rise up as the Dark One, and shatter everything. Dark One examines the dual roles we often take on in life—the ability to be a savior as well as a destroyer.
Happy Friday, shipmates! We made it through another week! August has been consigned to the dustbin of history, and good riddance (unless your August didn't suck, in which case, please do not let me toss it away). It's Alex, with some news—a LOT happened this week, wow–and a very abbreviated glance at some Afrofuturist books, since that's a topic way too broad to truly handle in one little newsletter. Take care and stay safe!
Looking for non-book things you can do to help in the quest for justice? blacklivesmatter.card.co and The Okra Project.
News and Views
Octavia Butler finally hit the NYT bestseller list (for the week of August 29). The snip in the tweet is from the Paperback Trade Fiction list, with Parable of the Sower at number 14. For more on her work, there's a great Book Riot post to get you started.
The Three Body Problem is being adapted for a Netflix series. Here's a New Yorker profile of Cixin Liu from 2019.
Star Trek: Discovery has announced more of its season 3 cast, which includes a nonbinary actor and a trans man actor.
FIYAHCon invites you to enjoy all of its Friday programming for free.
John Boyega did an excellent and absolutely unflinching interview with GQ Magazine that is a must read. No, really. Go read it. Right now. I'll wait.
New short story from Tochi Onyebuchi: How to Pay Reparations: A Documentary
Strange Horizons just published its 20th birthday issue.
New Zen Cho novel on the horizon!!
Ryan Coogler writes about Chadwick Boseman. Marvel put together an incredibly touching tribute to him. Letitia Wright wrote a beautiful poem.
As an aside, this is a cool article about the evolution of the Dora Milaje from comics to how they were seen in Black Panther.
Per KJ Charles, you've only got a limited time left to snag Samit Basu's amazing novel Chosen Spirits.
On Book Riot
How The Hunger Games prequel helped me realize I've changed
10 of the best urban fantasy series to read
This month, you can enter to win $50 to spend at your favorite indie bookstore and a free 1-year audible subscription.
Free Association Friday: Afrofuturism Spotlight
In honor of Chadwick Boseman's most famous role (though did you know he was also an award-winning playwright before he broke out as an actor?) I wanted to put the spotlight on Afrofuturism, since Black Panther is arguably what put a much older (though the term itself originated in 1994) literary movement into the broader [white] cultural spotlight.
(Also as a note, Nnedi Okorafor draws a distinction between Afrofuturism and Africanfuturism, which is why her books aren't going to be in this FAF. I'm also not educated enough to go further into the academic discussion.)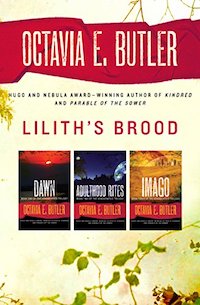 Lilith's Brood by Octavia Butler – This is a compendium of the entire Xenogenesis trilogy, which was actually my introduction to Butler's work (and left me actually angy that I hadn't known to read her earlier). Humanity has been almost destroyed, and their only chance for survival is a strange kind of symbiosis with the alien Oankali.
The Intuitionist by Colson Whitehead – The Department of Elevator Inspectors is divided between the good-old-boy Empiricists, who do everything by the book, and the Intuitionists, who are able to understand any defect an elevator has via meditation. Lila Mae is the first Black woman inspector; she's an Intuitionist, and she is never wrong. When an elevator goes into freefall on her watch, the Empiricists jump at the chance to blame her… so she decides to start her own investigation into the incident, one that will lead her to a secret that will change her life forever.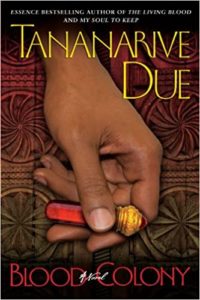 Blood Colony by Tananarive Due – The blood of immortals is the source of a drug called "Glow," which can cure almost any illness–including the scourge that is AIDS. But the people who make and distribute Glow are being murdered by a violent, fanatical sect linked to the Vatican… and ultimately, it's up to one teenaged immortal girl to stop them before they take everything she loves.
Dhalgren by Samuel R. Delaney – In a dead city at the center of the United States, only madmen and criminals wander the streets. Into this place arrives a young man known only as the Kid, a poet and wanderer, who will uncover its mysteries.
Mindscape by Andrea Hairston – For 115 years, the world has been divided by the Barrier, created by an extraterrestrial and epi-dimensional entity seemingly intent on dividing humans into warring factions. A treaty has been painstakingly created to end the wars, but the architect is assassinated, much to the glee of the power-hungry politicians and religious fanatics who liked the conflict the way it was. It's up to her protege, Elleni, to repair the shattered treaty.
Prey of the Gods by Nicky Drayden – A future South Africa rapidly advancing with personal robots and new renewable energy infrastructure is about to get hit with a triple whammy: a new hallucinogenic drug, an AI uprising, and an ancient demigoddess who wants to reclaim her power with a lot of human blood. It's up to a quirky cast, each of whom has their own serious issues, to keep their bright future—or any future at all—alive.
Elysium by Jennifer Marie Brissett – I can't do a punchier summary than this: "A computer program etched into the atmosphere has a story to tell, the story of two people, of a city lost to chaos, of survival and love. The program's data, however, has been corrupted."
---
See you, space pirates. You can find all of the books recommended in this newsletter on a handy Goodreads shelf. If you'd like to know more about my secret plans to dominate the seas and skies, you can catch me over at my personal site.