Sponsored by Flamer by Mike Curato, with Fierce Reads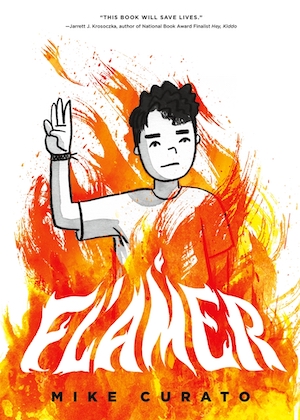 tk
Batman Got COVID-19
Vanity Fair is reporting that a "a well-placed source" has said Robert Pattinson has tested positive for COVID-19, halting production of The Batman outside of London. Privacy rules and laws exist so Warner Bros statement doesn't identify anyone: "A member of The Batman production has tested positive for Covid-19, and is isolating in accordance with established protocols. Filming is temporarily paused."
Best American Mystery Series' New Editor
Beginning with the fall 2021 edition, Steph Cha will be taking over as editor of The Best American Mystery Stories. The series will get a little title change at that time to The Best American Mystery & Suspense, and will henceforth be a part of Houghton Mifflin Harcourt's Best American collections. If you've yet to discover Steph Cha's work, check out her modern noir trilogy, Follow Her Home, and her most recent award winning standalone crime novel, Your House Will Pay.
The Big Library Read Selection
Want to be a part of a world wide book club? The Big Library, the first global virtual book club, has selected their next read: Reverie by Ryan La Sala. The selected ebook is available without holds or wait list at the same time through your library and OverDrive.
So What's The Difference Between A Myth, A Fairytale, and A Legend?
In case you were ever wondering what the difference between a myth, a legend, and a fairy tale is, well, here's your Folklore 101 guide.