Sponsored by the audiobook edition of Overstated by Colin Quinn, read by the author.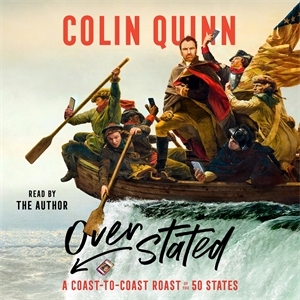 In Colin Quinn's Overstated, the comedian and star of Red State Blue State and Unconstitutional, calls us out state-by-state, from Connecticut to Hawaii. He identifies the hypocrisies inherent in what we claim to believe and what we actually do. Overstated skewers us all: red, blue, and purple. The audiobook, read by the author, is ultimately infused with the same blend of optimism and practicality that sparked the US into being.
Hola Audiophiles!
Welcome to October! It's the spookiest month, the scariest month, and not just because it's when yours truly was born. I don't know about you, but I'm officially starting to read and watch all of the witch things. Mwahahaha! I love this time of year.
Ready? Let's audio.
---
New Releases – Week of September 29  (publisher descriptions in quotes)
A Deadly Education by Naomi Novik, read by Anisha Dadia (YA fantasy) – In the first book of Novik's brand new Scholomance series, El is a student at said Scholomance, a very unique magic school that's always trying to kill its students in one way or another. There are no teachers, no holidays, and all friendships are strategic. El has one goal: to make it out of the school alive, a goal that's complicated by all the monsters and cursed artifacts, plus the fact that everyone in the school thinks she's an evil witch. They don't even know about that pesky prophecy, the one that says she possesses a dark power that can level mountains and kill millions.
Narrator Note: I just finished this book and loved Anisha Dadia's narration! She really leaned into the unlikable, bristly but ultimately well-meaning thing and nailed what I imagined El would sound like.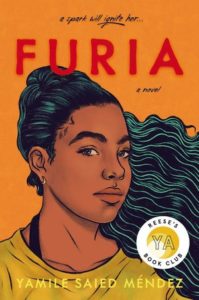 Furia by Yamile Saied Mendez, read by Sol Madariaga (contemporary YA) – Camila is living a double life in Rosario, Argentina. At home, she's a model daughter and sister living under the weight of her family's expectations, abuse, and double standards. On the field though? She's La Furia, a powerhouse soccer player with mad skills. When her team makes it to a nationwide tournament, she gets the chance to really show off her talent. Her dream is to get a scholarship to play for a North American university, but a lot stands in her way. the boy she once loved is back in town and oh yeah, minor detail: her parents not only don't know she plays fútbol, but would strictly forbid it if they did.
Narrator Note: Sol Madariaga also reads Romina Garber's Lobizona, another buzzy 2020 YA release set partially in Argentina. Love to see it!
Sleep Donation by Karen Russell, read by Allyson Ryan (fiction) – Welp, this sure doesn't help my insomnia-related anxiety! Karen Russell has dreamt up (ha) a world plagued by lethal insomnia. Trish Edgewater, whose sister Dora was one of the plague's first victims, is a top recruiter for the Slumber Corps where she convinces people to donate their sleep to an insomniac in crisis (ummm, call me?). Slumber Corps is supposed to be at the forefront of the fight against this disease, but are they really? "When Trish is confronted by 'Baby A,' the first universal sleep donor, and the mysterious 'Donor Y,' whose horrific infectious nightmares are threatening to sweep through the precious sleep supply," Trish's faith in the organization is put to the test. The book even comes with a Nightmare Appendix!
Narrator Note: You know Allyson Ryan: her most recent work includes Fleishman Is in Trouble by Taffy Brodesser-Akner and Long Bright River by Liz Moore.
Latest Listens
I am dead, gone, and shooketh by my latest listen. That listen is Alyssa Cole's When No One Is Watching and lemme tell you: believe the hype.
The thing is: it's best enjoyed if you go in knowing as little as possible. I know I teased the plot in this very newsletter last month when it released, but picture me in a black suit donning some shades and pretend I've just done a Men in Black on you. Poof! Your memory is gone. Now go forth, listen, and be wowed.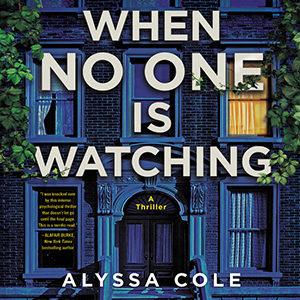 What I will do is discuss the narration by Susan Dalian and Jay Aaseng. I absolutely loved both of their performances! Susan Dalian is so natural; I believed the fear and paranoia in her narration so much that I wanted to reach out and be like, "Hey friend, you okay?" She gave her characters warmth, charm, and "try me again" energy as appropriate and then turned around with the biiiiiig Karen vibes when needed, too. Jay Aeseng's voice is rull, rull nice, and thank you sweet baby cheeses because he did not once speak in "Black voice." Their combined performances, though they never once interacted with one another (each chapter is told from one of two character's perspectives) somehow still conveyed such chemistry. Best of all: the tension. Oooh the tension! It takes skill to make tense moments feel real in audiobook narration and they both nailed it.
Go forth, and yell "howdy doody" at folks who are doing the most (you'll see!).
From the Internets
Over at Get Literary: What's That Audiobook?: Watch Your Favorite Authors Play the Audiobook Guessing Game – I love Ruth Ware sharing her deductive reasoning and Tembi Locke's many facial expressions (relatable). That reminds me: I need to read From Scratch!
What audiobook should you read next for Hispanic Heritage Month? Libro.fm has a quiz to help you decide.
Audible rounded up audiobooks featuring unlikely heroines.
Audiofile suggests some cozy romances for fall and how glad am I that my hold on You Had Me at Hola just came in?! ALSO it must be said: 1) That yellow book you may have scrolled right past is the follow-up to Book Riot faveThe Lady's Guide to Celestial Mechanics, and 2) pretty please and por favor: look past that… questionable cover.
Over at the Riot
You need to keep learning, I need to keep learning. Let's all keep learning with these nonfiction audiobooks to teach us some things. I recently talked about Amanda Leduc's Disfigured, I want to hand that book out to people on the street!
---
Thanks for hanging with me today! Shoot me an email at vanessa@riotnewmedia.com with with all things audiobook or find me on Twitter and the gram @buenosdiazsd. Sign up for the In The Club newsletter and catch me once a month on the All the Books podcast.
Stay bad & bookish, my friends.
—Vanessa, Queen of the Pumpkin Domain