Sponsored by Oni Lion Forge Publishing Group.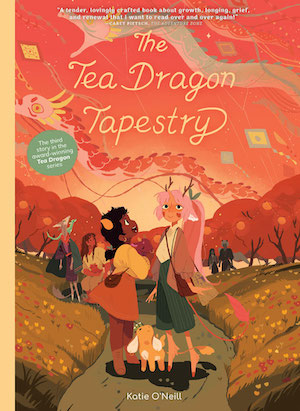 Join Greta and Minette once more for the heartwarming conclusion of Katie O'Neill's award-winning Tea Dragon series! Over a year since being entrusted with Ginseng's care, Greta still can't chase away the cloud of mourning that hangs over the timid Tea Dragon. Meanwhile, Minette receives a surprise package from the monastery where she was once training to be a prophetess. Told with the same care and charm as the previous installments of the Tea Dragon series, The Tea Dragon Tapestry welcomes old friends and new into a heartfelt story of purpose, love, and growth.
Dear Readers,
We're officially entering into fall also known as Peak New Book Season (in my house, at least). Even without COVID-19, it was going to get a lot harder to start narrowing down these choices for each week, but the pandemic's start in the spring also meant a lot of books being pushed back, crowding an already crowded field. An abundance of riches, if you will. So I have a special pro-tip for you this week: if you see a new release you like on this list (or anywhere else), try to snatch it up as soon as you can or be prepared to prioritize which reads you must have right now. Printers, which were already struggling pre-pandemic, are experiencing a backlog, and reprints of some titles are going to be harder to find than others.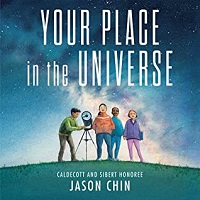 Your Place in the Universe by Justin Chin
This picture book is both an inspiring and educational glimpse at the massive scale of the universe. Looking through a telescope, a group of kids are introduced to the vast and expansive cosmos for the first time (as well as subjects such as astrophysics and astronomy) in this accessible read from the author of Grand Canyon.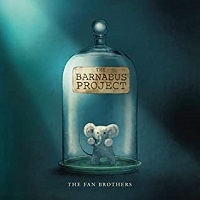 The Barnabus Project by Terry & Eric Fan with Devin Fan
Barnabus is half-mouse, half-elephant, who spends most of his days being poked and prodded by the men in Green Rubber Suits. As a Failed Project, he's due to be recycled soon and so, realizing his elephant trunk gives him a special power, Barnabus frees himself and his friends, leading them through an exhilarating chase through a sinister lab and into freedom.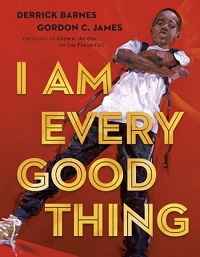 I Am Every Good Thing by Derrick Barnes, illustrated by Gordon C. James
From the author/illustrator pair behind Crown: An Ode to the Fresh Cut, is this new picture book that celebrates Black boys. The title really says it all: Black boys are every good thing. If you're looking for more books that depict Black boys in warm, positive, and uplifting light, this is the book for you.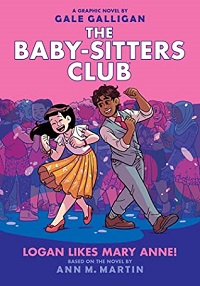 Babysitter's Club Graphic Novel #8: Logan Likes Mary Anne by Ann M. Martin and illustrated by Gale Galligan
The babysitters are back! And just in time. This next graphic novel adaptation has Mary Anne at the start of eighth grade and meeting the dreamy Logan, who might be interested in joining the Baby-sitter's Club. Right now we could all use more of the upbeat, colorful world of the BSC.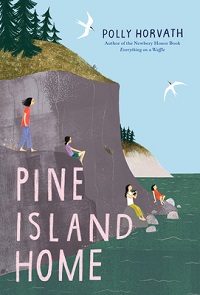 Pine Island Home by Polly Horvath
After their missionary parents die suddenly in a tsunami, the McCready sisters go off to live with the great aunt. But during their journey, their aunt unexpectedly dies, leaving the siblings alone. But they find their aunt was well-prepared for their arrival, enrolling them in school and having beds for them, so the McCreadys, led by fourteen year old Fiona, must be sure to keep social services off their tale so they can stay together.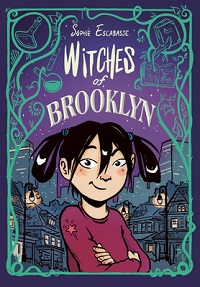 Witches of Brooklyn by Sophie Escabasse
I love this part of of the late summer/early fall when all the spooky, witchy books start coming out. For all those young readers out there who like their witches fun and enchanting, this new graphic novel is a lighthearted and funny tale about finding oneself through helping others. Effie goes to live with her stylish aunt and her partner after her mom dies. Effie's pretty sure Selimene and Carlota are just herbalists, but is surprised to learn they're witches!
Before the Ever After by Jacqueline Woodson
New Jacqueline Woodson! New Jacqueline Woodson! New Jacqueline Woodson! This poignant story is about ZJ, a 12-year old Black kid whose dad is a retired football player. ZJ's bright and warm relationship with his father begins to change when his dad unexpectedly develops headaches and memory lapses, and doctors don't have many answers though it seems to be a result of the many concussions ZJ's dad suffered during his years of play. As his dad's memories slip away, ZJ holds his own more tightly.
Happy reading, friends. See you next Tuesday. In the meantime, come say hi on Twitter.
Chelsea