I can't even.
News and Useful Links
Twitter exploded this weekend. Again. I don't even know where to start. There was a review of Amalie Howard's The Duke's Princess Bride posted on Goodreads and Medium, which I'd seen several days ago, acknowledged the reviewer's concerns, and moved on, not expecting it to be the impetus for an implosion that might have lasting effects on the online romance community. But the fact that a white reviewer wrote a highly critical review of a book by an author of South Asian descent struck a nerve with some people, and the conversation spiraled into a wildly divided conversation—some speaking about who is allowed to critique authors of color and the high expectations laid upon authors of color compared to white authors, while others worked to maintain the conversation about that specific critique of that particular book, and the fact that the reviewer's concerns were valid. The conversation got incredibly heated, leading to some reviewers going private or deciding to no longer be reviewers, work many of them have put their time and hearts into for free. Some authors apologized for derailing the conversation or speaking wrong, but as I write this on Sunday night, I'm still not completely certain if this can be fixed. If nothing else, Amalie Howard made a statement about revising the book (which is not yet out) based on the criticism, which by the end of the weekend had been echoed by at least one South Asian reviewer.
In case it needs to be said: yes, AOC are often held to a higher standard than other authors. Yes, there are white people who will nitpick and dogwhistle books by authors of color. Yes, there ought to be more conversation about the wildly white subgenre of historical romance and where all of these dukes get their land and money and the fact that it's mostly ignored in the text. But in the case of this particular book—which has a male protagonist who is a colonizer and plantation owner and a female protagonist whose inner monologue is colorist and casteist, and in which the male protagonist was a member of the imperialist organization that was responsible for the deaths of members of the female protagonist's family—from the quotes I've seen, the sensitivity displayed by the initial reviewer is basically what we've been asking white reviewers to show for years. She noticed things that could be harmful to readers of color—especially South Asian readers—and listed them. I could talk this in circles for days, but that's already been done.
There were other people in the world this past week, though.
Mainly: WE'RE GETTING A BLESSINGS TELEVISION SERIES!!!!!!
Rioter Carole had a nice conversation about When No One is Watching with debut thriller author Alyssa Cole.
The Romance Writers of America conference was virtual this year (obvi), and while the recordings are currently only available to registrants, scrolling through the hashtag gives some nice insight on some great keynotes and workshops.
Have you listened to this new podcast about Black romance?
Debut author Kelly Farmer wrote about realizing your sexuality when you're older and her new book, Out on the Ice.
This is tonight, but there's still time to RSVP.
Deals
I don't know how long it's going to be, but Rachel Reid's Heated Rivalry is 1.99 right now. It's the second in the series, but is definitely the best of the books, and you can probably read it without having read the first one (which I mentioned a few KBs ago). I devoured this whole series this week, and I don't usually read hockey books and try to limit my m/m by female authors, even if they're queer (and I don't know if Reid identifies that way). But this book. Y'all. If you are an enemies to lovers reader, you need this book. Ilya and Shane. I just can't. You have to experience it for yourselves. And then read the rest of them.
Recs
If you're looking for something short and sweet, you should dive into Christina C. Jones's Mahogany Heights books. They're of varying lengths, actually, but you can always find a new novella when you're digging through CCJ's backlist.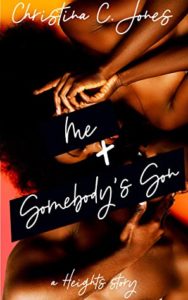 Me + Somebody's Son
Christina C. Jones
I should have finished this in a night, but I got distracted by Friday Night Lights and took an additional sitting. That show is riveting.
Anyway. Haven is a bookseller new to the Heights. Well, she went to school in the next town over, but it's been a good decade since she's been back. She has a real problem with guys: she just wants one night stands, but they keep coming back asking for more. When one does so with a lovely bouquet that she feels inclined to rid herself of, she decides it's too pretty to completely lose and goes to the flower shop they came from to get an arrangement of her own. It's there that she runs into August, an old friend from college. They're obviously immediately into each other (and sort of always have been?) but there's that whole caveat where Haven doesn't date. So what do they do now?
In true CCJ fashion, this is a brief but delightful dip into the heads of two smart and interesting people with the weirdest family problems (nothing traumatic, I promise). This is a great couple of hours of palate cleanser and fun.
What are you reading this week?
As usual, catch me on Twitter @jessisreading or Instagram @jess_is_reading, or send me an email at wheninromance@bookriot.com if you've got feedback, bookrecs, or just want to say hi!