Welcome to Read This Book, the newsletter where I recommend a book you should add to your TBR, STAT! I stan variety in all things, and my book recommendations will be no exception. These must-read books will span genres and age groups. There will be new releases, oldie but goldies from the backlist, and the classics you may have missed in high school. Oh my! If you're ready to diversify your books, then LEGGO!!
Last week, the United States commemorated the centennial anniversary of the ratification of the 19th Amendment, which essentially granted (white) women in America the constitutional right to vote. Today is Women's Equality Day, first designated as "Women Rights Day" by President Richard Nixon on August 26, 1972 and approved by Congress on August 16, 1973. Since then, Women's Equality Day has been recognized on August 26th to not only commemorate the passage of the 19th Amendment, but to also recognize the continued effort toward full equality of all women. For this auspicious occasion, I want to recommend reading some historical fiction inspired by the Women's Suffrage Movement.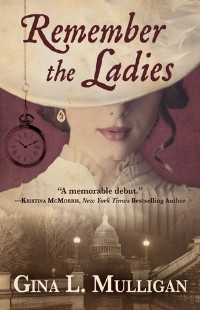 Remember the Ladies by Gina L. Mulligan is set during America's extravagant Gilded Age and explores the beginning fight for women's equality.
Growing up in an orphanage prepared Amelia Cooke to succeed as a lobbyist surrounded by all the egos in Congress. When she is hired by the National Women's Suffrage Association to help pass a proposed constitutional amendment granting women the right to vote, Amelia feels empowered to finally find a place for herself in her male-dominated world and to give all women a voice in society. On the other side is Senator Edward Stillman who must crush the women's amendment (and anyone who gets in the way) in order to gain control of the Senate's most dominant committee. Both must decide how low they're willing to go and at what cost to win this political battle.
I hadn't read much historical fiction when I read Remember the Ladies, so I was worried about reading a book where I kind of already knew how the story would end. However, I am happy to say I had no problem enjoying this story. The back and forth between Amelia and Edward reminded me of my favorite rom-coms, and the story showed just how much society (and the game of politics) really hasn't changed. There was plenty of backroom deals, lies, bribery, and fighting to retain power just for the sake of it.
Also, I liked reading an often untold story in regards to women lobbyists. In fact, I felt stupid for being surprised about the idea of a woman being a lobbyist in Washington! The ingrained misogyny and patriarchy are real, y'all! The good news is Remember the Ladies makes me want to read more stories about the experience of being a woman working as a Washington lobbyist. If you are looking for historical fiction with a dash of romance and mystery that feels relevant, then pick up Remember the Ladies.
Until next time bookish friends,
Katisha
Find more of me on Book Riot.
Find more books by subscribing to Book Riot Newsletters.