Sponsored by Tor Books (@torbooks).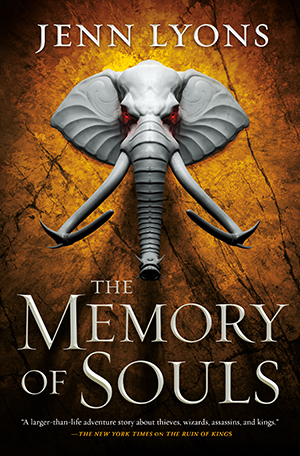 The Memory of Souls is the third epic fantasy in Jenn Lyons' A Chorus of Dragons series. Demons are free to rampage across the empire, and the fulfillment of the ancient prophecies—the end of the world—is closer than ever. To buy time for humanity, Kihrin needs to convince the king of the Manol vané to perform an ancient ritual which will strip the entire race of their immortality—which certain vané will do anything to prevent. Including assassinating the messengers. Worse, Kihrin's connection to the king of demons seems to be growing in strength. How can he hope to save anyone when he might turn out to be the greatest threat of them all?
Happy Tuesday, shipmates! It's Alex with some new releases for you to check out this week, and a few bits and bobs from the news front. I've been dealing with some problems with one of my hands lately, which means I haven't been able to play video games for over a month at this point… but on the positive side it's done amazing things for the amount of reading I've gotten done.
I just finished reading Mexican Gothic by Silvia Moreno-Garcia, which I shotgunned in less than 24 hours (it's very good, highly recommend). Hope you're finding lots of reading time—though for less painful reasons than me—and stay safe out there, space pirates!
Looking for non-book things you can do to help in the quest for justice? blacklivesmatter.card.co and The Okra Project.
New Releases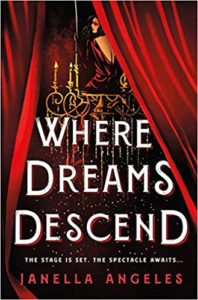 Where Dreams Descend by Janella Angeles – The Conquering Circus rests in a ruined, frozen city. Becoming the headline act promises fame for some and freedom for others. Magicians compete to take that spotlight, but this time, competitors start going missing and the stakes are life, death, and dark secrets revealed.
The Black Sky by Timothy D. Minneci – Bishop and his wife Tessa live separated by the Manhattan Island Seawall, both working desperately to be reunited. Bishop is given the chance to bring his wife into the corporate-controlled "safe" zone and clear his debts immediately by simply driving to Bangor, Maine… and kidnapping a doctor who knows how to save the life of the CEO. But no job is as simple as it seems in a world of extreme surveillance and deadly corporate backstabbing.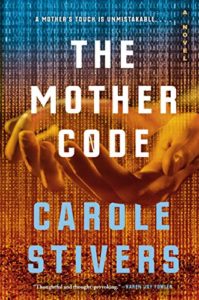 The Mother Code by Carole Stivers – In 2049, a bioweapon spreads out of control and threatens to wipe out humanity entirely. The best solution the beleagured survivors can come up with is to create large scale robots, each one given a unique personality by its Mother Code, and place in their care genetically engineered children who will be able to survive. Even as the children grow in the care of machines, these Mothers grow and change, too, in ways that frighten the surviving government. It's up to the children to protect their Mothers from the fear of the old guard–or abandon them forever.
Bright Raven Skies by Kristina Perez – Branwen had to embrace the darkest parts of her magic in order to save the kingdom. But in the aftermath, the Queen and her Champion are missing, and she must find them if she's to keep the peace she secured alive—and be able to keep living with herself. But friends and enemies alike are getting closer to her secret quest, and she can't hide the truth forever.
Ironspark by C.M. McGuire – Bryn has run afoul of the fae before; a crew of evil Tinkerbells kidnapped her mom, cursed her dad, and forced the rest of her family into hiding. She's been studying ever since, readying herself to seek justice—or revenge. But when the Court Fae show up, she realizes she's in over her head, and she's going to need all the help her friends—a water witch, a foster kid, and a school friend with his own anti-fae grudge—can give her.
News and Views
Bookstr: In convesation with Silvia Moreno-Garcia
Celebrating the humorous SF of Latinx authors
Mike Chen on writing inclusive superhero stories
Gollancz has announced the winners of the inaugural Rivers of London BAME SFF Award
The winners of the 2020 Seiun Awards have been announced
Among other things, do not ask N.K. Jemisin for a free novel. (I have other Feelings about this whole thing as a trans person that need not be aired out here. But you can probably guess what they are if you ever read my thoughts on the Dr. James Barry.)
John Scalzi writes about Ray Bradbury's 100th birthday
Also Colleen Abel on growing up with Ray Bradbury's ghost in Waukegan, Illinois
Native American artist Jeffrey Veregge did some amazing variant covers for Marvel's Indigenous Voices #1 (Darcie Little Badger has work in this and I'm so excited for her!!)
The theme for The X-Files now has lyrics and it's pretty amazing
NASA is going to reexamine some problematic nicknames that certain celestial objects have
On Book Riot
Soft science fiction: 15 classic and must read books
15 must-read new fantasy books
This week's SFF Yeah! podcast is about evil queens
This month you can enter to win $50 at your favorite indie bookstore and a 1-year Kindle Unlimited subscription.
---
See you, space pirates. You can find all of the books recommended in this newsletter on a handy Goodreads shelf. If you'd like to know more about my secret plans to dominate the seas and skies, you can catch me over at my personal site.