Sponsored by Penguin Teen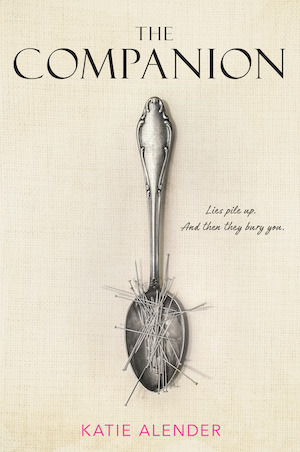 The other orphans say Margot is lucky.
Lucky to survive the horrible accident that killed her family.
Lucky to have her own room.
And finally, lucky to be chosen by a prestigious family to live at their remote country estate.
But it wasn't luck that made the Suttons rescue Margot from her bleak existence. Margot was handpicked to be a companion to their silent, mysterious daughter, Agatha. At first, helping with Agatha–and getting to know her handsome older brother–seems much better than the group home. But soon, the isolated, gothic house begins playing tricks on Margot's mind, making her question everything.
Hey YA Readers!
I've heard from so many people that reading has been challenging over the last 5 months. There are so many things vying for cognitive space right now, that it makes perfect sense. Our focus is not what it once was.
Perhaps a solution is to put on your coziest clothing and settle in for a streaming marathon of favorite and new-to-you YA book adaptations. We know of so many of the biggies, of course, but there have been a whole host of new YA adaptations to hit the small screen in the last couple of months.
I've stuck to series adaptations, so you can spend a full day enjoying a story or you can stretch it out over the course of a few days or weeks. The adaptations included here are all YA, with the exception of one, which is an adult book with YA appeal (noted). All of these are streaming on Netflix, with the exceptions noted with a *. Those shows are streaming on Hulu.
Find the title of the adaptation, with the book from which it's inspired beside it. The descriptions are from the show itself, as we all know that sometimes stuff we love from the books gets left out or changed to fit the space of the visual medium.
Boys Over Flowers (inspired by the Japanese manga series Boys Over Flowers written by Yoko Kamio)
Poor girl attends the elite Shin Hwa High and is bullied by the leader of F4 (the four richest boys). He becomes attracted to her; however, she has a crush on his best friend. Whom will she choose?
Cursed (inspired by Cursed by Frank Miller and Tom Wheeler)
A teenage sorceress named Nimue encounters a young Arthur on her quest to find a powerful and ancient sword.
Get Even (inspired by Get Even by Gretchen McNeil)
It follows four teenage girls at private elite school who form their own secret society to expose bullies.
*Love, Victor (inspired by the Simon Universe/Creekwood series by Becky Albertalli, starting with Simon vs. The Homo Sapiens Agenda)
Victor is a new student at Creekwood High School on his own journey of self-discovery, facing challenges at home, adjusting to a new city, and struggling with his sexual orientation.
Selection Day (inspired by the adult novel Selection Day by Aravind Adiga)
Story of an Indian boy's love of cricket in Mumbai, and his discovery that the game isn't as pure as he thought.
Trinkets (inspired by Trinkets by Kirsten Smith)
An unexpected friendship forms when three teenage girls meet in Shoplifters Anonymous.
We Are The Wave (Inspired by The Wave by Todd Strasser, who wrote it under the pen name Morton Rhue — it came out in 1981!)
A new version of Rhue's novel in which a group of teenagers who start a youth movement which develops a dangerous momentum.
*Zac & Mia (Inspired by Zac and Mia by AJ Betts)
Based on the novel by A.J. Betts about two teens battling cancer in the same hospital.
---
Lots of great streaming is on my agenda — how about yours?
Thanks for hanging out, and we'll see you later this week!
— Kelly Jensen, @heykellyjensen on Instagram and editor of Body Talk, (Don't) Call Me Crazy, and Here We Are.