Sponsored by BuzzPop, an imprint of Little Bee Books.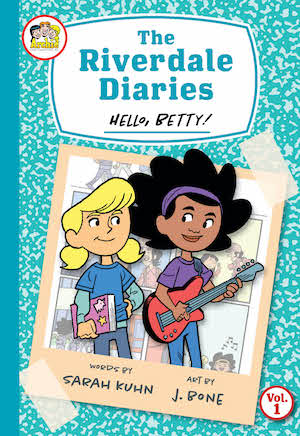 Betty Cooper and Val Smith are best friends. They've always done everything together—even creating the world of Sparklespacelandia–so, Betty assumes they'll continue to be an unbreakable duo in middle school. But Val finds herself drawn towards a music elective, without Betty. Suddenly Betty's on her own, struggling to deal with being in the loser drama class–that happens to be dominated by snotty Veronica Lodge! Even her other friends, like Archie, Jughead, and Sabrina, aren't making it better. Will Betty and Val find a new way to connect, or has middle school ended their friendship for good?
Dear Readers,
As I'm sure you've heard by now, we're living through history, and as I'm also sure you've heard, history wasn't super great for a lot of people. Living through it might be worse because there's nothing to refer to that will tell us exactly how it's all going to shake out. That's what makes this week's roster of kids' new releases feel so special, because many of them are based on true stories, and like all true stories, have incredible highs and terrible lows. They have happy endings, sad endings, and even open endings, but they all have elements of hope and inspiration. I hope some of the books out today may help you envision something positive on the other side of our current moment.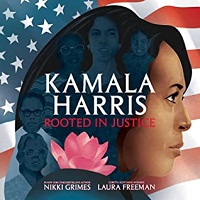 Kamala Harris: Rooted in Justice by Nikki Grimes and illustrated by Laura Freeman
Since the Democratic National Convention just wrapped up, and Sen. Kamala Harris is officially in the running to be America's Vice President. Harris, if elected, Kamala (pronounced COMMA-LA) would be the first Black, the first Asian, and the first woman elected to the position. This picture book, written in verse by the incomparable Nikki Grimes, tells Harris's story of growing up as the children of immigrant parents, active in the Civil Rights Movement, and then to Congress.
Queen of Tejano Music: Selena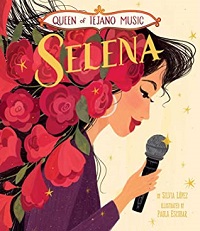 by Silvia López and illustrated by Paola Escobar
When I was little I remember stumbling upon the film biopic of Selena Quintanilla's life before she was killed. Jennifer Lopez played Selena, and it was my first introduction to the star (it's also just a really good movie). For people looking to give the kids these days their own primer on Selena, or for fans looking for a new way to remember her and her trailblazing career, this impassioned and beautiful picture book retelling Selena's rise to stardom is the perfect way to do it.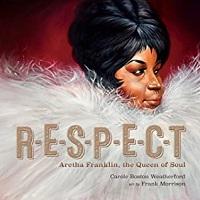 RESPECT: Aretha Franklin, the Queen of Soul  by Carole Boston Weatherford and Frank Morrison
Not sure what we did to get so lucky with two picture book bios of iconic singers in one week, but here's another. This one is about R&B singer Aretha Franklin, written by frequent award-winner Carole Boston Weatherford. The illustrations and writing are just as bold and lyrical as that of Franklin's songs, recounting Franklin's journey from gospel singer to multiple Grammy awards and the Rock & Roll Hall of Fame.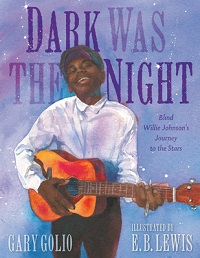 Dark Was the Night: Blind Willie Johnson's Journey to the Stars by Gary Golio and illustrated by E.B Lewis
This is a touching picture book biography of Willie Johnson, a lesser-discussed Texas musician whose song "Dark Was the Night" was included on the Voyager I's Golden Record. Willie Johnson lost his mother and his sight when he was a young boy, and he began playing his guitar throughout Texas. As an adult, Johnson was given the chance to record an album, and one of the songs was the haunting "Dark Was the Night" chosen for the Golden Record because of the way it conveyed the loneliness of the human experience.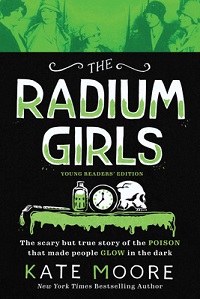 The Radium Girls: The Scary But True Story of the Poison That Made People Glow in the Dark (Young Reader's Edition) by Kate Moore
This is the young reader's adaptation of the national bestselling book of the same name. In the early 20th century, young women work in radium-dial factories. They're considered lucky until they fall sick with a mysterious illness, which goes ignored by their employers, plunging these women into a labor scandal that had a lasting effect on workers' rights. This has some bonus material including a glossary, full-color photos, and a timeline.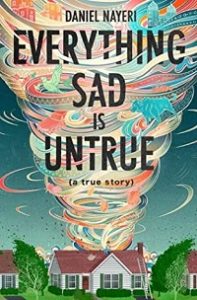 Everything Sad Is Untrue (a true story) by Daniel Nayeri
This autobiographical memoir is an ambitious and beautiful story about an Iranian refugee who moves to the United States. Khosrou is his name (though everyone calls him Daniel) and he stands in front of his new classmates and tries to tell them the story of his life. This is an emotional and harrowing read of a boy and his family fleeing danger, trying to make do in dreary refugee camps, and interwoven with ancient tales and legends.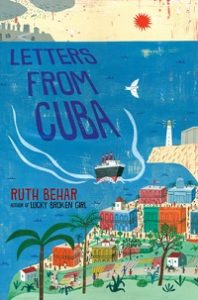 Letters From Cuba by Ruth Behar
This is a new book from Pura Belpré Award-winner Ruth Behar, a historical fiction novel based on Behar's own life, about a young Jewish girl whose family flees Poland for Cuba. Esther is the first to join her father in Cuba, and missing her sister, she resolves to write to her until they're finally reunited. In Cuba Esther's happy to discover the kindness of the people there but heartbroken to find that not even crossing the ocean can free them from Nazism, which has found a foothold even here.
If you want to say hi, you can find me on Twitter. Otherwise, until next week!
Chelsea