Sponsored by Scholastic.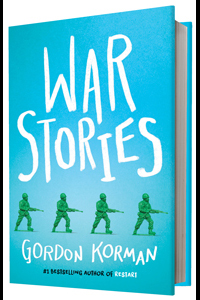 New from Gordon Korman, the #1 New York Times bestselling author of Restart, comes War Stories, a novel about what it really means to be a hero. The book follows a boy named Trevor as he discovers that there's more to the story than what he's heard his whole life about his bona fide war hero great-grandfather's involvement in World War II. This causes Trevor to wonder about his great-grandfather's heroism, the truth about the battle he fought, and importance of genuine valor.
Welcome to Check Your Shelf, where Gilbert is currently sitting in my lap and licking my hand while I try to type. I can't tell if he's trying to become more involved with CYS or if he's trying to distract me…
---
Collection Development Corner
Publishing News
New & Upcoming Titles
What Your Patrons Are Hearing About
RA/Genre Resources
On the Riot
---
All Things Comics
On the Riot
---
Audiophilia
On the Riot
---
Book Lists, Book Lists, Book Lists
Children/Teens
Adults
On the Riot
---
Level Up (Library Reads)
Do you take part in Library Reads, the monthly list of best books selected by librarians only? We've made it easy for you to find eligible diverse titles to nominate. Kelly Jensen created a database of upcoming diverse books that anyone can edit, and Nora Rawlins of Early Word is doing the same, as well as including information about series, vendors, and publisher buzz.
---
Toodles, everyone. Catch you on the flip side.
—Katie McLain Horner, @kt_librarylady on Twitter. Currently reading Home Before Dark by Riley Sager.