We're giving away 100 audiobook downloads of More Than a Woman by Caitlin Moran to 100 lucky Riot readers!
Enter here for a chance to win, or click the cover image below!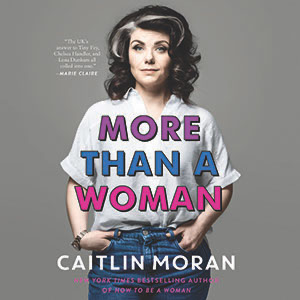 Here's what it's all about:
The author of the international bestseller How to Be a Woman returns with another "hilarious neo-feminist manifesto" (NPR) in which she reflects on parenting, middle-age, marriage, existential crises—and, of course, feminism.
It's been a glorious ten years since How to Be a Woman was published: Barack Obama loves Fleabag, and Dior make "FEMINIST" t-shirts. However, middle-aged women still have some nagging, unanswered questions: Can feminists have Botox? Why isn't there such a thing as "Mum Bod"? Written with Caitlin's trademark blend of humor and brutal honestly, More Than a Woman is an absolutely necessary take on the life of the modern woman.