Sponsored by Gallery13, and imprint of Simon & Schuster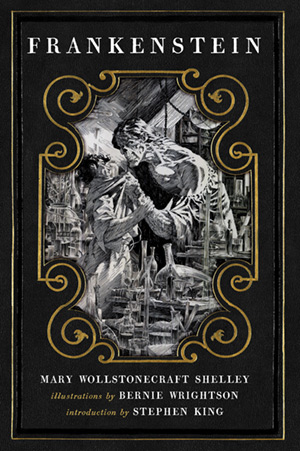 Frankenstein's Monster lives on—and so does legendary artist Bernie Wrightson's legacy—in this landmark illustrated edition of Mary Shelley's classic novel, featuring an introduction by Stephen King. Since its release in 1983, this magnificent pairing of art and literature is still considered to be one of the greatest achievements made by any artist in the field. This book includes the complete text of the original groundbreaking novel, and approximately fifty original full-page illustrations by Bernie Wrightson—created over a period of seven years—that continue to stun the world with their monumental beauty and uniqueness.
Hello my fellow Nightmares and Tiny Terrors, I'm Jessica Avery and I'll be delivering your weekly brief of all that's ghoulish and grim in the world of Horror. Whether you're looking for a backlist book that will give you the willies, a terrifying new release, or the latest in horror community news, you'll find it here in The Fright Stuff.
This week's unnerving delights are brought to you by the fruitful world of Middle Grade Horror. Those of us who were baby horror fans, digging through the grade school library shelves for those few stray scary books that made it into the catalog and past the notice of concerned adults, remember all too well the joy of discovering new favorites. Of devouring terrifying tales beneath the safety of our blankets, by the light of a pilfered flashlight. Which is why this week we are celebrating all those bump in the night books introducing horror to a new generation of readers.
Backlist Middle Grade Horror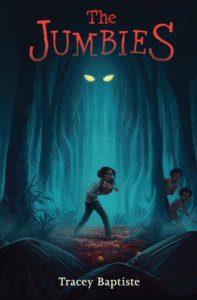 The Jumbies by Tracey Baptiste
Corinne La Mer knows that jumbies are just monsters made up by parents to scare their children, and they don't frighten her. Until a mysterious, beautiful woman shows up in her kitchen, cooking for Corinne's father and setting into motion an evil plan to take control of Corinne's island home. With the help of some ancient magics, Corinne and her friends must fight to stop the strange woman before she and her kind take over the island forever.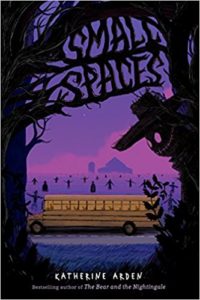 Small Spaces by Katherine Arden
The smiling man is coming. When book-loving Ollie rescued the book about the smiling man from being thrown in to the river and destroyed, she never believed that the story inside might be true. But when on a field trip with her class she finds the graves of the "characters" in the book, she begins to wonder if the smiling man himself – a sinister, wish-granting creature, whose favors are sold for a terrible price – might in fact be real. Soon Ollie and her classmates are stranded in the middle of nowhere and on the run from with only an ominous bit of advice from their strange bus driver: "Avoid large places. Keep to small."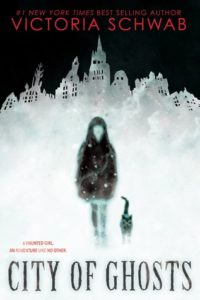 City of Ghosts by Victoria Schwab
Cassidy Blake sees ghosts. Real ghosts, like her best friend Jacob, and like the ghosts her paranormal hunting parents, The Inspecters, are always searching for. When The Inspecters and their new TV crew head to Scotland, Cass finds herself surrounded by ghosts, and meets Lara, another girl who can see the dead. Lara calls people like them In-betweeners, tasked with sending ghosts to their final death. And with the malevolent Red Raven haunting Edinburgh, Cass has no choice but to embrace her new identity and fight to send this deadly ghost back beyond the Veil.
Recent and Upcoming Middle Grade Releases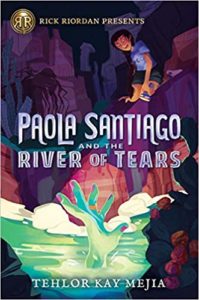 Paola Santiago and the River of Tears by Tehlor Kay Mejia
La Llorona, the wailing ghost woman of the river. Paola Santiago and her friends know the rule: stay away from the river's edge so that La Llorona can not pull you in. For most of the kids in their school, they've been hearing warnings about the river since a schoolmate drowned last year, but Paola has been hearing warning tales of La Llorona from her mother her whole life. Her mother's tales are embarrassing superstitions to the science-minded Pao, so she plans a stargazing meet up near the banks of the river, the best spot for viewing the night sky. Only to find out when one of her friends disappears that her mother may have been right all along.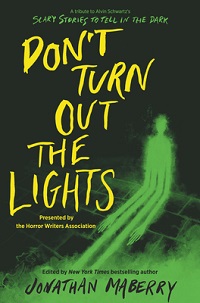 Don't Turn Out the Lights: A Tribute to Alvin Schwartz's Scary Stories to Tell in the Dark edited by Jonathan Maberry
Don't Turn Out the Lights is a collection of 35 stories from the authors of the Horror Writers Association, paying homage to Alvin Schwartz's legacy. Subjects range from flesh hungry ogres, brains full of spiders (*sob*), and haunted houses, and are illustrated in truly terrifying fashion. The complete list of contributing writers is stacked with some of the most talented voices in modern horror. It includes, among others, Tananarive Due, Amy Lukavics, Josh Malerman, Madeline Roux, and even R.L. Stine!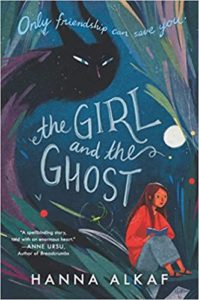 The Girl and the Ghost by Hanna Alkaf
When Suraya's grandmother died, she left Suraya a gift: a spirit that was hers to command. A pelesit, which Suraya named Pink and who quickly became her closest companion. But pelesits are dark spirits, and no matter how close Pink may be to Suraya, her dark side threatens both their lives. As Pink's shadows loom large, Suraya and her pelesit must find a way to survive, or else be lost to the darkness forever.
Fresh from the Skeleton's Mouth
Over at Book Riot Giovanna Centeno has your must-read list of Awesome Zombie Books, and Isabelle Popp discusses 3 New Thought-Provoking Horror Novels you should add to your TBR.
Did you hear that Mexican Gothic has been optioned by Hulu, ABC Signature Studios and Milojo Productions? I am ridiculously excited.
Speaking of Hulu, I apparently missed the memo that the adaptation of Clive Barker's Books of Blood was even happening, but it will be out on October 7th, any my little Halloween heart is fluttering with joy.
Topping off the horror adaptations news with some R.L. Stine goodness, according to Bloody Disgusting Netflix has acquired the film trilogy adaptation of Stine's beloved Fear Street series. Coming to your screen summer of 2021!
If you don't follow book reviewer and artist Cassie Daley over on twitter (@ctrlaltcassie) you might not have heard about the awesome coloring and activities book she's been working on: The Big Book of Horror Authors. Well it's finished! According to Daley's blog, "the book will include coloring pages that will show off each author's portrait, plus a mini-cover or two of theirs that you can color in on their page", and the activities section will have everything from mad-libs to crossword puzzles and DIY bookshelves. Follow Daley for further updates, including when pre-orders open up!
---
As always, you can catch me on Twitter at @JtheBookworm, where I try to keep up on all that's new and frightening.