Sponsored by A HOUSE IS A BODY: STORIES Shruti Swamy, available now from Algonquin Books.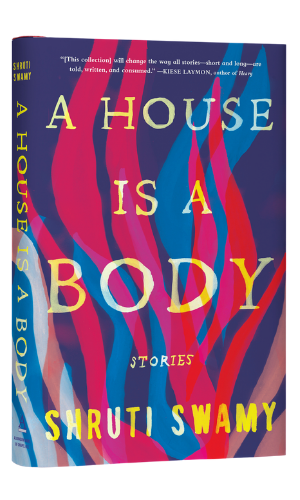 Dreams collide with reality, modernity with antiquity, and myth with identity in the twelve arresting stories of A House Is a Body. In "Earthly Pleasures," a young painter living alone in San Francisco begins a secret romance with one of India's biggest celebrities— the Hindu god Krishna— and desire and ego are laid bare. And in the title story, an exhausted mother watches, hypnotized by fear, as a California wildfire approaches her home. Set in the United States and India, they reveal small but intense moments of beauty, pain, and power that contain the world.
Hellooooo book nerds! Happy Thursday! I am excited to share more fun bookish news and excitement of the week, but first, how're you? Are you reading something great? I've been immersed in a book I love, The Space Between Worlds by Micaiah Johnson, and it's one of those "I wanna ignore my day job and read all day!" books! I love those, but also, they make the work week hard. #booknerdproblems
Let's dive into the excitement, shall we?
Trivia: What year was the book 1984 published?
Deals and Squeals: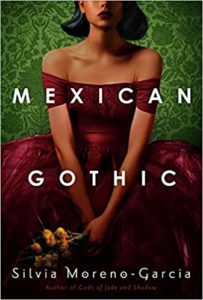 We're getting a Mexican Gothic limited run series! The series will run at Hulu and is being adapted by Kelly Ripa and Mark Consuelos, and I am so excited to be terrified by this adaptation!
The Roommate by Rosie Danon isn't even out in the U.S. yet but it's already been optioned for film! The book stars two unlikely roommates whose feminist start up could disrupt the adult film industry, and it looks steamy!
Preview Weird Al's new book, and some of the photos included!
If you grew up with Love You Forever by Robert Munsch but thought that some parts were a little creepy, then rest easy knowing that a writer has revised the book to model appropriate boundaries.
John Legend and Nic Long are adapting Paper Gods by Goldie Taylor into a TV show for ABC!
EW reveals the cover of John Densmore's new book, The Seekers: Meetings with Remarkable Musicians.
Well, this link has quite a headline, but…if you liked Rodham by Curtis Sittenfeld, particularly if you were intrigued by the sex scenes, then check out Sittenfeld's new short story.
Riot Recommendations
At Book Riot, I'm a cohost with Liberty on All the Books!, plus I write a handful of newsletters including the weekly Read This Book newsletter, cohost the Insiders Read Harder podcast, and write content for the site. I'm always drowning in books, so here's what's on my radar this week!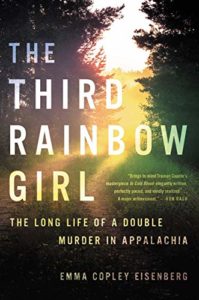 Want to Read: The Third Rainbow Girl: The Long Life of a Double Murder in Appalachia by Emma Copley Eisenberg
This book has been on my radar for a while, and I promise I'm finally going to get to it! It's about a double murder of two young women hitchhiking to a music festival in West Virginia in 1980, and how the author moved to the area and began investigating the case–and observed the impact of the case on the small town she lived in. I've heard nothing by amazing things about this book, especially in how sensitively the writer talks about Appalachia and the women who were murdered, so I can't wait to finally read it.
Books I Acquired This Week:
Mad & Bad: The Real Heroines of the Regency by Bea Koch
Happily Ever Afters by Elise Bryant (this one is out early next year and I am so excited!)
Before She Was Helen by Caroline B. Cooney (just downloaded an advance audio copy–I loved Cooney's books when I was in middle school!)
Trivia answer: 1949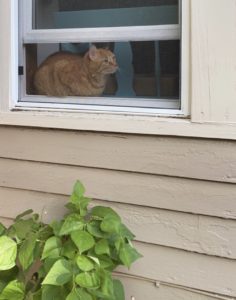 I hope you're well stocked for weekend reading ahead! I leave you with this photo of my cat Oliver, whose favorite perch is in this window, so he can watch over my container garden–and the squirrels that run across the neighbor's privacy fence.
Happy reading!
Tirzah