Sponsored by Sponsored by the Class of 2K20 Books: 20 Middle Grade and Young Adult Authors Debuting in 2020!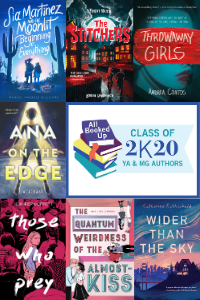 THE STITCHERS: "The chills come guaranteed."–Stephen King THOSE WHO PREY: "Fans of (literal) cult fiction, this is your new Must Read."–Dahlia Adler, author. THE QUANTUM WEIRDNESS OF THE ALMOST-KISS: "An incandescent debut about prodigies in love."–Amanda Sellet, author. WIDER THAN THE SKY: "A gorgeous debut that will capture your heart."–Corina Vacco, Delacorte Prize-Winning author. ANA ON THE EDGE: "Heartfelt, nuanced, and engaging."–Barbara Dee, author. SIA MARTINEZ AND THE MOONLIT BEGINNING OF EVERYTHING: "Luminous, genre-bending and out of this world."–Kirkus THROWAWAY GIRLS: "A smart, memorable mystery."–Kirkus, Starred Review
Happy Monday, book nerds! I hope you had a splendid weekend full of bookish goodness. My partner and I wrapped up watching the HBO documentary I'll Be Gone in the Dark, which is based off of the book by the same name by Michelle McNamara. It was fantastic, and I loved that it brought out new dimensions to the book and put a face to some of the victims of the Golden State Killer, allowing them to tell their stories in their own words. If true crime doesn't scare you too much, I highly recommend it!
Here's your latest batch of new book news and excitement! Remember to hydrate and wear a mask this week, friends!
Trivia time: Which famous American writer kept pet peacocks?
Deals and Squeals:
Hey Ken Liu fans, get excited! Liu's short stories are being adapted into an animated series at AMC, and two whole seasons have already been ordered!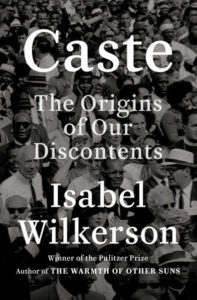 We've got a new Oprah pick! Caste by Isabel Wilkerson explores the origins of racial injustice. Wilkerson is also the author of The Warmth of Other Suns, about the Great Migration.
Universal and LeBron James are adapting the graphic novel New Kid by Jerry Craft, which won the Newbery Award earlier this year!
In sad news, Hulu has canceled High Fidelity, which is adapted from High Fidelity by Nick Hornby.
But in majorly exciting news, Megan Abbott has a new book, and TV rights have already sold! The Turnout will be out in summer 2021, and it dives into the ballet world.
The Crime Writers' Association Dagger Awards shortlist was announced on Twitter last week.
Former president George W. Bush has a new book of portraits, this time focusing on immigrants.
Thanks to COVID-19, it's been difficult for debut authors to launch careers, but Library Journal has rounded up 35 debut books coming out between summer and January 2021 for your reading pleasure.
Riot Recommendations
At Book Riot, I'm a cohost with Liberty on All the Books!, plus I write a handful of newsletters including the weekly Read This Book newsletter, cohost the Insiders Read Harder podcast, and write content for the site. I'm always drowning in books, so here's what's on my radar this week!
Recommended Reading: Stepping Stones by Lucy Knisely
I love diving into a good graphic novel, and believe it or not, this was my first Lucy Knisely pick (but certainly won't be my last!). It is a not-so-veiled fictional account of Lucy's own childhood, and it follows Jen, who's grumpy about being forced to move from the city to a farm with her mom and her mom's new boyfriend. Not only are the chores completely unfamiliar and messy, she also has to contend with two new step-sisters who only visit the farm part-time, and seem to be perfect in ways Jen is not. I love the rural setting, and the farming misadventures and farmer's market scenes. This is a book for kids, but I read it in a single sitting and loved it!
What I'm reading this week:
The Switch by Beth O'Leary
A Map to the Sun by Sloane Leong (my copy finally arrived and OH MY WORD THE COLORS ARE GORGEOUS!)
Harrow the Ninth by Tamsyn Muir (my copy finally came, YAY!)
Trivia answer: Flanney O'Connor!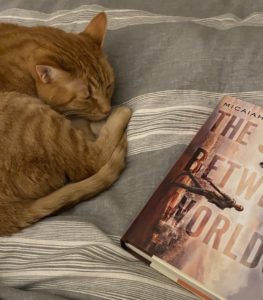 Here's a photo of my orange monster, looking deceptively peaceful and demure next to my copy of The Space Between Worlds. Now that it's getting cooler, he'll come looking for snuggles while I'm reading, and it's kinda cute.
Happy reading!
Tirzah