Sponsored by our Kindle Unlimited 1-year subscription giveaway!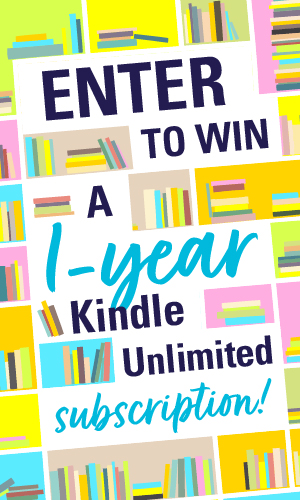 We're giving away a 1-year subscription to Kindle Unlimited courtesy of Early Bird Books! Early Bird Books brings you free and bargain eBooks that match your interests. You can sign up for free, read the books on any device, and the books are yours to keep. Click to enter!
Happy Friday, shipmates! It's Alex, and today I want to talk to you about some awesome fiction from New Zealand, so I'll keep this short. Stay safe and steady as she goes!
A silly thing to start your Friday: I made a Twitter quiz (the polls are no longer running but you can see the answers) called "Protoss or IKEA furniture?"
Looking for non-book things you can do to help? Lebanoncrisis.carrd.co
News and Views
C.L. Polk made a minigame to introduce you to the world of Midnight Bargain. Also, the covers of Kingston Cycle books say Bi Pride!
Mary Robinette Kowal has made transcripts of all the Hugo winner speeches.
Don't threaten me with a good time, clipping.
New Connie Willis novella coming from Subterranean Press!
The man whose science fiction keeps turning into our shitty cyberpunk reality
The Huntington Library has created a $50,000 Octavia Butler Fellowship.
Wow, I hadn't even had a chance to tell you about the whole Flashing Swords 6 thing.  WHEW. Well, it's been resolved.
On Book Riot
5 YA fantasies with feisty princesses
8 of the best YA books set in post-apocalyptic cities
Free Association Friday: New Zealand Writers
I don't want to take a deep dive into the WorldCon New Zealand post mortem; I shared plenty of links last newsletter about one of the big issues. But one big failure of WorldCon that deserves to be mentioned is that it was supposed to be the chance for New Zealand writers to meet a wider international audience. Note the supposed to be part. It was an utter failure at that, from the lack of New Zealand-centered (both Māori and Pākehā) programming, to the absolute shit show that was the Sir Julius Vogel Awards. If you're wondering what the SJVs were and how that was a failure, Casey Lucas, one of the winners, explains.
The tl;dr is that these writers deserve so much better, and their books more than deserve to be seen. So let's get to it, shall we?
The SJV winner for Best Novel is one of the books I mentioned last week, the ACAB and very queer The Dawnhounds by Sashca Stronach. It shared the nomination with:
The Blacksmith by Barbara Howe, a fantasy where the riddle 'How is the king like a blacksmith?' might be the salvation of a hunted man accused of murder.
Into the Ashes by Lee Murray – The Kāhui Tupua, the great mountain warriors of New Zealand's central plateau awaken, causing earthquakes and eruptions; an NZDF sergeant and his squad are sent in to evacuate civilians, but they're quickly cut off.
The Prince of Secrets by AJ Lancaster – Look, all you need is the tagline: "Well-bred women should not be seen kissing their butlers. Even when the butler in question is secretly a fae prince."
Solar Federation by S.E. Mulholland – An engineer and a healer of the land each have their own idea on how to save the ailing planet, but they're unaware of darker forces in the shadows that will happily kill them both to achieve their own destructive goals.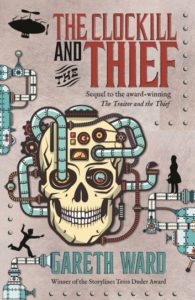 The winner of Best Youth Novel is The Clockill and the Thief, a swashbuckling tale of sky pirates and traitors. The main character, Sin, is desperately trying to defeat the Clockill before his poisoned blood kills him. It shared the nomination with:
Tyrelia by S.R. Manssen – Fourteen-year-old Freya must quest deep into the land of Tyrelia, in order to find the Ancient One and save her family, trapped in the Golden City by a merciless tyrant.
Ringlet and the Day the Oceans Stopped by Felicity Williams – When the tides suddenly stop, an eleven-year-old mergirl must save the oceans from this deadly stagnation—while a monster tries to stop her.
Dragon Rift: Riders of Fire by Eileen Mueller – Ezaara's secret lover, the dragon master Roberto, is captured, and the ruling council refuses to rescue him. She must take matters into her own hands if she wants to save both Roberto and the Dragons' Realm.
Light in My Blood by Jean Gilbert and William Dresden – Earth is separated by a wall from the realm of Nön, a place ruled by a dark creature that would love to capture any human it can, for in Nön humans have immense power. But humans might also be the key to this evil's defeat…
Definitely also check out the winner for Best Collected Work, Year's Best Aotearoa New Zealand Science Fiction and Fantasy (Volume I) edited by Marie Hodgkinson.
You can see the full award list here, including links to all the short stories, novelettes, and novellas.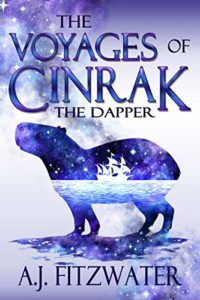 You should also check out this excellent Twitter thread, or this likewise excellent Twitter thread, or this third-times-an-excellent Twitter thread for story, book, and author recommendations. Also do not forget Whiti Hereaka's excellent thread of Māori writers (or her novel Legacy).
I also recommend checking out the offerings of Paper Road Press, which you can get outside of New Zealand in ebook and sometimes paperback. Start with The Stone Wētā by Octavia Cade if you want a climate thriller or No Man's Land by A.J. Fitzwater if you want historical fantasy. (A.J. also gave us The Voyages of Cinrak the Dapper, which is the adventures of a lesbian capybara who is also a pirate.)
---
See you, space pirates. You can find all of the books recommended in this newsletter on a handy Goodreads shelf. If you'd like to know more about my secret plans to dominate the seas and skies, you can catch me over at my personal site.