Sponsored by Keep My Heart in San Francisco by Amelia Diane Coombs.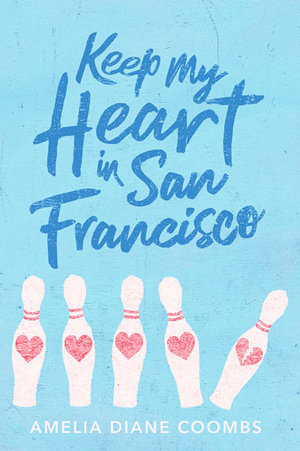 "Intriguing and Charming." – Kirkus Reviews. Chuck loves three things: coffee, fashion, and San Francisco. She hates—well, strongly dislikes—two things: bowling and Beckett Porter, her ex-best friend who broke her heart. Unfortunately, Chuck's spring break will be filled with both if she has any hopes of saving Bigmouth's, her family's ancient bowling alley and the only thing keeping her in the city she loves.
Hey guess what. As of today, August 3rd, there are only 150 days left in this disgrace of a year. So that's something to look forward to. What else do we look forward to? Romance novels, of course. I mean, they just keep coming and coming, and we try to keep up. And we just continue to accept it, because we can't help ourselves.
Let's talk books!
News and Useful Links
Hey look! It's the Ripped Bodice Awards, back around again! (I'm not judging this year but I'm excited to see the results. This year's judging panel is spectacular!)
So enamored with Boyfriend Material that you want to stare at a few lines while you write? Have I got the pencils for you!
Check out this upcoming "Guys Who Read Romance" panel.
If you missed the Love's Sweet Arrow event with Kit Rocha and Beverly Jenkins, you can watch it on YouTube now.
Rebekah Weatherspoon shared some photos and thoughts on Mass Market MAX, the new size that Kensington and a couple other publishers will be utilizing in the future.
A reminder about Alexis Daria's virtual book launch with East City Bookshop on Tuesday.
Deals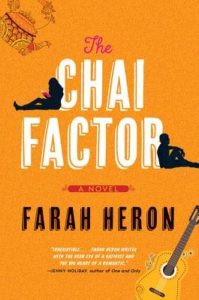 If you're down to read a book about a bunch of people living in the same house who get on each others' nerves, The Chai Factor by Farah Heron is 1.99 right now! It's not actually that bad; Amira goes home to get better work done on her graduate paper, but her grandmother has rented out her basement apartment to a whole ass barbershop quartet. She and Duncan, a member of said quartet, clash from the beginning, but there's plenty of sexual tension. And singing. And a side of fake dating (someone else) to prevent some homophobic encounters with relatives. But overall, tons of fun.
Recs!
Hey guess what?! I finished reading a whole book. And it made me think of other books I enjoyed that have a related premise, and others still that I want to check out. That's pretty common, I guess. But it was nice to land upon this past weekend.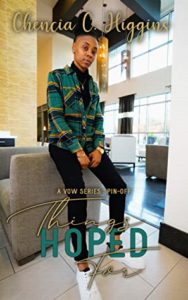 Things Hoped For
Chencia C. Higgins
I know I just talked about this book last week but now I can for certain say this is a book you want to read. If you're reading at your normal pace, you'll make it through in a few hours. If you've slowed down as much as I have, you might be picking at it for several days. Either way, the story of Tasha and Xeno will warm your heart and mess you up a little.
Tasha has moved to Houston in order to start over. Her small town in Arkansas might have her friends and her family home, but it didn't allow her to search for love and experience life in the way she wished—and the words of a psychic gave her just the right nudge. When she sees rapper Xeno in concert, she's immediately enthralled by the music and the musician. A chance meeting sends the pair sprawling towards big love, but something is holding Tasha back from accepting it as the real thing.
There are lots of different kinds of famous flings, whether they're with royalty, movie stars, or famous musicians. I love them all, but I think musicians are my favorite. We usually get to see some element of them working on their craft, whether they're making an album, on tour, or finding themselves again. Here are some I've enjoyed historically: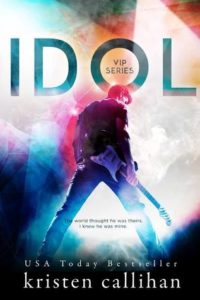 Kristen Callihan's VIP series (starting with Idol)
I can't pick the one I love most in this series. There are so many broken and brokenhearted people pulling themselves back together for love, and you just gotta read them all.
Anna Zabo's Twisted Wishes series (starting with Syncopation)
These all have different appeal, and include people with multiple sexual and gender identities. And they're just so effing good. Well written, enrapturing, and super heartfelt.
Rend by Roan Parrish
This is the second in the Riven series, but it is definitely my favorite. It was my first marriage-in-trouble romance, and it's just so good.
Feels Like Summer by Six de los Reyes
This starts at a summer music festival, and it has an almost-fake relationship setup: Jett is asked by one of Adrian's bandmates to be his five minute girlfriend. But they like each other more than that and start spending more time together. Jett thinks it's still going to be limited, but, you know how it is…
How to Reprimand Your Rock Star by Mina Vaughn
This one is fun because it is both a rock star romance and a sports romance. The female protagonist is a college basketball player who randomly meets a famous rockstar. He likes being tied up, and she learns to do it well. There's some kind of oracle involved. It's just tons of fun with a little light dommeing.
And the next one I hope to pick up is Rapper's Delight by Kenya Goree-Bell, just for the cover. I mean, the description is great, too. But you gotta see the cover.
What about you? What's your famous fling story of choice?
As usual, catch me on Twitter @jessisreading or Instagram @jess_is_reading, or send me an email at wheninromance@bookriot.com if you've got feedback, bookrecs, or just want to say hi!