Sponsored by Traitor by Amanda McCrina with Fierce Reads.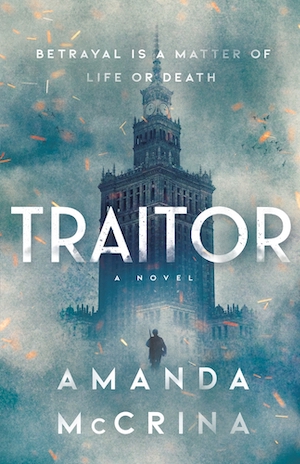 Amanda McCrina's Traitor is a tightly woven thrill ride exploring political conflict, deep-seated prejudice, and the terror of living in a world where betrayal is a matter of life or death. "Alive with detail and vivid with insight, Traitor is an effortlessly immersive account of a shocking and little-known moment in the turbulent history of Poland and Ukraine—and ironically, a piercing and bittersweet story of unflinching loyalty. I think Tolya has left my heart a little damaged forever." —Elizabeth Wein, #1 New York Times bestselling author of Code Name Verity and The Enigma Game.
Hey there, book nerds! Happy Monday! I hope your weekends were restorative and full of great books. I got in tons of great audiobook and print reading, and I even started watching Perry Mason on HBO, which is a new adaptation of the 1930s-set mystery series by Erle Stanley Gardner, starring Matthew Rhys. I'm super intrigued, so it's nice to know there's a second season to look forward to!
Whatever you've got going on this week, I hope you remember to take time for yourself and enjoy a good book!
Trivia time: What was the initial print run of Pride & Prejudice by Jane Austen?
Deals and Squeals: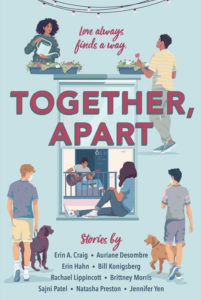 One nice thing to come out of pandemic life is Together, Apart, which is a YA anthology of romantic short stories that take place during COVID lockdown. Contributors include Rachael Lippincott, Brittney Morris, Erin A. Craig, and Bill Konigsberg. The anthology will be out in October.
They Wish They Were Us by Jessica Goodman, a YA book that comes out this week, has been optioned by Sydney Sweeney's new production company! Sweeney plans on starring in the TV adaptation.
It's looking like Michael Cohen can write his tell-all after all.
If you're a fan of Tess Sharpe's thrillers, then good news–her 2021 release The Girls I've Been has been optioned by Jason Bateman and Millie Bobby Brown!
Tor reports that Jason Peele is teaming up with Issa Rae to adapt the short story "Sinkhole" by Leyna Krow for film! Rae plans on starring in the film. You can read the short story here.
Disney+ is releasing a contemporary, American adaptation live action of Black Beauty by Anna Sewell, and Black Beauty will be voiced by Kate Winslet.
Matthew McConaughey is releasing a book in October called Greenlights, but he promises you it's not the typical celebrity memoir.
#BlackLivesMatter and so does Black art! Check out this incredible coloring book highlighting and celebrating Black artists, called #BlackArtMatters.
Riot Recommendations
At Book Riot, I'm a cohost with Liberty on All the Books!, plus I write a handful of newsletters including the weekly Read This Book newsletter, cohost the Insiders Read Harder podcast, and write content for the site. I'm always drowning in books, so here's what's on my radar this week!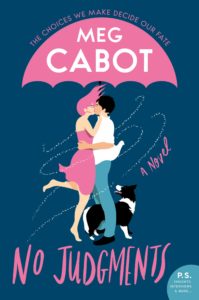 Recommendation: No Judgments by Meg Cabot
I went to the beach this past week, and naturally I needed a beach read. I grabbed this romance from Meg Cabot because she has been a reliable author for me for over 15 years, and I was not disappointed. This is the first in her new adult romance series set on the fictional Little Bridge Island, the tiniest in the Florida Keys. It follows Bree, who is living low-key as a waitress and painter with her rescue cat after running from her problems in New York City. When the hurricane of the century swerves for her island, she decides not to evacuate–and it's a good thing, because the storm wipes out the bridge to the island, separating evacuees from their pets. She goes on a mission to rescue and look after as many animals as possible, aided by her boss's sexy nephew–and maybe finds her calling along the way. This was such a fun read (that made me glad that my beach is far, far away from tropical storms) and an immersive and welcoming setting. I can't wait for the second in the series, No Offense, out next week!
What I plan on reading this week:
Once You Go This Far by Kristen Lepionka
Wicked Fox by Kat Cho
The Fixed Stars by Molly Wizenberg
Trivia answer: 1,500 copies!
Looking for a fun sewing project with all your fabric scraps that isn't making face masks? Check out these easy fabric square bookmarks! I'm going to whip up a few the first chance I get!
This Kickstarter for a Reader's Advisory card deck has already been fully funded, but look at how cool it is! You can still contribute and score a deck for yourself.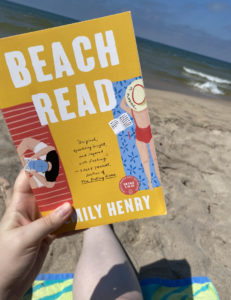 I'll leave you with this photo I took of one of my fave summer reads of this year, and maybe all time, Beach Read by Emily Henry, at its setting–Lake Michigan! As you can see, Lake Michigan beaches are legit, plus there are no tropical storms, no sharks, and no saltwater! (Although they do come with some wicked lake effect snow in winter, so I guess no beach is perfect!)
Happy reading!
Tirzah