Sponsored by You're Next, published by Jimmy Patterson Books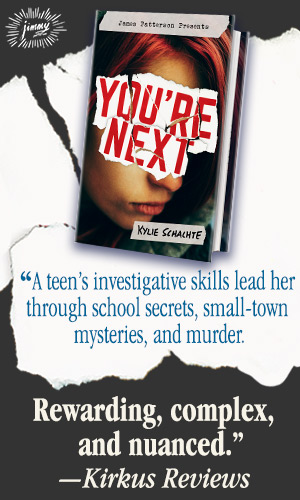 When a girl with a troubled history of finding dead bodies investigates the murder of her ex, she uncovers a plot to put herself — and everyone she loves — on the list of who's next. Her tunnel-visioned sleuthing leads to valuable clues about a shocking conspiracy involving her school and beyond, but also earns her sinister threats from the murderer. She has a choice: give up the hunt for answers, or keep digging and risk her loved ones' lives. Either way, Flora will regret the consequences. Who's next on the killer's list?
Hey YA Readers!
I'm STOKED to share a guest post today from a debut YA novel you need to have on your TBR.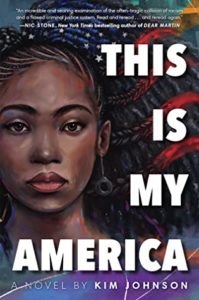 Kim Johnson is the writer of This Is My America, which hits shelves tomorrow, July 28, and it's a must-read. The story follows 17-year-old Tracy who writes letters every week to Innocence X, a program that she hopes can help free her father from death row, where he's been for seven years. Less than a year until his execution, the worst happens: Tracy's brother is arrested, accused of murdering a white girl. Tracy then steps in to find out what happened to the girl in order to free her brother, as well as her father.
This is a book about racial injustice in America and specifically, about the incarceration of Black people and how too often, justice is not on their side.
Anyone who has spent any time learning about — or living the experience of — the criminal justice system in America isn't surprised by the fact that prisons and jails are populated primarily by Black and Brown people, many of whom have been prosecuted in ways white people would never experience. Johnson's debut is about that, and it's about what happens to the family members who are left behind when the worst happens to their loved ones.
In an interview earlier this month, Johnson talked about the book and the piece mentioned that This Is My America broke the mold of typical YA books. She clarified this via Twitter — and her clarification is one to really sit with and think about because it's bang-on: even though we've seen more books by Black authors see publicity money, see the spotlight, and be recognized for being powerful and vital stories, they're still wildly underrepresented. This Is My America is a story of being a Black teen, of growing up in a world of white supremacy, and too often, the "typical" YA story ignores the fact that the coming-of-age novel is steeped in white norms and experiences.
I'm excited to share Kim's hand-picked YA nonfiction titles about justice and freedom with y'all today. Grab these, as well as This Is My America, and up your knowledge, insight, and compassion for the realities of America's broken, discriminatory justice system.
---
My debut novel, This Is My America is a searing examination of injustice, with activism and hope are at the center of the story. There are many literary activists who document necessary insights in order to understand our state of affairs and imagine Black freedom and liberation. The history of movements in our country continues to show ordinary people changing the world through extraordinary measures. Protests are evidence of what individuals as a collective can do for justice. 
With increased interest in reading antiracist works nationwide, I share my love of literary nonfiction by including a list of eight must-read nonfiction young adult titles for understanding the complexities of racial injustice in our criminal system and inspiration for activism and hope. 
Inspiration for my novel came from reading this incredible memoir by the acclaimed lawyer and social justice advocate Bryan Stevenson. He offers a glimpse into the lives of the wrongfully imprisoned and his efforts to fight for their freedom.
Two people in the same community can have very different experiences based on their resources, upbringing, and even just luck. Putting yourself in someone else's shoes provides a space for empathy and understanding. Discovering Wes Moore looks at the lives of two fatherless boys from Baltimore, both named Wes Moore. One is in prison, serving a life sentence for murder. The other is a Rhodes Scholar, an army veteran, and an author, whose book is being turned into a movie produced by Oprah Winfrey.
Young people have held a place in fighting for justice and recognize their involvement in today's Black Lives Matter movement. We've Got a Job is the inspiring story of one of the greatest moments in civil rights history, as seen through the eyes of four young people at the center of the action. The 1963 Birmingham Children's March was a turning point in American history. In the streets of Birmingham, Alabama, the fight for civil rights lay in the hands of children.
Many people have heard of Rosa Parks, an incredible civil rights activist. But how many know of Claudette Colvin? On March 2, 1955, an impassioned teenager, fed up with the daily injustices of Jim Crow segregation, refused to give her seat to a white woman on a segregated bus in Montgomery, Alabama. Instead of being celebrated as Rosa Parks would be just nine months later, fifteen-year-old Claudette Colvin found herself shunned by her classmates and dismissed by community leaders. Undaunted, a year later she dared to challenge segregation again as a key plaintiff in Browder v. Gayle, the landmark case that struck down the segregation laws of Montgomery and helped to sweep away the legal underpinnings of the Jim Crow South.
March by John Lewis, Andrew Aydin, and Nate Powell
Discover the inside story of the civil rights movement through the eyes of one of its most iconic figures, Congressman John Lewis. March is the award-winning, number one bestselling graphic novel trilogy recounting his life in the movement, co-written with Andrew Aydin and drawn by Nate Powell.
I Am Malala by Malala Yousafzi and Patricia McCormick
This world needs more books on activism led by young women. Malala's powerful story will open your eyes and will make you believe in hope, truth, miracles, and the possibility that one person—one young person—can inspire change in her community and beyond.
Though This Is My America is a work of fiction, empowerment of Black women is at the heart of my story, in the form of my main character, Tracy. And everyone interested in this reading list should have inspirational poetry as fuel. This collection of poems, inspired by the #SayHerName campaign launched by the African American Policy Forum, pays tribute to victims of police brutality as well as the activists who insist that Black Lives Matter. Elliott engages poets from the past two centuries to create a chorus of voices celebrating the creativity, resilience, and courage of Black women and girls.
Patrisse Khan-Cullors's and asha bandele's instant New York Times bestseller When They Call You a Terrorist, now adapted for a YA audience with photos and journal entries, will be out in September. This memoir is a reflection on humanity, lauded as an empowering account of survival, strength, and resilience, and is the kind of call to action we need now more than ever.
---
Thank you so much, Kim, and thank you to everyone here to hang out this week. Grab some of these books (or ALL of them!).
We'll see you later this week!
— Kelly Jensen, @heykellyjensen on Instagram and editor of Body Talk, (Don't) Call Me Crazy, and Here We Are.