Sponsored by Tor Books.
Chilling Adventures of Sabrina meets Joe Hill in S. A. Hunt's I Come with Knives, a horror-tinged action-adventure about a punk YouTuber on a mission to hunt witches, one vid at a time. Robin—armed with knowledge about mysterious demons, the support of her friends and her old witch-hunter mentor—plots to confront the Lazenbury coven and destroy them once and for all. Robin must handle new threats on top of the menace from the Lazenbury coven, but a secret about Robin's past may throw all of her plans into jeopardy.
Hello, spook-pals! You're in The Fright Stuff, Book Riot's weekly horror newsletter about the latest and greatest in horror. I'm Jenn Northington, and I'm here to share some of the Get Booked podcast's favorite horror favorites from over the years.
Over at Get Booked, we take reading recommendation requests from across genres and do our best to come up with the right next read for each asker. We've had more than a few horror questions over the years, and Amanda and I both have our own (sometimes fraught) relationship with the genre — we tend to be a little squeamish, albeit about different things — but we've also managed to find books perfect for both us and our listeners. So I thought I'd give y'all a tour of some of our picks!
Bonus: You're actually getting an advance peek at next week's show, on which we have two askers looking for indie horror reads to help them finish the 2020 Read Harder Challenge.
Indie horror (tune in on Thursday, 7/30, to hear us talk about these):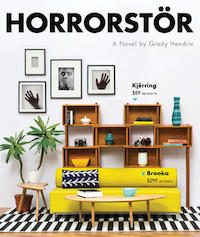 Horrorstör by Grady Hendrix, illustrated by Michael Rogalski, published by Quirk
This is a horror novel inspired by an Ikea catalog, and I honestly feel like that should be enough? But if you need more, it's set in a furniture superstore in Cleveland, OH, in which things are mysteriously being broken after closing, and three employees volunteer to stay overnight to figure out what's happening. It's a haunted house story but also a product catalog, and it's funny and weird and creepy all at once.
Elegy for the Undead by Matthew Vesely (publishing October 13, 2020) from Lanternfish Press
I'm so excited to crack into this book, which is a queer zombie tragedy from a publisher local to me here in Philadelphia. This tweet thread from Seanan McGuire (you might also know her as Mira Grant) really sells the heck out of it.
Read-alikes for Bloodborne (gothic, dark urban fantasy, cosmic horror):
From the Wreck by Jane Rawson
Another Amanda pick, this is one I've got on my own TBR. It follows the survivor of a shipwreck, plagued by PTSD, and a woman from another dimension and it's a twisty, weird, head-scratcher of a gothic historical novel.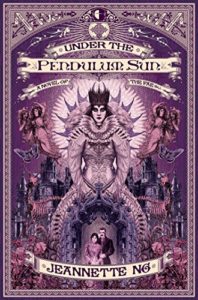 Under the Pendulum Sun by Jeanette Ng
Dark fae and colonialism are the subject of this incredibly intense, extremely strange gaslamp fantasy, from one of my current favorite genre-busting authos. Ng's work is always complex and unexpected, and you've never seen Queen Mab like this before.
Sci-fi + Horror:
The Outside by Ada Hoffmann
Speaking of genre-busting! Hoffmann has created a space opera with an autistic, queer scientist heroine that busts up Lovecraftian horror with modern-day sensibilities. Sentient AI gods, interdimensional eldritch horrors, and some truly weird body-horror all come together in this vibrantly imagined novel that, for my money, is a must-read.
Horror that will scare the living hell out of you: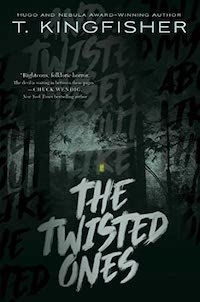 The Twisted Ones by T. Kingfisher
This one came recommended by Rioter Jessica Woodbury, who has a stronger constitution than myself by a whole lot. Our heroine Mouse is asked to clean out her grandmother's home in rural North Carolina, and she has to deal with hoarding, her step-grandfather's strange journal, AND terrifying encounters in the woods. Tread carefully and maybe sleep with the lights on??
Horror read-alikes for Stephen King, but with less racism, sexism, and homophobia:
Mapping the Interior by Stephen Graham Jones
Graham Jones is a perennial Get Booked favorite, and this haunted house story is a great introduction to his work if you haven't already been exposed. Amanda picked it as a comp for The Shining, in case that's a thing you're looking for.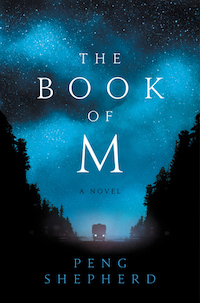 The Book of M by Peng Shepherd
While it's not an exact comp for The Stand, it comes close in the ways that matter to me. It's got a pandemic, it's got elements of horror and the supernatural, but it's also deeply about the relationships you build at the end of the world, traveling across America when everything is going to hell, and what it means to fight for good. It's also got an absolute heart-breaker of an ending, so consider yourself warned!
Spooky reads that don't rely on gore or body horror:
The Moth Diaries by Rachel Klein
This claustrophobic, deeply overlooked YA novel is a favorite of both mine and Amanda's. A 16-year old girl attending boarding school becomes obsessed with a fellow student, Ernessa, who may or may not be a vampire?! Told through journal entries, it's got one of my favorite unreliable narrators; do yourself a favor and make sure you've got some time when you pick this up, because you won't want to stop.
His Hideous Heart, edited by Dahlia Adler
Speaking of YA! I L-O-V-E, love this collection of stories, all riffs on Edgar Allen Poe, by 13 truly excellent YA authors. Creepy, gothic, horrifying, supernatural, understated, gory — the range is huge, the talent is breathtaking, AND the original stories that the authors were retelling are included so you can do comparisons if you are so inclined. This is a solid choice even if you're not a Poe fan; you don't need to know the originals to appreciate the stories, and there are some killer (heh) ones just waiting for you.
A horror graphic novel: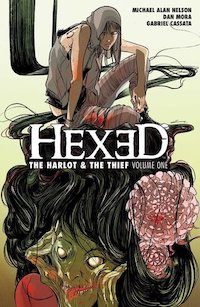 Hexed Vol. 1: The Harlot and the Thief by Michael Alan Nelson, Emma Rios, and Dan Mora
There are so many great horror GNs, but this is a personal favorite that I just can't resist gushing about whenever I get the chance. Our main character, Luci (a.k.a. Lucifer, obviously!) is a con-artist and thief for hire with supernatural skills. When she accidentally unleashes the evil in a painting, she sets herself on a journey that also reveals the layers to her own journey, and some unanswered questions about her past. Sort of like if Coraline was about a young adult who stayed on the other side and made friends with Other Mother without losing her soul, is one way to describe it. Utterly awesome, is another way.
And this concludes our tour into the Get Booked horror rec archives! I hope you've found something for yourself; swing by the show anytime, and happy hauntings.
-Jenn