Sponsored by The Chronicles of Now podcast from Pushkin Industries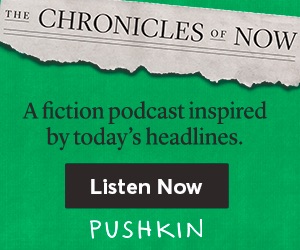 tk
Whoa! Check Out An Exclusive Look At Keanu Reeves' Action-Packed First Comic Book, 'BRZRKR'
Keanu Reeves is adding comic book writer to his long list of achievements! Reeves pitched the idea of a centuries-old half-man, half-war god doomed to walk the Earth while dealing with compulsions of violence to BOOM! Studios, and has been co-writing the 12-issue run with Matt Kindt. BRZRKR is illustrated by Alessandro Vitti, and the titular Berzerker character will bear a resemblance to Reeves. BOOM! Studios has a first-look deal with Netflix, so maybe we'll see Reeves bring his creation to life on the screen…
Netflix Commits Largest Budget So Far For 'The Gray Man'
Mark Greaney fans, get excited–Greaney's novel The Gray Man is not only a go at Netflix, but the streaming service has granted it an unprecedented $200 million budget. Ryan Gosling and Chris Evans will star in the film, which is about two killers, trained by the CIA, who find themselves at odds. With stars and a budget such as this, it's clear that Netflix is hoping to make the next big blockbuster.
Susan Orlean Steals Our Hearts With Drunken Tweetstorm
Sometimes you just need a laugh, and maybe you want some reassurance that your favorite writers are also trying to cope with the pandemic as best they can. Writer Susan Orlean entertained and charmed many with a series of tweets Friday night after she admitted to being drunk. She updated us on her neighbor's new foal, her cat, and the lack of candy in her house. Admit it, we've all felt like Susan at some point during this pandemic.