Sponsored by All These Monsters by Amy Tintera, published by Houghton Mifflin Harcourt.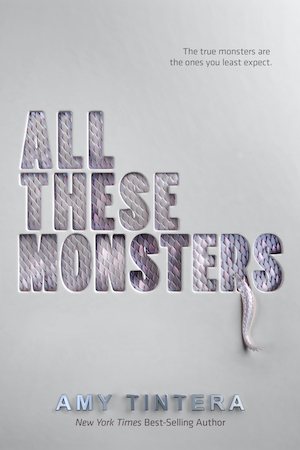 From New York Times best-selling author Amy Tintera comes this high-stakes sci-fi adventure about a teen girl who will do anything to escape her troubled home—even if that means joining a dangerous monster-fighting squad. Clara is ready to fight back. Fight back against her abusive father and most of all, fight back against scrabs, earth-dwelling monsters that are ravaging the world. When an opportunity arises for Clara to join a monster-fighting squad, she jumps at the chance. But as Clara gains confidence in her battle skills, she starts to realize scrabs might not be the biggest evil. The true monsters are the ones you least expect.
Happy new book day, shipmates! Hopefully the hot summer breeze (or the cold winter wind, if you're reading this in the southern hemisphere) is bringing you the scent of fresh pages and new adventure. It's Alex, with some new books and a bit of bookish news (though I'll warn you now, the first item is, I think important, but very difficult).
Non-SFF that made my day: I was just introduced to Indian Folk Metal (particularly the music of Bloodywood) so I MUST share. A couple songs to start: Machi Bhasad and Jee Veerey
Looking for non-book things you can do to help in the quest for justice? blacklivesmatter.card.co and The Okra Project.
New Releases
Note: There do not appear to be any authors of color on the new SFF release lists for this week that I have access to. Though I will note if you want something that's filed as horror, definitely check out The Only Good Indians by Stephen Graham Jones.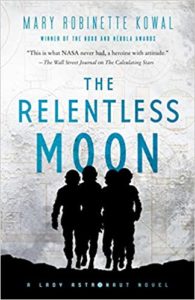 The Relentless Moon by Mary Robinette Kowal – As the climate disaster set into motion by the meteor impact becomes more clear again, the IAC's mission to get as many humans off the planet as possible is threatened by riots and sabotage. While Elma York is on her way to Mars to begin that step of the plan, her fellow Lady Astronaut Nicole Wargin is hard at work trying to establish humanity's first and perhaps most important colony on the Moon. The last thing Nicole needs on top of that difficult task is her husband deciding to run for president.
Peace Talks by Jim Butcher – Harry Dresdent is called on to join the White Council's security team as the supernatural nations across the world meet to negotiate the end of ongoing hostilities. As the meeting progresses, the politicking threatens not only peace of the supernatural world, but the very existence of Chicago.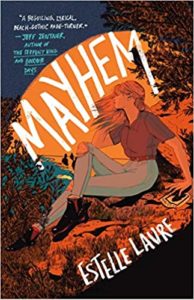 Mayhem by Estelle Laure – Mayhem flees with her mother Roxy to California after Roxy's husband (and Mayhem's step father) pushes them too far. Mayhem has always known there's something strange about her and her mother, but on the beaches of Santa Maria, she discovers it's not just an inborn strangeness, but magic that runs through the female line of her family. Mayhem's self-discovery is interrupted by the search for a man who has been kidnapping girls from the beach; that sends her into a tangled mess of revenge and vigilante justice.
In the Kingdom of All Tomorrows by Stephen R. Lawhead – Tara's Hill has become a refuge for those driven from their homes by the violence of the Scálda barbarians. Conor mac Ardan, the new clan chief of the Darini, must join the other lords of Eirlandia as the black ships of the Scálda draw closer—and treachery threatens from within.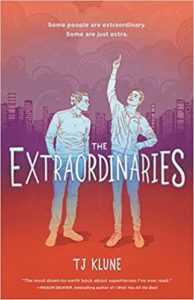 The Extraordinaries by T.J. Klune – Nick isn't an Extraordinary himself, but he's the most popular fanfiction writer in the whole fandom, so that counts for something. After encountering the Extraordinary who is his biggest crush, Nick becomes determined to join their ranks—and drags his best friend (who might be the actual love of his life), Seth, along.
Other People's Pets by R.L. Maizes – An animal empath named La La Fine has been abandoned twice by her mother; she has only her father, a locksmith who is in reality a thief. Growing up, she used her skills to calm watchdogs while her father performed robberies. Now an adult in veterinary school, she is forced to drop out when her father is arrested and her tuition money needs to go to pay his legal fees. She takes up burglary again, though now she only robs houses where she senses the pets are in trouble, leaving behind aide for animals even as she takes valuables with her.
News and Views
TW for sexual assault, domestic violence: allegations of violent and predatory behavior have been made about the owner of Borderlands Books.
There's now a Murderbot box set.
Sara Kuhn's Heroine Complex series is coming to audiobook!
Nnedi Okorafor shared the new cover of the 10th anniversary edition of Who Fears Death and the new cover for The Book of Phoenix.
The New York Times Magazine has published the Decameron Project, which is 29 short stories about current times, from authors such as Margaret Atwood and Victor LaValle.
New book coming from S.B. Divya! You can already pre-order Machinehood.
The politics of peeing in space.
On Book Riot
8 elemental fantasies to read after your Avatar: The Last Airbender rewatch
Enter before the end of the month and you could win The Southern Book Club's Guide to Slaying Vampires by Grady Hendrix, a year of free books, or a $250 Barnes and Noble gift card.
---
See you, space pirates. You can find all of the books recommended in this newsletter on a handy Goodreads shelf. If you'd like to know more about my secret plans to dominate the seas and skies, you can catch me over at my personal site.