Sponsored by Scullion: A Dishwasher's Guide to Mistaken Identity from Oni Press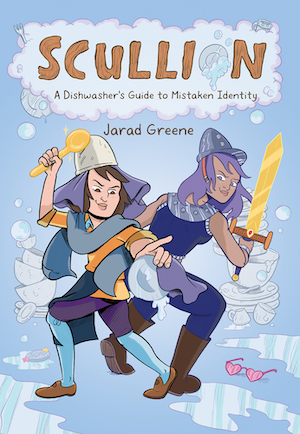 n celebrity-obsessed Timberwood Village, humble dishwashing teens Darlis and Mae are looking forward to the great warrior Riqa's wedding of the century. That is, until Riqa mysteriously disappears and an unsuspecting Darlis is mistaken for her! It's flattering until two trolls try to capture him for ransom. To get out of this predicament, these dishwashers will have to get their hands a little dirty. Armed with only their wits and Riqa's book, The Fair Maiden's Guide to Eating Your Captor for Breakfast, can Darlis and Mae give their captors a run for their money?
Welcome to Check Your Shelf. As I put this newsletter together, I am about to go back to work after a week's staycation, and somehow I feel more tired at the end of this week than I was at the beginning. So let's mask up and push through the week.
---
Collection Development Corner
Publishing News
New & Upcoming Titles
What Your Patrons Are Hearing About
RA/Genre Resources
On the Riot
---
All Things Comics
On the Riot
---
Audiophilia
On the Riot
---
Book Lists, Book Lists, Book Lists
Children/Teens
Adults
On the Riot
---
Level Up (Library Reads)
Do you take part in Library Reads, the monthly list of best books selected by librarians only? We've made it easy for you to find eligible diverse titles to nominate. Kelly Jensen created a database of upcoming diverse books that anyone can edit, and Nora Rawlins of Early Word is doing the same, as well as including information about series, vendors, and publisher buzz.
Stay safe and stay well, everyone.
—Katie McLain Horner, @kt_librarylady on Twitter. Currently reading The Deep by Alma Katsu.