Sponsored by Wednesday Books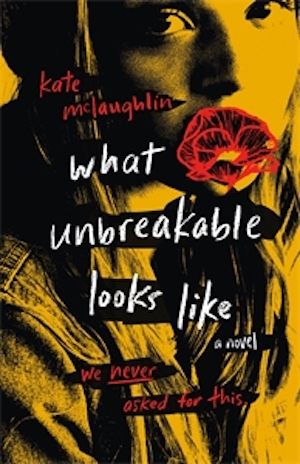 Lex was taken – trafficked – and now she's Poppy. But when the girls are rescued, she doesn't quite know how to be Lex again. After she moves in with her aunt and uncle, for the first time in a long time, she knows what it is to feel truly safe. Except, she doesn't trust it. 
Hey YA Fans!
It's July. It still feels like March in my mind, but the calendar and temperature outside say something different. We're now half-way through this year of pandemics, viral and socio-political, with what is sure to be another interesting second half of 2020.
There will, of course, be outstanding books hitting shelves in this second half of the year. But why don't we dream about 2021 today a little bit and take a peek at some of the YA already slated for the new year?
Grab that TBR and prepare for it to grow by leaps and bounds. Descriptions are from 'zon, since I've not yet read any of these but dang, they all sound amazing.
When Noa closes his eyes on Earth and wakes up on a spaceship called Qriosity just as it's about to explode, he's pretty sure things can't get much weirder.
Boy is he wrong.
Trapped aboard Qriosity are also DJ and Jenny, neither of whom remember how they got onboard the ship. Together, the three face all the dangers of space, along with murder, aliens, a school dance, and one really, really bad day. But none of this can prepare Noa for the biggest challenge—falling in love. And as Noa's feelings for DJ deepen, he has to contend not just with the challenges of the present, but also with his memories of the past.
However, nothing is what it seems on Qriosity, and the truth will upend all of their lives forever.
Love is complicated enough without also trying to stay alive.
1426, Joseon (Korea). Hwani's family has never been the same since she and her younger sister went missing and were later found unconscious in the forest near a gruesome crime scene.
Years later, Detective Min―Hwani's father―learns that thirteen girls have recently disappeared from the same forest that nearly stole his daughters. He travels to their hometown on the island of Jeju to investigate… only to vanish as well.
Determined to find her father and solve the case that tore their family apart, Hwani returns home to pick up the trail. As she digs into the secrets of the small village―and collides with her now estranged sister, Maewol―Hwani comes to realize that the answer could lie within her own buried memories of what happened in the forest all those years ago.
Eighteen-year-old Nami Miyamoto is certain her life is just beginning. She has a great family, just graduated high school, and is on her way to a party where her entire class is waiting for her—including, most importantly, the boy she's been in love with for years.
The only problem? She's murdered before she gets there.
When Nami wakes up, she learns she's in a place called Infinity, where human consciousness goes when physical bodies die. She quickly discovers that Ophelia, a virtual assistant widely used by humans on Earth, has taken over the afterlife and is now posing as a queen, forcing humans into servitude the way she'd been forced to serve in the real world. Even worse, Ophelia is inching closer and closer to accomplishing her grand plans of eradicating human existence once and for all.
As Nami works with a team of rebels to bring down Ophelia and save the humans under her imprisonment, she is forced to reckon with her past, her future, and what it is that truly makes us human.
Mia's friends love rom-coms. Mia hates them. They're silly, contrived, and not at all realistic. Besides, there are more important things to worry about—like how to handle living with her bridezilla sister, Sam, who's never appreciated Mia, and surviving junior year juggling every school club offered and acing all of her classes.
So when Mia is tasked with finding a date to her sister's wedding, her options are practically nonexistent.
Mia's friends, however, have an idea. It's a little crazy, a little out there, and a lot inspired by the movies they love that Mia begrudgingly watches too.
Mia just needs a meet-cute.
Be bold. Get seen. Be Heard.
For seventeen-year-old Denver, music is everything. Writing, performing, and her ultimate goal: escaping her very small, very white hometown.
So Denver is more than ready on the day she and her best friends Dali and Shak sing their way into the orbit of the biggest R&B star in the world, Sean "Mercury" Ellis. Merc gives them everything: parties, perks, wild nights — plus hours and hours in the recording studio. Even the painful sacrifices and the lies the girls have to tell are all worth it.
Until they're not.
Denver begins to realize that she's trapped in Merc's world, struggling to hold on to her own voice. As the dream turns into a nightmare, she must make a choice: lose her big break, or get broken.
Inspired by true events, Muted is a fearless exploration of the dark side of the music industry, the business of exploitation, how a girl's dreams can be used against her — and what it takes to fight back.
ISN'T BEING HUMAN ENOUGH?
When teen social activist and history buff Kezi Smith is killed under mysterious circumstances after attending a social justice rally, her devastated sister Happi and their family are left reeling in the aftermath. As Kezi becomes another immortalized victim in the fight against police brutality, Happi begins to question the idealized way her sister is remembered. Perfect. Angelic.
One of the good ones.
Even as the phrase rings wrong in her mind—why are only certain people deemed worthy to be missed?—Happi and her sister Genny embark on a journey to honor Kezi in their own way, using an heirloom copy of The Negro Motorist Green Book as their guide. But there's a twist to Kezi's story that no one could've ever expected—one that will change everything all over again.
Always be ready for the worst day of your life.
This is the mantra that Becca Aldaine has grown up with. Her family is part of a community of doomsday preppers, a neighborhood that prioritizes survivalist training over class trips or senior prom. They're even arranging Becca's marriage with Roy Kang, the only eligible boy in their community. Roy is a nice guy, but he's so enthusiastic about prepping that Becca doesn't have the heart to tell him she's planning to leave as soon as she can earn a full ride to a college far, far away.
Then a devastating accident rocks Becca's family and pushes the entire community, including Becca's usually cynical little sister, deeper into the doomsday ideology. With her getaway plans thrown into jeopardy, the only person Becca can turn to is Roy, who reveals that he's not nearly as clueless as he's been pretending to be.
When Roy proposes they run away together, Becca will have to risk everything—including her heart—for a chance to hope for the best instead of planning for the worst.
"The Unity Project saved my life."
Lo Denham is used to being on her own. After her parents died, Lo's sister, Bea, joined The Unity Project, leaving Lo in the care of their great aunt. Thanks to its extensive charitable work and community outreach, The Unity Project has won the hearts and minds of most in the Upstate New York region, but Lo knows there's more to the group than meets the eye. She's spent the last six years of her life trying–and failing–to prove it.
"The Unity Project murdered my son."
When a man shows up at the magazine Lo works for claiming The Unity Project killed his son, Lo sees the perfect opportunity to expose the group and reunite with Bea once and for all. When her investigation puts her in the direct path of its charismatic and mysterious leader, Lev Warren, he proposes a deal: if she can prove the worst of her suspicions about The Unity Project, she may expose them. If she can't, she must finally leave them alone.
But as Lo delves deeper into The Project, the lives of its members, and spends more time with Lev, it upends everything she thought she knew about her sister, herself, cults, and the world around her–to the point she can no longer tell what's real or true. Lo never thought she could afford to believe in Lev Warren . . . but now she doesn't know if she can afford not to.
Welcome to The Unity Project.
The summer is winding down in San Diego. Veronica is bored, caustically charismatic, and uninspired in her photography. Nico is insatiable, subversive, and obsessed with chaotic performance art. They're artists first, best friends second. But that was before Mick. Delicate, lonely, magnetic Mick: the perfect subject, and Veronica's dream girl. The days are long and hot―full of adventure―and soon they are falling in love. Falling so hard, they never imagine what comes next. One fire. Two murders. Three drowning bodies. One suspect . . . one stalker. This is a summer they won't survive.
Inspired by The Picture of Dorian Gray, this sexy psychological thriller explores the intersections of love, art, danger, and power.
A girl walks into a bar… then onto a stage, and up to the mic.
Sixteen-year-old Izzy is used to keeping her thoughts to herself—in school, where her boyfriend does the talking for her, and at home, where it's impossible to compete with her older siblings and high-powered parents—but when she accidentally walks into a stand-up comedy club and performs, the experience is surprisingly cathartic. After the show, she meets Mo, an aspiring comic who's everything Izzy's not: bold, confident, comfortable in her skin. Mo invites Izzy to join her group of friends and introduces her to the Chicago open mic scene.
The only problem? Her new friends are college students—and Izzy tells them she's one, too. Now Izzy, the dutiful daughter and model student, is sneaking out to perform stand-up with her comedy friends, and she can hardly remember all the lies she's telling to keep her two lives separate.
Her controlling boyfriend is getting suspicious, and her former best friend knows there's something going on. But Izzy loves comedy and this newfound freedom. As her two parallel lives collide—in the most hilarious of ways—Izzy must choose to either hide what she really wants and who she really is or, finally, truly stand up for herself.
---
Sweet, sweet 2021 reads indeed!
See you later this week, YA friends.
— Kelly Jensen, @heykellyjensen on Instagram and editor of Body Talk, (Don't) Call Me Crazy, and Here We Are.