Sponsored by Size Zero by Abigail Mangin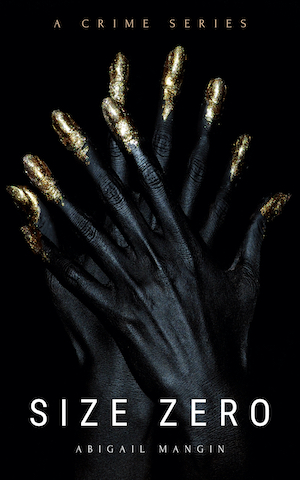 Condom dresses and space helmets have debuted on fashion runways. A dead body becomes the trend when a coat made of human skin saunters down fashion's biggest stage. The body is identified as Annabelle Leigh, the teenager who famously disappeared over a decade ago from her boyfriend's New York City mansion. This new evidence casts suspicion back on the former boyfriend, Cecil LeClaire. Now a monk, he is forced to return to his dark and absurd childhood home to clear his name. He teams up with Ava Germaine, a renegade ex-model. And together, they investigate the depraved and lawless modeling industry behind Cecil's family fortune.
Hola Audiophiles! We made it to the end of June! I'm still a little baffled by the fact that half the year is over, and that any return to "normal" is probs not in the cards. What I am clear on is that we should all keep the same energy for Black and queer lives all year and not just in the month of June. Join me in that purpose, but first…
Let's audio.
---
New Releases – June 30 (publisher descriptions in quotes)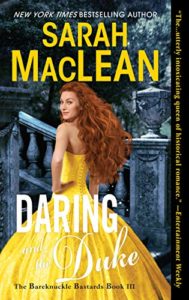 Daring and the Duke (Bareknuckle Bastards III) by Sarah MacLean, read by Justine Eyre (romance) – Grace Condry was betrayed by her only love in her youth and now lives on the streets as queen of London's darkest corners. Ewan, Duke of Marwick, has spent a decade searching for the woman he lost in a gamble and never stopped loving. That woman, of course, is Grace, and reconciliation is not on Ms. Condry's agenda. She wants revenge, but as she gets closer to him, she finds herself overwhelmed with the feely feels she swore she'd never feel again. Passion!
Narrator Note: Justine Eyre is such a lovely narrator! You've seen me talk her up plenty from her work on tons of other Sarah MacLean titles as well as books like The Historian by Elizabeth Kostova and The Invited by Jennifer McMahon.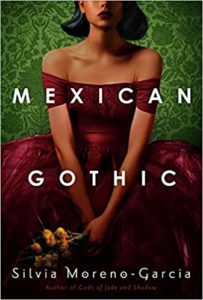 Mexican Gothic by Silvia Moreno Garcia, read by Frankie Corzo (Gothic horror + historical) – Insert Mexican grito here! I'm an SMG fangirl and this book is one I've been waiting on with bated breath, a tight, twisty, and claustrophobic read whose setting is inspired by a real town in the mountains of Hidalgo with a British mining past. Picture it: Mexico, 1950s: after her newlywed cousin Catalina sends a letter begging for help, socialite Noemí leaves the city and travels to the stately manor where Catalina lives. When she gets there, her cousin's handsome English husband says it was all a misunderstanding, blaming tuberculosis for his wife's mental state. But Noemí doesn't think Catalina's symptoms make sense, then she herself experiences some super weird and creepy goings on in the home. It's lush, atmospheric, and sooo gothic. I need to finish this newsletter so I can keep reading!
Side note: I see some people referring to this read as magical realism. Here and here are a couple of tweets on why that's not the move.
Narrator Note: Frankie! I love her. Some of my favorites of her work include Incendiary by Zoraida Cordova and Next Year in Havana by Chanel Cleeton.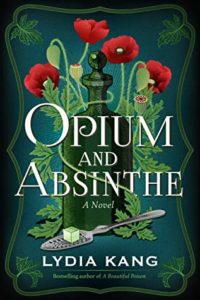 Opium and Absinthe by Lydia Kang, read by Bailey Carr (mystery/thriller) – This is a historical thriller set in Gilded Age New York. Tillie Pembroke's sister isn't just dead; her body is drained of blood and there are two puncture wounds on her neck. Gah! Bram Stoker's Dracula has just been introduced to the world, so Tillie starts to ponder the impossible: could the murderer be a vampire. No! Of course not! Maybe? Tillie becomes obsessed with unraveling the mystery of her sister's death. But truth isn't her only addiction; to ease the pain from a recent injury, she's also picked up a laudanum habit that makes the pursuit of the truth that much murkier.
Narrator Note: Bailey Carr's recent works include I Was Told It Would Get Easier by Abbi Waxman and A Good Girl's Guide to Murder by Holly Jackson.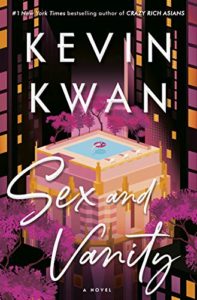 Sex and Vanity by Kevin Kwan, read by Lydia Look (fiction) – Lucie Churchill is vacationing in Capri when she sets eyes on George Zao and she instantly can't stand his stupid sexy face. Cut to him kissing her in the ancient ruins of a Roman villa, where they're caught by her snobby cousin who's all "well your mom is Chinese so of course you're attracted to that Chinese man." Lucie is indeed the daughter of an American-born Chinese mother and a blue-blooded New York father, but she's always played down her Asian side favor of the white side. Because there are clearly some things she needs to unpack, she adamantly denies having feelings for George. But c'mon, we know what feelings do. They demand to be felt!
Narrator Note: I looooved Lydia Look's reading of Crazy Rich Asians and the other books in the series. Can't wait to get her in my ears again!
Latest Listens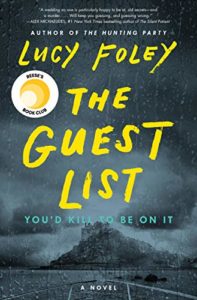 True story: I listened to Lucy Foley's The Guest List on accident. I totally meant to press play on another book for an upcoming episode of All the Books and then sort of just kept listening. Good move!
The story is told from five perspectives: the bride, Jules, the smart, magazine publisher marrying a devastatingly handsome reality TV star; the plus one, Hannah, whose husband is Jule's longtime BFF; the best man, Johnno, whose life hasn't gone as planned after leaving the elite boarding school he attended with the groom; the wedding planner, Aoife, who's helped plan the nuptials to Julia's exact (and luxurious) specification; and the bridesmaid, Jule's younger sister who is just trying to keep it together long enough to not ruin the big day. All these folks convene on a remote island off the coast of Ireland for the wedding, and it all starts off peachy. However as the day rolls on and the liquor starts to flow, old resentments bubble up and the tension rises. When a body turns up and a storm sets in, it all goes to sh*t.
In the end, and I do mean almost the very end, I did solve the whodunnit but I wasn't sure that I had. If locked-room (or in this case, secluded island) mysteries with a ton of Agatha Christie-esque red herrings are your jam like they are mine, this will be a fun one for you too. The cast of narrators is fantastic: Jot Davies, Chloe Massey, Olivia Dowd, Aoife McMahon, Sarah Ovens, and Rich Keeble. They each do such an excellent job with pacing, conveying a whole range of emotions, and building suspense!
From the Internets
23 Audiobooks That Are Even Better Than The Print Version
This Publishers Weekly piece from mid June is titled "All Signs Point Up for Audiobooks" and my first reaction was, "Duh."
Over at Tor.com, a roundup of Marvel fiction podcasts and audiobooks to fill the MCU gap in our hearts.
Over at the Riot
Visiting Home with Appalachia Audiobooks
4 Amazing Audiobooks to Discover on Spotify
---
Thanks for hanging with me today! Shoot me an email at vanessa@riotnewmedia.com with all things audiobook or find me on Twitter and the gram @buenosdiazsd. Sign up for the In The Club newsletter, catch me once a month on the All the Books podcast, and watch me ramble about even more new books every Tuesday on our YouTube channel.
Stay bad & bookish, my friends.
Vanessa