Sponsored by our 1-year Audible subscription giveaway courtesy of Macmillan Audiobooks.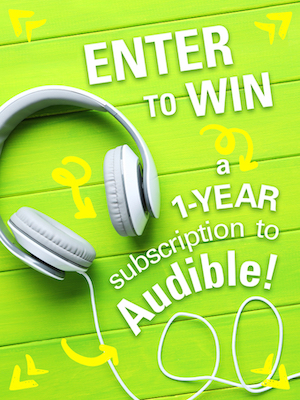 We're giving away a 1-year subscription to Audible to one lucky winner, courtesy of Macmillan's Audiobooks Newsletter.
Welcome to Check Your Shelf. Book Riot is taking this Friday off for the 4th of July, so the next issue of CYS will be coming out next Tuesday. In the meantime, I'm gearing up for my (very chill) 31st birthday on Sunday and a week off from work after that. It's my gift to myself every year to take time off from work around my birthday.
Regardless, I hope everyone can take a breather this weekend, and remember to stay masked up and safe.
---
Black Lives Matter 
---
Pride Month
---
Collection Development Corner
Publishing News
New & Upcoming Titles
What Your Patrons Are Hearing About
RA/Genre Resources
On the Riot
---
All Things Comics
---
Audiophilia
On the Riot
---
Book Lists, Book Lists, Book Lists
Children/Teens
Adults
On the Riot
---
Level Up (Library Reads)
Do you take part in Library Reads, the monthly list of best books selected by librarians only? We've made it easy for you to find eligible diverse titles to nominate. Kelly Jensen created a database of upcoming diverse books that anyone can edit, and Nora Rawlins of Early Word is doing the same, as well as including information about series, vendors, and publisher buzz.
Stay safe and stay well, everyone.
—Katie McLain Horner, @kt_librarylady on Twitter.