Sponsored by Size Zero by Abigail Mangin.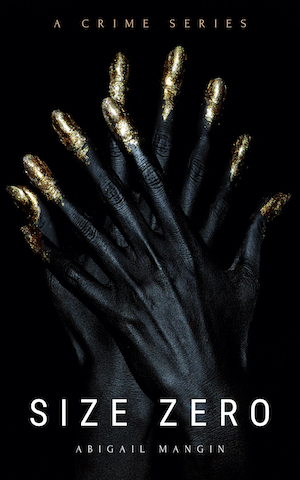 Condom dresses and space helmets have debuted on fashion runways. A dead body becomes the trend when a coat made of human skin saunters down fashion's biggest stage. The body is identified as Annabelle Leigh, the teenager who famously disappeared over a decade ago from her boyfriend's New York City mansion. This new evidence casts suspicion back on the former boyfriend, Cecil LeClaire. Now a monk, he is forced to return to his dark and absurd childhood home to clear his name. He teams up with Ava Germaine, a renegade ex-model. And together, they investigate the depraved and lawless modeling industry behind Cecil's family fortune.
Happy Monday, readers! I had a tremendously productive reading weekend, which felt really good. You'll be hearing about a couple of the books I finished in the coming months. I also watched several episodes of Regular Show, my new cartoon obsession. I don't think I have watched the Cartoon Network since high school, so discovering all these shows that are streaming now is a ton of fun. I'm a big fan of eleven-minute episodes!
I hope that you were able to enjoy your weekend and that you have a pleasant week. Please be safe, and remember to wear a mask and wash your hands. And please be mindful of others. It takes no effort to be kind. I'll see you again on Thursday. – xoxo, Liberty
P.S. Don't forget to fill out our Reader Survey (it'll only take a few minutes) for a chance to win an ereader!
Here's Monday's trivia question:  What Thomas Pynchon novel won the National Book Award for Fiction in 1973? (Scroll to the bottom for the answer.)
Deals, Reels, and Squeals!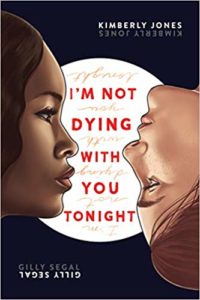 I'm Not Dying With You Tonight by Kimberly Jones and Gilly Segal is being adapted into a film.
Book Riot has the cover reveal for Long Way Down: The Graphic Novel by Jason Reynolds, with art by Danica Novgorodoff.
Here are the 2020 Locus Award winners.
Sarah J. Maas revealed the title of the next book in her Court of Thorns and Roses series!
And Julie Murphy reveal the title of the third Dumplin' novel.
Derek B. Miller announced a new novel.
Sally Rooney's Conversations with Friends will be a Hulu series.
Tor.com is publishing Nghi Vo's new book,The Chosen and the Beautiful. and Aliette de Bodard's Fireheart Tiger.
Science of Ghosts, a supernatural graphic novel, is coming in 2021.
Here's the cover reveal for The Factory Witches of Lowell by C. S. Malerich.
And the cover reveal of The Infinity Courts by Akemi Dawn Bowman.
And one more: here's a look at the cover of A Curse of Roses by Diana Pinguicha.
Book Riot Recommends 
At Book Riot, I work on the New Books! email, the All the Books! podcast about new releases, and the Book Riot Insiders New Release Index. I am very fortunate to get to read a lot of upcoming titles, and learn about a lot of upcoming titles, and I'm delighted to share a couple with you each week so you can add them to your TBR!
Excited to read: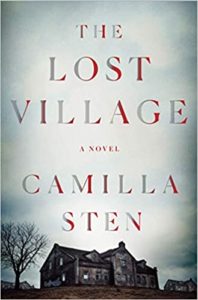 The Lost Village by Camilla Sten, Alexandra Fleming (translator) (Minotaur Books, April 6, 2021)
So here's the deets: a documentary filmmaker obsessed with the story of a village where 900 people vanished without a trace decides to make a film about it. She gets a crew and they camp out, determined to solve the mystery of why, in 1959, everyone disappeared from the town except for a newborn baby. As you can imagine, hanging out in a mystery village = weird things start happening to the crew. The book is being called "The Blair Witch Project meets Midsommar." I haven't seen Midsommar, but I am all about vanishing village people and scary present-day events. I hope it turns out the baby ate all of them…but that's probably not what happened.
What I'm reading this week: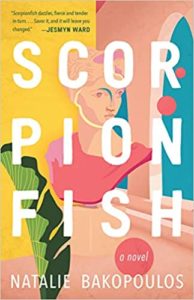 Scorpionfish by Natalie Bakopoulos
Want: A Novel by Lynn Steger Strong
The Color of Air: A Novel by Gail Tsukiyama
Such Big Teeth (The Darkwood Series Book 2) by Gabby Hutchinson Crouch
How the One-Armed Sister Sweeps Her House by Cherie Jones
Pun of the week: 
What do you call a cat that throws all the most expensive parties? The Great Catsby.
Here's a cat picture: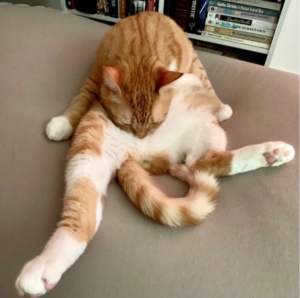 It happens to us all: Zevon fell asleep while he was washing his belly.
Happy things:
Here are a few things I enjoy that I thought you might like as well:
Trivia answer: Gravity's Rainbow.
You made it to the bottom! Thanks for reading! – xo, L