Sponsored by our 1-year Audible subscription giveaway courtesy of Macmillan Audiobooks.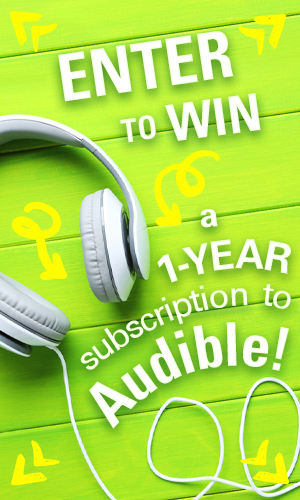 We're giving away a 1-year subscription to Audible to one lucky winner, courtesy of Macmillan's Audiobooks Newsletter.
Thursdays are for new books! (I mean, Mondays and Tuesdays are for new books, but Thursday Kissing Books is what it's all about!)
Over on Book Riot
Last week, we asked. This week, you answered!
This book isn't out until next year, which makes me sad, but we've got a long time to admire this cover!
While it went live a whole week later, there's no better way to celebrate Loving Day than with some interracial romance novels.
If you're buying some mainstream, big-five romance anytime soon (or of course, other things, I guess lol), try getting it through one or more of these Black-owned indie bookstores.
Deals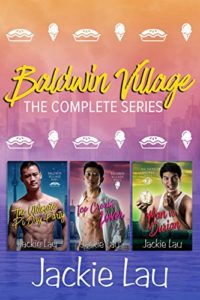 Have you checked out Jackie Lau's Baldwin Village series? Now is a great time to look, because she just put out Baldwin Village: The Complete Series and it's 3.99 until July 1. Featuring One Bed for Christmas, The Ultimate Pi Day Party, Ice Cream Lover, and Man vs. Durian, it's a ton of fun and sexytimes for about a dollar a book. (And even if you forget to grab it until after July 1, it'll still be only 7.99! Either way, if you haven't read this series, it's all the good things for someone who wants fun, food, and fluff.
New Books!
Y'all, I'm so behind. This week snuck up on me, and so did a certain Lady of Awesomeness whose book wasn't supposed to come out until next week.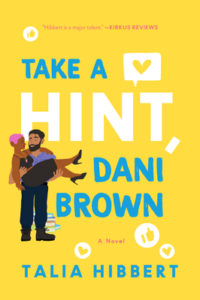 Take a Hint, Dani Brown by Talia Hibbert
It is not even fair how brill Talia Hibbert is. In Take a Hint, we once again visit with the Brown sisters (though you can honestly read this one without having read Get a Life, Chloe Brown) and their friends and family. Dani is a PhD student whose class is in the worst building on campus. That's okay, though, because she and the thick-thighed guard who barks at students for their IDs at the building's entrance get along very well. To the point that when he carries her out of the building with an adoring look during a danger drill, they accidentally start a viral hashtag that is full of #couplegoals. Which could help him with getting visibility for his charity, so he asks her to fake date—the only kind of dating Dani would ever be willing to do, because she is very much anti-relationship. And Zafir is a hopeless romantic. So, yeah. What could possibly go wrong?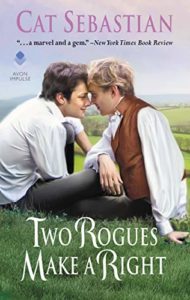 And I was totally going to read Two Rogues Make a Right by Cat Sebastian by this week but somehow it's already almost the end of June? The author called it "Only One Bed: The Novel" in an email and everyone I know has been screaming about this book for months. And let's be honest: It's Cat Sebastian; even if it's a childhood-friends-to-lovers book, which I tend not to read, I'm going to love it. When I get there. (Also, I heard that Joel Leslie narrates the audiobook, and if you haven't heard one of his narrations…oh man, you need to.)
And let's not leave out Miz Adriana Beyoncé Herrera over there, who decided we needed to…find more joy…right now instead of on June 30, when Finding Joy was initially supposed to drop. Desta Joy Walker, the Dominican-American relief worker living in Addis Ababa, and Ethiopian resident Elias Fikru meet, pine, and explore Ethiopia in each other's eyes in this newest book from Dreamers dreamer Adriana Herrera.
And of course, there are a few more people are talking about: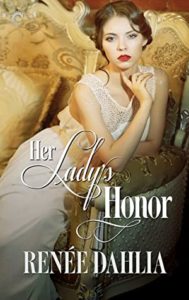 Her Lady's Honor by Renée Dahlia (this cover, amirite?)
This Time Tomorrow by Tessa Bailey (this is the sequel to Reborn Yesterday and I just wanted more about them during that whole book)
Party of Two by Jasmine Guillory (It's probably great, but I'm kind of avoiding politician romance right now)
Loud Mouth by Avery Flynn
Love Delayed in Dublin by Moni Boyce (this one kind of came out of nowhere and I look forward to checking it out!)
The Bad Boy of Redemption Ranch by Maisey Yates
Return to Magnolia Harbor by Hope Ramsay
When Harry Met Harry by Sydney Smyth (OKAY I'm super curious about this Audible original, okay?)
It's a Work Thing by Michelle Karise
So what are you reading this weekend?
As usual, catch me on Twitter @jessisreading or Instagram @jess_is_reading, or send me an email at wheninromance@bookriot.com if you've got feedback, bookrecs, or just want to say hi!