Sponsored by DC.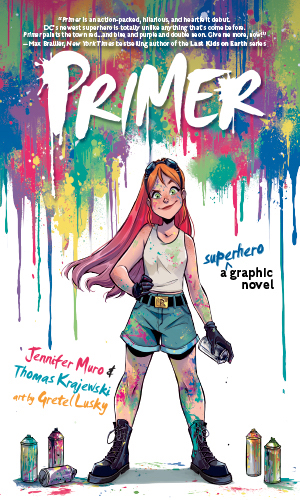 Ashley Rayburn is an upbeat girl who has bounced from foster home to foster home. One of her new foster parents works for the government and the military. The top-secret project: a set of body paints that grants the wearer a wide range of special powers! Signals get crossed when Ashley stumbles upon the secret project thinking it's a surprise gift for her upcoming birthday. But could these newfound superpowers be something far more dangerous? This spells big trouble for Ashley and her newfound family too!
Hello readers!
How are you this week? I have been taking the time to recharge by spending time with my plants and my books. The therapeutic impact of rearranging shelves cannot be under-estimated. (Yes, I am a librarian, why do you ask?)
Rearranging the books also means that I can buy more. Hurrah! Here's what I've got my eyes on this week..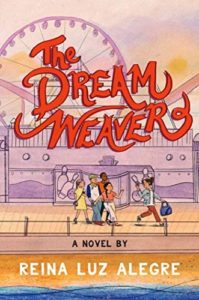 The Dream Weavers by Reina Luz Alegre
For Zoey, family is everything. As long as they're all together, she can deal with the grand plans her dad dreams up and his jobs that never quite work out. But  when her Dad goes off to work in NYC – alone – she's sent along with her brother to live with their Poppy. And the bowling alley that he's owned forever is in danger of closing…
Zoey's determined to save the bowling alley and, with her new friends, it looks like she might do it. But then everything turns upside down all over again – and Zoey must fight for her dreams…
Featuring Jersey boardwalks, Cuban-American heritage, friendships formed over bowling, and a heroine that you'd root for forever, this is a lovely debut middle-grade. And look at that fabulous cover!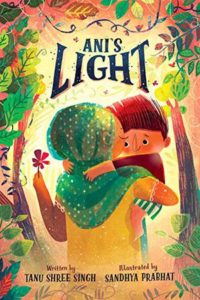 Ani's Light by Tanu Shree Singh, illustrated by Sandhya Prabhat
Ani's mother hasn't been home for a long while, and he feels like he's living life under a dark cloud. But when Mama returns, with her hair missing, the light returns and his darkness is chased away.
A soft, quiet exploration of the love between a parent and child and the impact of medical treatment upon that relationship, this will also help children in a similar situation explore their feelings. There's a note from the author as well with tips on how to help children through such situations.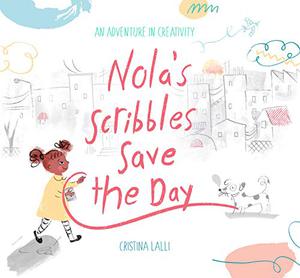 Nola's Scribbles Save The Day by Cristina Lalli
Nola has creative block. Her drawings never turn out the way she wants them to, and nobody seems to appreciate what she does. But when she draws a 'blank' – and falls into it – she finds that she's not alone. There's a whole world of artists with the same problems and it's down to Nola and her scribbles to save the day!
A lovely and lightly handled debut, this is perfect for young artists who need to know that they're not alone in their creative struggles. The art is beautiful, using big splashes of colour to indicate when inspiration strikes, and the story is gently told.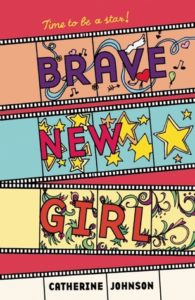 Brave New Girl by Catherine Johnson
(Backlist bump!)
Seren Campbell Ali has a lot of big ideas that always seem to end up with her putting her foot in it. It's not easy being thirteen! But her friend Keith is putting together a film for a national competition – and he want Seren to star in it. Are things going to finally work out for her?
If you've never read any Catherine Johnson, now's the time to do so. She is such a great writer and this is a lovely slice of London in the lead-up to the 2012 Olympics. It's also perfect for anybody who's feeling a little over-shadowed in their life and needs reminding that they're a total star.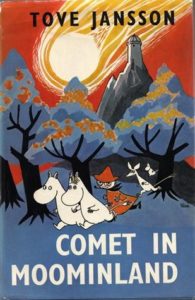 Comet In Moominland by Tove Jansson, translated by Elizabeth Portch
(Backlist bump!). I adore the Moomins in so many ways and this is a fabulous introduction to their world. First published in 1945, it sees Moomintroll realise that a comet is due to pass over. He heads off with his friend Sniff to the local observatory to view it, but then they learn that the comet is headed straight for the lovely Moominvalley…
There's some mild peril here, so bear that in mind if you have impressionable young readers, but it's set against a backdrop of love, security and safety. There's also a lot of thrilling adventure, important stops for food, and that delicious surrealism that only Tove Jansson could do.
---
Okay, that's everything for this week! I will return in seven days with more lovely new picks for you from the world of children's books (and maybe I'll sneak in a few more backlist bumps). Between then and now, you can stay in touch with me via social media (this week I have been reading Virginia Woolf's short stories and loving them), on my website, or over on the biweekly literary fiction podcast Novel Gazing.
I also want to let you know that we're doing a reader survey where you could potentially win an ereader! The survey will only take a few minutes and you can see the questions and giveaway details at bookriot.com/2020survey
Happy reading!
Louise.