Sponsored by our 1-year Audible subscription giveaway courtesy of Macmillan Audiobooks.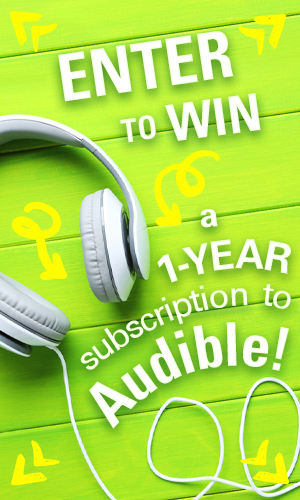 We're giving away a 1-year subscription to Audible to one lucky winner, courtesy of Macmillan's Audiobooks Newsletter.
I have no idea what to say as an intro. All the usual things apply. Love stories of all kinds are awesome, but HEAs are the best.
Let's talk about all the things.
News and Useful Links
On Friday, LL McKinley and Saraciea Fennell Netflix-dropped the Juneteenth Book Fest, which included a wildly dynamic conversation between Rebekah Weatherspoon, Farrah Rochon, and Beverly Jenkins, moderated by Alyssa Cole. Yeah. You want to watch it.
I'm definitely bookmarking this guest post on LGBTQ reads by Katrina Jackson to reference a lot.
Have you seen the cover of Rebekah Weatherspoon's next Beards & Bondage book?
The book Mr. Malcolm's List? The one coming out at the end of next month? They've already started casting the movie. And there's already a short-film version of the concept starring the absolutely breathtaking Gemma Chan, if you want some reference material.
(Side note: I am all about a historical romance written by an author whose heritage I do not know being super colorful in its adaptation casting—it might even be written that way—but how is it that these books are being picked up before they're even out and we still don't have a single Beverly Jenkins adaptation???)
And speaking of adaptations before the book's out, Dial A For Aunties is coming via Netflix. It's another Berkley property, described as Crazy Rich Asians meets Weekend at Bernie's. So, we'll see?
The winners of the Bisexual Book Awards were announced! Have you read any of the romance or erotica entries?
Deals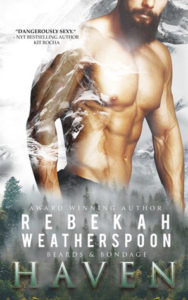 Speaking of Rebekah Weatherspoon's Beards & Bondage series, you can get Haven and Sanctuary for 4.99 each. Some of the characters (and locales!) might be familiar if you've read Xeni and Rafe, but the B&B books lean a bit farther away from the lighter tone of those two novels. And they both involve women who are escaping violence, either immediate danger or the threat of it (and in the case of Haven, the violent person gets shot on the page, FYI). I'm not selling them very well, but these are good books. You should read them in preparation of the third.
Recs!
I recently joined a book club that I'm not in charge of running, and the person who was in charge dropped a tiny bomb at the end of the meeting: oh hey, since we have Jessica, let's read a romance next time!
Readers, I panicked. I couldn't think of a single romance novel or author in the moment. But eventually, I came up with a list of books that I hadn't gotten around to yet, weren't in the middle of a series, that I was excited to read, and that non-romance readers might latch onto for various reasons. And then they'll read all of the authors' backlist and become romance readers and I will have successfully brought more people into the fold muahahahah.
Ahem.
I mean. Maybe they'll enjoy the experience.
So these were my choices: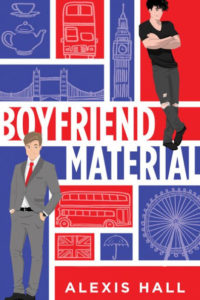 Boyfriend Material by Alexis Hall
I have heard nothing but amazing things about Boyfriend Material since the ARCs started going out. Alexis Hall is a master wordsmith who writes amazingly flawed characters, and this would be a great book for someone looking for something with a tropetastic plot and lots of laughs. If your entry into romance is a well-plotted, messy, fake relationship story, you're gonna be hooked for good.
The Rakess by Scarlett Peckham
I've been avoiding this one because people have said it's a lot, but I sort of also want to give someone the opportunity to experience the right kind of a lot. A Regency romance that goes so far to challenge…well, everything…might be something worth offering someone who isn't a romance reader. Not because the ones that don't challenge certain period and contemporary expectations aren't amazing in themselves, but because everything a certain sect of romance authors is trying to do regarding how to take advantage of historical romance can be seen all together in one book. Or at least, that's what people tell me.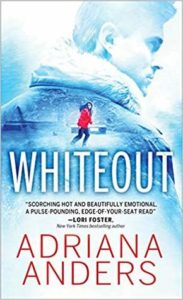 Whiteout by Adriana Anders
What better read than a super tropetastic romantic suspense to get readers hooked? Antarctica; enemies-to-lovers; grumpy/sunshine; chased by baddies; Antarctica. Also, I thought introduction via romantic suspense might be a good way to pull in people who want a secondary subplot, on top of the relationship development.
Indigo by Beverly Jenkins (don't judge me, there are a LOT of Beverly Jenkins books okay)
There are so many Beverly Jenkins books to choose from, but I knew I wanted to include one on the list. Honestly, I selected this one in part because it's one of the few that is currently published in the trade paperback size, leaving some types of people more likely to buy it. Also, it's Trisha's favorite Beverly Jenkins, and the one that I have been determined to complete this year, by land or sea. It also feels like it might be one of the hardest of hers, because emotions and pain, so having a reason to be forced into it is definitely good (lolsob).
They select by poll using Bookclubz, so I'm not sure what we'll do yet, but it's leaning pretty heavily towards Indigo so far.
What romances have you recommended to your book clubs?
As usual, catch me on Twitter @jessisreading or Instagram @jess_is_reading, or send me an email at wheninromance@bookriot.com if you've got feedback, bookrecs, or just want to say hi!