Sponsored by our 1-year Audible subscription giveaway courtesy of Macmillan Audiobooks.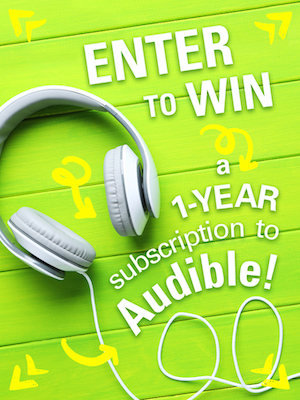 We're giving away a 1-year subscription to Audible to one lucky winner, courtesy of Macmillan's Audiobooks Newsletter.
Hey YA Fans!
Finding YA books by black authors right now that aren't backordered is tough — this is a good thing, though it'd be even nicer if 1. this were a regular occurrence and 2. there were enough copies in print to meet demand. The second is more challenging given the realities of printing and covid-19, but the first is something readers and especially gatekeepers can take responsibility for making happen.
One thing we can do right now collectively is preorder as many books by Black YA authors as possible. I've pooled together a big list here, though it won't be complete. I encourage you to preorder any title that speaks to you, read it when it hits your doorstep, and then talk about it widely.
I'm behind in my own reading, so I'm relying on Amazon descriptions here. The list and accompanying descriptions will make this newsletter much longer than most, but it's necessary. There is so much incredible work coming.
From the moment Carli and Rex first locked eyes on a Texas high school basketball court, they both knew it was destiny. But can you truly love someone else if you don't love yourself? Acclaimed author Liara Tamani's luminous second novel explores love, family, heartbreak, betrayal, and the power of healing, in gorgeous prose that will appeal to readers of Nicola Yoon and Jacqueline Woodson.
A glance was all it took. That kind of connection, the immediate and raw understanding of another person, just doesn't come along very often. And as rising stars on their Texas high schools' respective basketball teams, destined for bright futures in college and beyond, it seems like a match made in heaven. But Carli and Rex have secrets. As do their families.
It's 200 years after Cinderella found her prince, but the fairy tale is over. Teen girls are now required to appear at the Annual Ball, where the men of the kingdom select wives based on a girl's display of finery. If a suitable match is not found, the girls not chosen are never heard from again.
Sixteen-year-old Sophia would much rather marry Erin, her childhood best friend, than parade in front of suitors. At the ball, Sophia makes the desperate decision to flee, and finds herself hiding in Cinderella's mausoleum. There, she meets Constance, the last known descendant of Cinderella and her step sisters. Together they vow to bring down the king once and for all–and in the process, they learn that there's more to Cinderella's story than they ever knew . . .
This fresh take on a classic story will make readers question the tales they've been told, and root for girls to break down the constructs of the world around them.
Marva Sheridan was born ready for this day. She's always been driven to make a difference in the world, and what better way than to vote in her first election?
Duke Crenshaw is so done with this election. He just wants to get voting over with so he can prepare for his band's first paying gig tonight.
Only problem? Duke can't vote.
When Marva sees Duke turned away from their polling place, she takes it upon herself to make sure his vote is counted. She hasn't spent months doorbelling and registering voters just to see someone denied their right.
And that's how their whirlwind day begins, rushing from precinct to precinct, cutting school, waiting in endless lines, turned away time and again, trying to do one simple thing: vote. They may have started out as strangers, but as Duke and Marva team up to beat a rigged system (and find Marva's missing cat), it's clear that there's more to their connection than a shared mission for democracy.
Romantic and triumphant, The Voting Booth is proof that you can't sit around waiting for the world to change, but some things are just meant to be.
Every week, seventeen-year-old Tracy Beaumont writes letters to Innocence X, asking the organization to help her father, an innocent Black man on death row. After seven years, Tracy is running out of time–her dad has only 267 days left. Then the unthinkable happens. The police arrive in the night, and Tracy's older brother, Jamal, goes from being a bright, promising track star to a "thug" on the run, accused of killing a white girl. Determined to save her brother, Tracy investigates what really happened between Jamal and Angela down at the Pike. But will Tracy and her family survive the uncovering of the skeletons of their Texas town's racist history that still haunt the present?
Change is coming to Pinder Street…
Eve is the rock in her family of seven, the one they always depend on. But when her dad is diagnosed with cancer, she wants nothing more than to trade her worries for some red lipstick and a carefree night.
Faith is the dancer all the boys want, but she only has eyes for the one she can't have. Only thing is, all the flirting in the world can't distract her from her broken home life…or the secrets that she hides.
KeeKee is the poet who won't follow the rules, not even to please her estranged father. But after a horrible betrayal, she'll have to choose between being right and losing everyone she loves.
Nia is the prisoner longing to escape her overprotective mother. A summer art program might be her ticket to freedom, yet it comes with a terrible price—and the risk may not be worth the reward.
Ready or not, it's time for these four friends to face the sun.
Nothing is more important than loyalty.
But what if you've sworn to protect the one you were born to destroy?
Tarisai has always longed for the warmth of a family. She was raised in isolation by a mysterious, often absent mother known only as The Lady. The Lady sends her to the capital of the global empire of Aritsar to compete with other children to be chosen as one of the Crown Prince's Council of 11. If she's picked, she'll be joined with the other Council members through the Ray, a bond deeper than blood. That closeness is irresistible to Tarisai, who has always wanted to belong somewhere. But The Lady has other ideas, including a magical wish that Tarisai is compelled to obey: Kill the Crown Prince once she gains his trust. Tarisai won't stand by and become someone's pawn—but is she strong enough to choose a different path for herself? With extraordinary world-building and breathtaking prose, Raybearer is the story of loyalty, fate, and the lengths we're willing to go for the ones we love.
Following in the footsteps of her überfamous grandma, eighteen-year-old Evie Jones is poised to be Hollywood's next big star. That is until a close friend's betrayal leads to her being blacklisted . . .
Fortunately, Evie knows just the thing to save her floundering career: a public appearance with America's most beloved actress—her grandma Gigi, aka the Evelyn Conaway. The only problem? Gigi is a recluse who's been out of the limelight for almost twenty years. Days before Evie plans to present her grandma with an honorary award in front of Hollywood's elite, Gigi does the unthinkable: she disappears.
With time running out and her comeback on the line, Evie reluctantly enlists the help of the last person to see Gigi before she vanished: Milo Williams, a cute musician Evie isn't sure she can trust. As Evie and Milo conduct a wild manhunt across New York City, romance and adventure abound while Evie makes some surprising discoveries about her grandma—and herself.
Los Angeles, 1992
Ashley Bennett and her friends are living the charmed life. It's the end of senior year and they're spending more time at the beach than in the classroom. They can already feel the sunny days and endless possibilities of summer.
Everything changes one afternoon in April, when four LAPD officers are acquitted after beating a black man named Rodney King half to death. Suddenly, Ashley's not just one of the girls. She's one of the black kids.
As violent protests engulf LA and the city burns, Ashley tries to continue on as if life were normal. Even as her self-destructive sister gets dangerously involved in the riots. Even as the model black family façade her wealthy and prominent parents have built starts to crumble. Even as her best friends help spread a rumor that could completely derail the future of her classmate and fellow black kid, LaShawn Johnson.
With her world splintering around her, Ashley, along with the rest of LA, is left to question who is the us? And who is the them?
The story that I thought
was my life
didn't start on the day
I was born 
Amal Shahid has always been an artist and a poet. But even in a diverse art school, he's seen as disruptive and unmotivated by a biased system. Then one fateful night, an altercation in a gentrifying neighborhood escalates into tragedy. "Boys just being boys" turns out to be true only when those boys are white.
The story that I think
will be my life 
starts today
Suddenly, at just sixteen years old, Amal's bright future is upended: he is convicted of a crime he didn't commit and sent to prison. Despair and rage almost sink him until he turns to the refuge of his words, his art. This never should have been his story. But can he change it?
With spellbinding lyricism, award-winning author Ibi Zoboi and prison reform activist Yusef Salaam tell a moving and deeply profound story about how one boy is able to maintain his humanity and fight for the truth, in a system designed to strip him of both.
Henri "Halti" Haltiwanger can charm just about anyone. He is a star debater and popular student at the prestigious FATE academy, the dutiful first-generation Haitian son, and the trusted dog walker for his wealthy New York City neighbors. But his easy smiles mask a burning ambition to attend his dream college, Columbia University.
There is only one person who seems immune to Henri's charms: his "intense" classmate and neighbor Corinne Troy. When she uncovers Henri's less-than-honest dog-walking scheme, she blackmails him into helping her change her image at school. Henri agrees, seeing a potential upside for himself.
Soon what started as a mutual hustle turns into something more surprising than either of them ever bargained for. . . .
Comic book geek Wesley Hudson excels at two things: slacking off at his job and pining after his best friend, Nico. Advice from his friends, 90s alt-rock songs, and online dating articles aren't helping much with his secret crush. And his dream job at Once Upon a Page, the local used bookstore, is threatened when a coffeeshop franchise wants to buy the property. To top it off, his annoying brother needs wedding planning advice. Confronted with reality, can Wes balance saving the bookstore and his strained sibling relationship? Can he win the heart of his crush, too?
When legendary R&B artist Korey Fields spots Enchanted Jones at an audition, her dreams of being a famous singer take flight. Until Enchanted wakes up with blood on her hands and zero memory of the previous night. Who killed Korey Fields?
Before there was a dead body, Enchanted's dreams had turned into a nightmare. Because behind Korey's charm and star power was a controlling dark side. Now he's dead, the police are at the door, and all signs point to Enchanted.
After her mother dies in an accident, sixteen-year-old Bree Matthews wants nothing to do with her family memories or childhood home. A residential program for bright high schoolers at UNC–Chapel Hill seems like the perfect escape—until Bree witnesses a magical attack her very first night on campus.
A flying demon feeding on human energies.
A secret society of so called "Legendborn" students that hunt the creatures down.
And a mysterious teenage mage who calls himself a "Merlin" and who attempts—and fails—to wipe Bree's memory of everything she saw.
The mage's failure unlocks Bree's own unique magic and a buried memory with a hidden connection: the night her mother died, another Merlin was at the hospital. Now that Bree knows there's more to her mother's death than what's on the police report, she'll do whatever it takes to find out the truth, even if that means infiltrating the Legendborn as one of their initiates.
She recruits Nick, a self-exiled Legendborn with his own grudge against the group, and their reluctant partnership pulls them deeper into the society's secrets—and closer to each other. But when the Legendborn reveal themselves as the descendants of King Arthur's knights and explain that a magical war is coming, Bree has to decide how far she'll go for the truth and whether she should use her magic to take the society down—or join the fight.
What if you could bring your best friend back to life—but only for a short time?
Jamal's best friend, Q, doesn't know that he died, and that he's about to die . . . again. He doesn't know that Jamal tried to save him. And that the reason they haven't been friends for two years is because Jamal blames Q for the accident that killed his parents.
But what if Jamal could have a second chance? A new technology allows Q to be reanimated for a few weeks before he dies . . . permanently. And Q's mom is not about to let anyone ruin this miracle by telling Q about his impending death. So how can Jamal fix everything if he can't tell Q the truth?
Early Departures weaves together loss, grief, friendship, and love to form a wholly unique homage to the bonds that bring people together for life—and beyond.
Candice Iloh weaves the key moments of Ada's young life—her mother's descent into addiction, her father's attempts to create a home for his American daughter more like the one he knew in Nigeria, her first year at a historically black college—into a luminous and inspiring verse novel.
Olivia "Liv" James is done with letting her insecurities get the best of her. So she does what any self-respecting hot mess of a girl who wants to SMASH junior year does…
After Liv shows up to a Halloween party in khaki shorts—why, God, why?—she decides to set aside her wack AF ways. She makes a list—a F*ck-It list.
1. Be bold—do the thing that scares me.
2. Learn to take a compliment.
3. Stand out instead of back.
She kicks it off by trying out for the school musical, saying yes to a date and making new friends. Life is great when you stop punking yourself! However, with change comes a lot of missteps, and being bold means following her heart. So what happens when Liv's heart is interested in three different guys—and two of them are her best friends? What is she supposed to do when she gets dumped by a guy she's not even dating? How does one Smash It! after the humiliation of being friend-zoned?
In Liv's own words, "F*ck it. What's the worst that can happen?"
A lot, apparently.
#SMASHIT
In the highly anticipated sequel to her New York Times bestseller, Nic Stone delivers an unflinching look into the flawed practices and silenced voices in the American juvenile justice system.
Vernell LaQuan Banks and Justyce McAllister grew up a block apart in the Southwest Atlanta neighborhood of Wynwood Heights. Years later, though, Justyce walks the illustrious halls of Yale University . . . and Quan sits behind bars at the Fulton Regional Youth Detention Center.
Through a series of flashbacks, vignettes, and letters to Justyce–the protagonist of Dear Martin–Quan's story takes form. Troubles at home and misunderstandings at school give rise to police encounters and tough decisions. But then there's a dead cop and a weapon with Quan's prints on it. What leads a bright kid down a road to a murder charge? Not even Quan is sure.
If Romeo and Juliet got the Hamilton treatment…who would play the leads? This vividly funny, honest, and charming romantic novel by Dana L. Davis is the story of a girl who thinks she has what it takes…and the world thinks so, too.
Jerzie Jhames will do anything to land the lead role in Broadway's hottest new show, Roman and Jewel, a Romeo and Juliet inspired hip-hopera featuring a diverse cast and modern twists on the play. But her hopes are crushed when she learns mega-star Cinny won the lead…and Jerzie is her understudy.
Falling for male lead Zeppelin Reid is a terrible idea―especially once Jerzie learns Cinny wants him for herself. Star-crossed love always ends badly. But when a video of Jerzie and Zepp practicing goes viral and the entire world weighs in on who should play Jewel, Jerzie learns that while the price of fame is high, friendship, family, and love are priceless.
Things can change in a second:
The second Frankie Green gets that scholarship letter, he has his ticket out of Jamaica.
The second his longtime crush, Leah, asks him on a date, he's in trouble.
The second his father gets shot, suddenly nothing else matters.
And the second Frankie joins his uncle's gang in exchange for paying for his father's medical bills, there's no going back…or is there?
As Frankie does things he never thought he'd be capable of, he's forced to confront the truth of the family and future he was born into—and the ones he wants to build for himself.
Sixteen-year-old Deka lives in fear and anticipation of the blood ceremony that will determine whether she will become a member of her village. Already different from everyone else because of her unnatural intuition, Deka prays for red blood so she can finally feel like she belongs.
But on the day of the ceremony, her blood runs gold, the color of impurity–and Deka knows she will face a consequence worse than death.
Then a mysterious woman comes to her with a choice: stay in the village and submit to her fate, or leave to fight for the emperor in an army of girls just like her. They are called alaki–near-immortals with rare gifts. And they are the only ones who can stop the empire's greatest threat.
Knowing the dangers that lie ahead yet yearning for acceptance, Deka decides to leave the only life she's ever known. But as she journeys to the capital to train for the biggest battle of her life, she will discover that the great walled city holds many surprises. Nothing and no one are quite what they seem to be–not even Deka herself.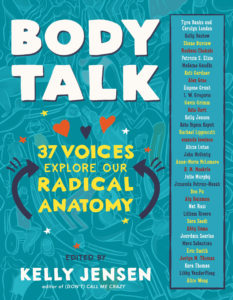 Before coming to an end, I wanted to include a mention of Body Talk: 37 Voices Explore Our Radical Anatomy. I had the immense privilege of editing some outstanding Black voices, including a powerful art piece on the politics of hair by Jerlyn Thomas, Patricia S. Elzie's piece about how body positivity can lead too easily to policing feelings, Junadua Petrus-Nasah's lyrical essay on black queer love, Jourdain Searles's essay on finding her "straight" sight through selfies, Mars Sebastian's love letter to Black girls who feel they're not good enough (and how she came to reckon with having an eating disorder), and yes, a piece from Tyra Banks and her mother from their book about what celebrity body image tabloids say to the average person.
---
Black lives matter. Black stories matter. Black voices matter.
Thanks for being here, and we'll see you later this week.
— Kelly Jensen, @heykellyjensen on Instagram and editor of Body Talk, (Don't) Call Me Crazy, and Here We Are.