Sponsored by our 1-year Audible subscription giveaway courtesy of Macmillan Audiobooks.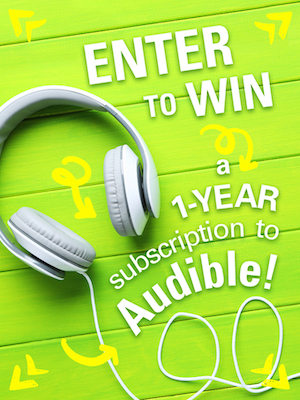 We're giving away a 1-year subscription to Audible to one lucky winner, courtesy of Macmillan's Audiobooks Newsletter.
Hello book lovers! Today's Book Radar is gonna drive on different rails–or off them–because I, Jamie Canavés (from the Unusual Suspects newsletter), will be temporarily driving this train of bookish news. It's actually pretty quiet in the world of news that isn't about *gestures wildly at everything * so I'm going to add in excellent Kindle deals if you're hiding out in a bookfort, plus upcoming books I'm super excited about, what I'm reading, and I don't have cats so you get the goat and a dinosaur.
Bookish News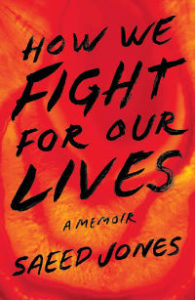 Your next excellent read is definitely on this list: 2020 Lammy Winners.
"I read in Susan Orlean's The Library Book that libraries fumigated books for public health reasons. Do they still do that?" Smithsonian Magazine's answer.
If you're a fan of online book clubs: Vox has chosen The Princess Bride and Jenna Bush Hager chose Megha Majumdar's A Burning.
Richard Adams Estate Wins Back Rights To 'Watership Down' In English High Court Case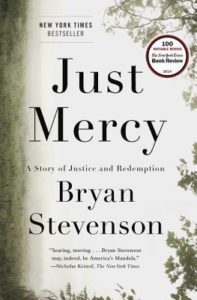 Warner Bros. Offers Free 'Just Mercy' Rentals, Encourages 'Systemic Racism' Education (And if you've yet to read the book by Bryan Stevenson I highly recommend doing that.)
Crime author Rachel Howzell Hall has sold her next mystery book and it sounds gooooood.
CrimeFest announced their Awards Nominations
Upcoming Books To Be Excited About–And Totally Worth The Prebuy Button/Telling Your Library To Purchase: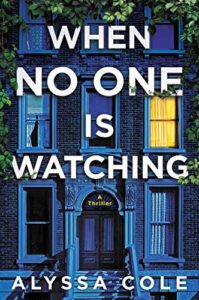 Alyssa Cole, who you may know from her excellent smooching books, has an upcoming thriller that is A+. And by that I mean I inhaled the book, and now have no one to talk to about it until it comes out later this year–I know boohoo for me. While I recommend knowing as little as possible about When No One Is Watching I will say it's about a young woman in Brooklyn trying to keep her life and neighborhood together and it comes with all the suspense and way-too-real creepy vibes.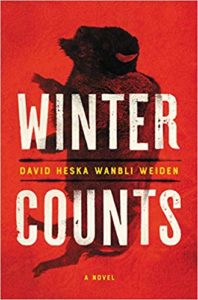 One more mystery that has to be on your radar: Winter Counts by David Heska Wanbli Weiden. We do not get many crime novels set on Native American reservations and we certainly do not get many Indigenous voices in the genre–or any area of publishing. So I was really excited to read this and not only do we get a great mystery–who is bringing drugs into the reservation?–but the characters are fantastic, starting with a vigilante for hire who gets roped into working with his ex-girlfriend and the FBI.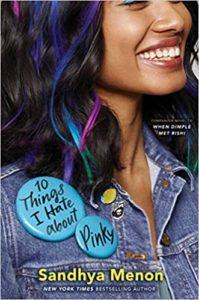 Sandhya Menon is my go-to for a feel good read that I can escape the world from. They're not fluffy books necessarily, they deal with real problems and issues the characters struggle with, but there's a HEA. And, more importantly for when I need her books, the characters are always trying to do good. In 10 Things I Hate About Pinky you get annoyed-by-each-other to lovers and a fainting possum. No, not like plays dead duh because that's what possums do. It's not very good at being a possum and it literally faints all the time, which never failed to make me laugh.
Here Are Some Kindle Deals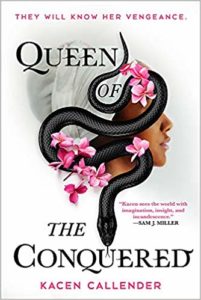 For fans of fantasy, conquest, and revenge: Queen of the Conquered (Islands of Blood and Storm Book 1) by Kacen Callender is $1.99!
Love fantasy, novellas, and looking to start a series? The Empress of Salt and Fortune (The Singing Hills Cycle #1) by Nghi Vo is $3.99!
For fans of short stories and literature: Lauren Groff's Florida is $4.99!
How about a fun and funny space opera with psychic cats?! Chilling Effect by Valerie Valdes is $2.99!
And if you've yet to read Trevor Noah's exceptional memoir Born a Crime it is currently $4.99 and you should run to it as it's equally heartfelt and hilarious.
I'm currently reading: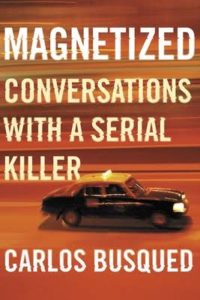 A rare translated true crime: Magnetized: Conversations with a Serial Killer by Carlos Busqued, Samuel Rutter (Translator)
A nonfiction graphic novel: Amazons, Abolitionists, and Activists: A Graphic History of Women's Fight for Their Rights by Mikki Kendall, A. D'Amico (Illustrator)
A romance novel: Beach Read by Emily Henry
And I leave you with the goat and a dinosaur: