Sponsored by We're giving away a 1-year subscription to Audible to one lucky winner, courtesy of Macmillan's Audiobooks Newsletter. Enter Now!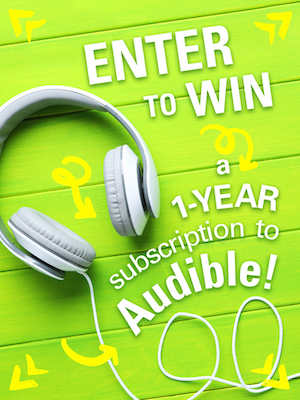 We're giving away a 1-year subscription to Audible to one lucky winner, courtesy of Macmillan's Audiobooks Newsletter.
Hey YA Readers!
It seems so early to think about fall, especially given how many of us have shifted our summer plans, knowing that we don't know what summer might look like. But, fall will come, and with it, a crop of excellent new YA books.
I love showcasing upcoming titles as a means of getting them on your minds.
Open up your Goodreads or other means of tracking what you want to read and prepare to add so many good books to it. Descriptions are from the 'Zon, as I have yet to read any of these (but you better believe I will be!).
Obviously this isn't comprehensive. I've just pulled a few titles, and I'll showcase more throughout the summer.
Xochitl is destined to wander the desert alone, speaking her troubled village's stories into its arid winds. Her only companions are the blessed stars above and enigmatic lines of poetry magically strewn across dusty dunes.
Her one desire: to share her heart with a kindred spirit.
One night, Xo's wish is granted—in the form of Emilia, the cold and beautiful daughter of the town's murderous conqueror. But when the two set out on a magical journey across the desert, they find their hearts could be a match… if only they can survive the nightmare-like terrors that arise when the sun goes down.
Even If We Break by Marieke Nijkamp (September 15)
FIVE friends go to a cabin.
FOUR of them are hiding secrets.
THREE years of history bind them.
TWO are doomed from the start.
ONE person wants to end this.
NO ONE IS SAFE.
Are you ready to play?
Miss Meteor by Tehlor Kaye Mejia and Anna-Marie McLemore (September 23)
There hasn't been a winner of the Miss Meteor beauty pageant who looks like Lita Perez or Chicky Quintanilla in all its history.
But that's not the only reason Lita wants to enter the contest, or her ex-best friend Chicky wants to help her. The road to becoming Miss Meteor isn't about being perfect; it's about sharing who you are with the world—and loving the parts of yourself no one else understands.
So to pull off the unlikeliest underdog story in pageant history, Lita and Chicky are going to have to forget the past and imagine a future where girls like them are more than enough—they are everything.
Skyhunter by Marie Lu (September 29)
In a world broken by war, a team of young warriors is willing to sacrifice everything to save what they love.
The Karensa Federation has conquered a dozen countries, leaving Mara as one of the last free nations in the world. Refugees flee to its borders to escape a fate worse than death—transformation into mutant war beasts known as Ghosts, creatures the Federation then sends to attack Mara.
The legendary Strikers, Mara's elite fighting force, are trained to stop them. But as the number of Ghosts grows and Karensa closes in, defeat seems inevitable.
Still, one Striker refuses to give up hope.
Robbed of her voice and home, Talin Kanami knows firsthand the brutality of the Federation. Their cruelty forced her and her mother to seek asylum in a country that considers their people repugnant. She finds comfort only with a handful of fellow Strikers who have pledged their lives to one another and who are determined to push Karensa back at all costs.
But when a mysterious prisoner is brought from the front, Talin senses there's more to him than meets the eye. Is he a spy from the Federation? Or could he be the weapon that will save them all?
Connor Major's summer break is turning into a nightmare.
His SAT scores bombed, the old man he delivers meals to died, and when he came out to his religious zealot mother, she had him kidnapped and shipped off to a secluded island. His final destination: Nightlight Ministries, a conversion therapy camp that will be his new home until he "changes."
But Connor's troubles are only beginning. At Nightlight, everyone has something to hide—from the campers to the "converted" staff and cagey camp director—and it quickly becomes clear that no one is safe. Connor plans to escape and bring the other kidnapped teens with him. But first, he's exposing the camp's horrible truths for what they are—and taking this place down.
Vampires Never Get Old edited by Zoraida Cordova and Natalie C. Parker (September 22)
Eleven fresh vampire stories from young adult fiction's leading voices!
In this delicious new collection, you'll find stories about lurking vampires of social media, rebellious vampires hungry for more than just blood, eager vampires coming out—and going out for their first kill—and other bold, breathtaking, dangerous, dreamy, eerie, iconic, powerful creatures of the night.
Welcome to the evolution of the vampire—and a revolution on the page.
Vampires Never Get Old includes stories by authors both bestselling and acclaimed, including Samira Ahmed, Dhonielle Clayton, Zoraida Córdova and Natalie C. Parker, Tessa Gratton, Heidi Heilig, Julie Murphy, Mark Oshiro, Rebecca Roanhorse, Laura Ruby, Victoria "V. E." Schwab, and Kayla Whaley.
Watch Over Me by Nina LaCour (September 15)
Mila is used to being alone. Maybe that's why she said yes to the opportunity: living in this remote place, among the flowers and the fog and the crash of waves far below.
But she hadn't known about the ghosts.
Newly graduated from high school, Mila has aged out of the foster care system. So when she's offered a job and a place to stay at a farm on an isolated part of the Northern California Coast, she immediately accepts. Maybe she will finally find a new home, a real home. The farm is a refuge, but also haunted by the past traumas its young residents have come to escape. And Mila's own terrible memories are starting to rise to the surface.
A traditional backwoods horror story set–first page to last–in the woods of the Pisgah National Forest in the Blue Ridge Mountains.
Two girls go backpacking in the woods. Things go very wrong.
And, then, their paths collide with a serial killer.
---
So much good reading is coming. So, so much.
See you again later this week for a look at this week's YA book news and new YA books.
— Kelly Jensen, @heykellyjensen on Instagram and editor of Body Talk, (Don't) Call Me Crazy, and Here We Are.