Sponsored by Neon, presenting Shirley starring Elisabeth Moss.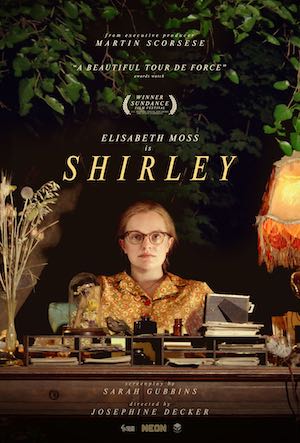 Renowned horror writer Shirley Jackson is on the precipice of writing her masterpiece when the arrival of newlyweds upends her meticulous routine and heightens tensions in her already tempestuous relationship with her philandering husband. The middle-aged couple, prone to ruthless barbs and copious afternoon cocktails, begins to toy mercilessly with the naïve young couple at their door. Available Everywhere This Friday.
After my freshman year of college, I went to my then-boyfriend's hometown to visit, up in the corner of Georgia where time on any automatic programming clock shifted between eastern and central at random. We stayed the night with one of his friends and his sister, who also ran a daycare of 10-20 small children out of her home, which could not have been newer than 100 years old. It was hot and humid, and the ceiling fans were running so high that their blades were blurred circles around their fixtures. Really, that whole experience is kind of a blur. Even the photos from my old digital camera are streaked. All the doorknobs kept falling off, and we could hear the kids running on all three floors.
Y'all, I'm FROM the south, and I've never heard or seen anything more southern gothic since then–or, you know what, just regular Gothic.
But not all horror about houses has to do with hauntings or ancestral manors, though of course we can't forget those classics like We Have Always Lived in the Castle by Shirley Jackson or The Amityville Horror by Jay Hanson. I mean, just look at one of the most famous weird-horror YA (kind of?) books, Flowers in the Attic by V.C. Andrews.
If you haven't guessed yet, you're in The Fright Stuff, Book Riot's weekly newsletter about the latest and greatest in horror. I'm Mary Kay McBrayer, and I'll be your Virgil through today's realm of hell, the Uncanny House.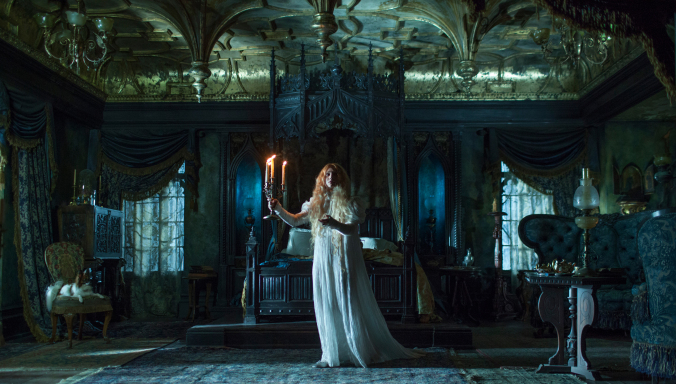 Earworm: "You Only Live Twice" by Nancy Sinatra.
Fresh Hells (FKA New Releases):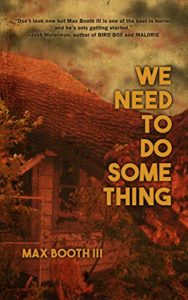 We Need to Do Something by Max Booth III
Though all the books in this list will deal with the house, this novella takes place entirely in a bathroom. A family on the verge of self-destruction has barricaded itself in the bathroom during a tornado, debating and arguing about whether the tornado exists and its severity.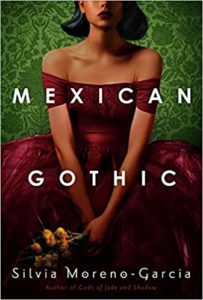 Mexican Gothic by Silvia Moreno-Garcia
As the title suggests, this novel invokes many of the traditional Gothic tropes, like, for example, the newlywed cousin in an Englishman's mansion who sends a letter begging vaguely to be rescued. Noemi, the rescuer, is a debutante and unlikely savior, but she heads to the house in the Mexican countryside, where the house itself begins to invade her dreams. (This title releases on June 30, so be sure you pre-order!)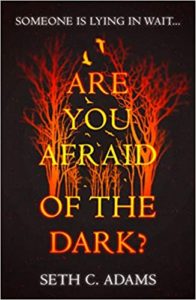 Are You Afraid of the Dark? by Seth C. Adams
Fourteen-year-old Reggie finds a new father figure while he is mourning his own father. The stranger in distress wanders out of the woods, where Reggie gives him shelter in his tree house and nurses him back to health before learning that his new semi-role model is a killer for hire.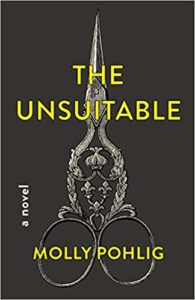 The Unsuitable by Molly Pohlig
A Victorian woman on the cusp of spinsterhood believes her dead mother's spirit lives in the scar on her neck. As the date of her wedding with a medical experimenting suitor (that her father arranged) approaches, her father's and mother's wills grow increasingly at odds.
Harbingers (FKA news):
Author of horror-memoir In the Dream House and collection of short stories, Her Body and Other Parties, Carmen Maria Machado talks about her first graphic novel, The Low, Low Woods at Book Expo 2020. The compendium will release in September. You can hear more about it on the Book Expo's 2020 Adult Book & Author Dinner Facebook livestream.
AMC bought the rights to Anne Rice's vampire novels.
How dark books and essays help during coronavirus: "We don't read or write to be reassured — at least I don't. We read and write to reckon with all the things we cannot know."
Remember Little: A Novel, the book I recommended back when it released about Madame Tussaud? Its author, Edward Carey, is staving off the quarantine with an illustration a day. If you don't already follow him on social media, go ahead on and do it!
Part two of Maya Alexandri's "Being an EMT during a Pandemic" is now live… it's a truly intense read.
I loooove weird fiction author Etgar Keret, and if you want to hear how he uses humor to "cope with the indignities of everyday life," which… I mean, how else can we cope? Check out this link.
Here's a take from one author who states that serial killers are usually NOT geniuses.
Have you ever remembered every detail of an engrossing horror book… except for its title? There's an app for that.
Want to read some books in which the apocalypse sneaks up on you? Check out these eerie books.
Florence is trying to get back the body of Inferno author, Dante Alighieri.
Did you know that the Gates of Hell are in Turkmenistan?
Until next week, follow me @mkmcbrayer for minute-to-minute horrors or if you want to ask for a particular theme to a newsletter. I'm also on IG @marykaymcbrayer. Talk to you soon!
Your Virgil,
Mary Kay McBrayer
Co-host of Book Riot's literary fiction podcast, Novel Gazing (be sure to check out tomorrow's episode for a very special interview!)