Sponsored by our 1-year Kindle Unlimited subscription giveaway.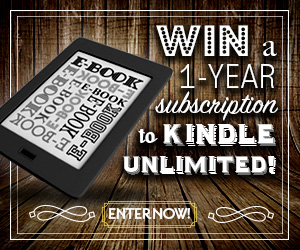 We're giving away a 1-year Kindle Unlimited subscription to 5 lucky winners, courtesy of Macmillan's eDeals Newsletter. Enter now!
Happy Friday to all my favorite space pirates! I hope everyone has had an excellent and safe week, with lots of reading time in a sunny place. Hard to believe that May is almost over… it's only been about seven years long. It's Alex with some genre-rific news and an assortment of books with older characters!
It's not sci-fi but it's still on theme for the week: Lucky Grandma. It's out for rent on several streaming services now, and I cannot wait.
Also, if you're in the mood for a slow-motion train wreck, dear god, there's an article about the omegaverse lawsuit in the New York Times.
News and Views
There's an African Speculative Fiction story bundle available!
Naomi Novik's upcoming fantasy series has already had its film rights snapped up.
An interview with author Marko Kloos about his Frontlines books, among other things.
Tor.com's socially distant read-along is continuing with The Fifth Season by N.K. Jemisin.
George RR Martin is now part of a group that owns Santa Fe Southern Railway. (Guess that RR stands for RailRoad now amirite.) He talks about it over on his Not A Blog.
Nalo Hopkinson and stem cell research
A look at how Picard explores disability through the xBs.
An ansolutely gorgeous walk through all of the Star Trek opening themes.
Labyrinth is finally getting a sequel. Jaenelle Monae for Goblin King.
Someone with some serious lockdown jitters did a scene by scene chronology of the MCU.
On Book Riot
3 on a YA Theme: Standalone YA Fantasy Novels
20 Completed YA Fantasy Series to Revisit or Pick Up for the First Time
You can enter to win $50 at your favorite indie book store and/or a 1-year subscription to Kindle Unlimited.
Free Association Friday: Respect Your Elders
It's National Elderly Day if you're in Indonesia. And that got me thinking… the vast majority of books tend to focus on young (or at the most, middle-aged) protagonists. How about some love for the silver-haired badasses out there?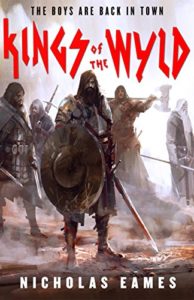 Kings of the Wyld by Nicholas Eames is about a band of mercenaries that have long since retired… but now they need to get back together for one last, impossible mission. Classic heist movie story trope, but make it epic fantasy.
Throne of the Crescent Moon by Saladin Ahmed has a POV character that's a 70-year-old exorcist who would really just like to retire… and marry the widow who runs his favorite tea house.
The Dream-Quest of Villett Boe by Kij Johnson has a sixty-year-old protagonist, who is a professor at a prestigious women's college in the dreamlands, and she has to go chasing after one of her students who foolishly elopes with a dreamer from the waking world.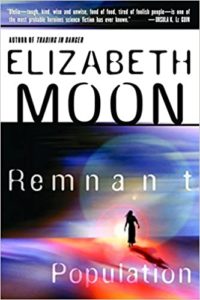 Remnant Population by Elizabeth Moon has an elderly woman named Ofelia who has spent most of her life on the world that houses Colony 3245.12… but then the corporation that owns the place decides to abandon the colony, and thus pack up all the colonists and ship them elsewhere. Ofelia, wanting to finish her life in peaceful solitude, stays behind. Until a reconnaissance ship shows up… and the crew gets murdered by someone who is definitely not her.
The Buried Giant by Kazuo Ishiguro has an elderly couple in post-Arthurian Britain set off to visit their son now that the Saxons and the Britons have finally stopped murdering each other. But a strange mist descends on ther land, causing mass amnesia, and they can barely remember anything about him now…
Silver Moon by Catherine Lundoff is about that special change in a woman's life, when menopause comes with a side of lycanthropy. A post-menopausal divorcee finds a new home with an all-female (and all gray) wolf pack.
Gods, Monsters, and the Lucky Peach by Kelly Robson has an old, female ecologist who has been working to reclaim Earth from its long series of human-caused ecological disasters. She's given the opportunity to time travel and see how the world was before humanity really screwed it up.
Dendera by Yuya Sato, translated by Edwin Hawkes, is about an old woman who has been left out on the mountain as a traditional sacrifice. Instead of perishing quietly as is traditional, she ends up in a utopian village of all the other old women who were abandoned. Then the bear attacks.
---
See you, space pirates. You can find all of the books recommended in this newsletter on a handy Goodreads shelf. If you'd like to know more about my secret plans to dominate the seas and skies, you can catch me over at my personal site.