Sponsored by Lit Stitch: 25 Cross-Stitch Patterns for Book Lovers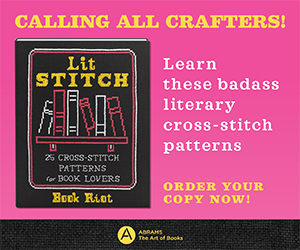 Inside Book Riot's Lit Stitch, you'll find a number of badass, bookish cross-stitch patterns. Some of these are for bookmarks, others are for wall decor, and still others can take on a whole host of finished outcomes. What they have in common is their literary bent—the patterns speak to all manner of literary-minded book lovers, who are happy to display their nerdier sides. And what better way than through your own cross-stitch art to hang on your wall, prop on your desk, or even gift to friends and family. And most, if not all, are beginner friendly and can be completed in a few hours—instant stitchification! So grab yourself some excellent embroidery floss, hoops, and needles, and pick out one or more of these great cross-stitch patterns for your next project.
Welcome to Check Your Shelf.
Do we all need to collectively scream into the void together? You have my permission to do so.
---
Libraries & Librarians
News Updates
Cool Library Updates
Worth Reading
---
Book Adaptations in the News
---
Books & Authors in the News
---
Numbers & Trends
---
Award News
---
On the Riot
---
Enjoy the weekend, everyone. You deserve it.
—Katie McLain Horner, @kt_librarylady on Twitter.