Sponsored by our 1-year Kindle Unlimited subscription giveaway.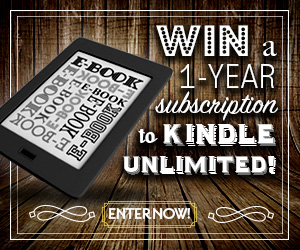 We're giving away a 1-year Kindle Unlimited subscription to 5 lucky winners, courtesy of Macmillan's eDeals Newsletter. Enter now!
Hi Kid Lit Friends,
I have been thinking about sustainable energy these days, and generally when I don't know anything about a topic I turn to children's books. Here are some great ones if you're looking to learn more about how the world is running on sustainable energy. This list reflects the dearth of books about sustainable energy by authors of color.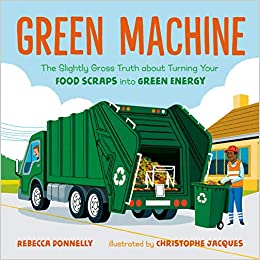 Green Machine: The Slightly Gross Truth about Turning Your Food Scraps into Green Energy by Rebecca Donnelly, illustrated by Christophe Jacques, is an informative and funny book about food scraps. See how food scraps are composted, collected, and processed, transforming trash into biogas and electricity. It's a green machine! It's a celebration of sustainability and the important role we humans play in the energy cycle.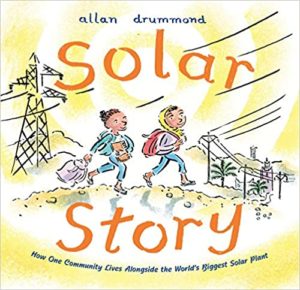 Allan Drummund has a great picture book about solar energy: Solar Story: How One Community Harnessed the Wind and Changed Their World. As we see on a class field trip, the plant is not only bringing reliable power to the village and far beyond, but is providing jobs, changing lives, and upending the old ways of doing things–starting within the girl's own family. Blending detail-filled watercolors, engaging cartoon-style narration, sidebars, and an afterword, the author showcases another community going green in amazing ways.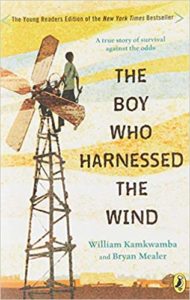 And finally, a middle grade book: The Boy Who Harnessed the Wind by William Kamkwamba and Bryan Wheeler. When a terrible drought struck William Kamkwamba's tiny village in Malawi, his family lost all of the season's crops, leaving them with nothing to eat and nothing to sell. William began to explore science books in his village library, looking for a solution. There, he came up with the idea that would change his family's life forever: he could build a windmill. Made out of scrap metal and old bicycle parts, William's windmill brought electricity to his home and helped his family pump the water they needed to farm the land.
What are you reading these days? Let me know! Find me on Twitter at @KarinaYanGlaser, on Instagram at @KarinaIsReadingAndWriting, or email me at KarinaBookRiot@gmail.com.
Until next time!
Karina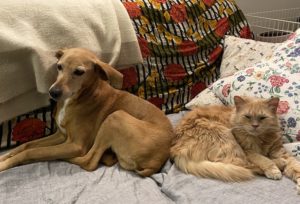 *If this e-mail was forwarded to you, follow this link to subscribe to "The Kids Are All Right" newsletter and other fabulous Book Riot newsletters for your own customized e-mail delivery. Thank you!*