Sponsored by The Yield from HarperVia Books.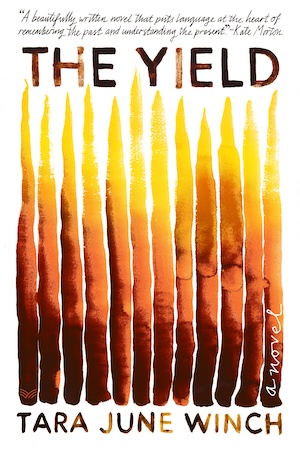 A celebration of language and an exploration of what makes a place "home." A young Australian woman searches for her grandfather's dictionary, the key to halting a mining company from destroying her family's home and ancestral land. The Yield is a story of a people and a culture dispossessed, and a joyful reminder of what once was and what endures—a powerful reclaiming of Indigenous language, storytelling, and identity, that offers hope for the future. "A beautifully written novel that puts language at the heart of remembering the past and understanding the present."—Kate Morton
Happy Thursday! I hope you had a lovely week and were able to fit in some time for yourself to do things that make you happy. Like read books! That's why we're all here, right? I managed to read a few great books over the long weekend, and finish up Steven Universe, too – now I need to see the movie! I also watched the new Hannah Gadsby special on Netflix. I think she is a genius! There is no one who makes me laugh more.
Other than reading, and more reading, I don't have any upcoming plans. It's h-o-t here in Maine now, so I will be hiding from the sun the next several days, for sure. But I don't mind staying inside because that's where the cats and books reside. They are my favorite things!
Before I share all the bookish news I have to tell you, please remember, whatever you are doing or not doing this week, you are doing a good job! I am sending you virtual hugs. This is hard, but we are doing what is necessary, and I'm so proud of us! I hope you are safe, and please remember to be kind to yourself and others. Thanks for subscribing, and I'll see you again on Monday! – xoxo, Liberty
Trivia question time! What author issued a public statement in January of 1999, reminding the world that the third millennium really began on January 1, 2001? (Scroll to the bottom for the answer.)
Deals, Reals, and Squeals!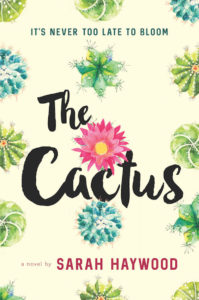 Reese Witherspoon and her production company will adapt The Cactus by Sarah Haywood.
There's a Girl With The Dragon Tattoo series in the works.
Bryan Washington has been named the winner of the £30,000 Swansea University Dylan Thomas Prize.
Naomi Novik's upcoming YA novel A Deadly Education is getting a film adaptation.
Here's the trailer for Love, Victor, Hulu's Love, Simon-inspired series.
J.K. Rowling is offering The Ickabog, a "political fairy tale," serialized for free on its own website ahead of its publication.
Bill Clinton and James Patterson are writing a second book together.
Lauren Oliver announced that the Netflix adaptation of Before I Fall starts June 8th.
Here's the amazing cover for What Big Teeth by Rose Szabo.
The Gossip Girl reboot has been postponed.
David E. Kelley and Netflix are developing an Anatomy of a Scandal adaptation, based on the novel by Sarah Vaughan.
The television rights for Juno Dawson's young adult series have been optioned.
Book Riot Recommends 
At Book Riot, I work on the New Books! email, the All the Books! podcast about new releases, and the Book Riot Insiders New Release Index. I am very fortunate to get to read a lot of upcoming titles, and learn about a lot of upcoming titles, and I'm delighted to share a couple with you each week so you can add them to your TBR! (It will now be books I loved on Mondays and books I'm excited to read on Thursdays. YAY, BOOKS!)
Excited to read: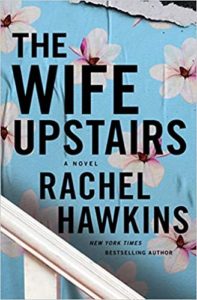 The Wife Upstairs by Rachel Hawkins (St. Martin's Press, January 5, 2021)
I know a lot of people love Jane Austen retellings, but I myself am a big fan of Jane Eyre retellings. Which is why I am so excited for this one! I love the Rebel Belle series that Hawkins wrote, so I am extra-excited for her first adult novel, a Southern gothic present-day twist on Jane Eyre, set in a neighborhood of McMansions in Alabama, where Jane meets widower Eddie Rochester.
What I'm reading this week.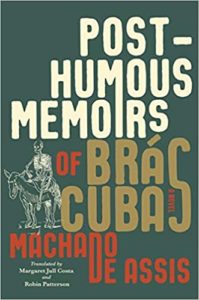 Posthumous Memoirs of Brás Cubas by Joaquim Maria Machado de Assis, Margaret Jull Costa (Translator), Robin Patterson (Translator)
Stranger in the Lake: A Novel by Kimberly Belle
The Professor and the Parson: A Story of Desire, Deceit, and Defrocking by Adam Sisman
The Mask Falling by Samantha Shannon
East of Hounslow by Khurrum Rahman
Song stuck in my head:
Let Her Dance by The Bobby Fuller Four
And this is funny:
The new age of working from home.
Happy things:
Here are a few things I enjoy that I thought you might like as well:
And times like these call for a bonus cat picture!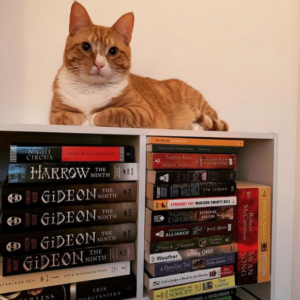 Farrokh, fierce guardian of the Harrow galley.
Trivia answer: Arthur Clarke.
You made it to the bottom! High five. Thanks for reading! – xo, L