Sponsored by Baen Books and Gordion Protocol, for the first time in paperback.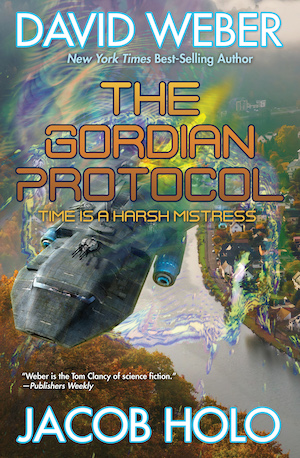 After a psychotic episode, Dr. Benjamin Schröder awoke with a detailed set of false nightmare memories. Millions had been slaughtered, the Soviet Union still existed, and thousands of nuclear warheads were spread across the entire planet. But they were only nightmares—until a stranger appeared with a horrifying story about alternate realities, time travel, and temporal knots; and a dozen universes would inevitably die. He thought the man was lying, but if what he said was true, then Schroder would become the greatest mass murderer in human history: it was up to him to choose which one would survive.
Happy Tuesday, shipmates! You know what that means–new releases and SFF news with Alex. Though I'll admit the new releases are, at times, getting a little more wiley to hunt down. It could be that May has always been a bit of a dead zone–though thankfully not like December–or that release dates are getting shuffled and reshuffled thanks to the pandemic. But this is giving me an opportunity to find more indie SFF, so I'm going to count this as a win!
Here's a thing that made me smile:
Two penguins from the Kansas City Zoo visit the Nelson-Atkins Museum of Art.
New Releases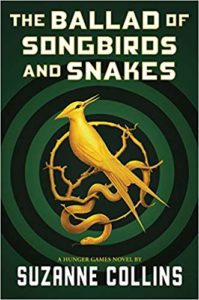 The Ballad of Songbirds and Snakes by Suzanne Collins – As the Tenth Hunger Games is about to kick off, eighteen-year-old Cornelius Snow readies himself to regain the glory of his now-fallen family, staking their chances on the ultimate gamble: he must out-charm, out-maneuver, and out-wit all of the other mentors and place himself with the winning tribute. But he's given the female tribute from District 12, an utterly humiliating assignment that seems doomed from the start. Outside the arena, every choice he makes could turn the tide for her while she fights for her life inside. Worse, he begins to empathize with her plight. Soon, he must weigh his own belief in the rules against her survival–and his own chances.
Dragon Physician by Joyce Chng – The lucrative world of dragon racing is run by women, but Jixin dreams of being a dragon rider anyway. The son of a dragon physician, it was always expected he'd follow in his mother's footsteps… until the powerful scion of a Rookery takes a shine to him.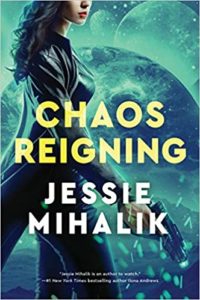 Chaos Reigning by Jessie Mihalik – Catarina von Hasenberg is the youngest of the ruling family of the High House, and used to being watched closely by her overprotective siblings. Her youth and outwardly cheerful personality–and incisively clever mind–make her the perfect spy to go to a rival House's summer retreat, and Cat is eager to prove herself. Unfortunately, she's forced to take Alex, a frustratingly handsome bodyguard, with her under the cover story that he's her lover. Even more unfortunately, the cover story starts sounding like a nice reality the longer they work together, uncovering treason and avoiding being murdered—and uncovering the truth that will throw all the High Houses on Earth into complete chaos.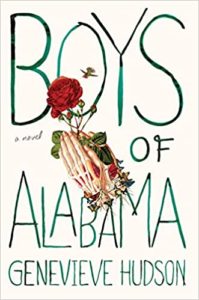 Boys of Alabama by Genevieve Hudson – Newly moved to Alabama, Max's German parents don't know what to make of the South, while he embraces it wholeheartedly. He's unexpectedly adopted by the football team and does his best to fit in, though it means he must carefully hide his supernatural powers. When he meets a goth boy named Pan in his physics class, he feels truly seen for the first time since his arrival. As their relationship deepens, they begin to wonder what is more dangerous: their true selves, or being who they are in Alabama.
Doorway to Scorn by Dimitrius Jones – A cursed gate that horrifyingly disfigures all who enter it looms over the village of Holo; the citizens helplessly wish for a hero to save them from its malevolent power. Lex dreams only of escaping the village as a Soldier and taking his friends with him. But when the ceremony that would give him that class turns into a disaster, his only option is to embark on a dangerous journey that will teach him more than he ever wanted to know about the gate–and himself.
News and Views
Cover reveal for the next Murderbot novel, Fugitive Telemetry.
Charlie Jane Anders has some great advice on how to make your own imaginary friends.
Author Lois Lowry says we are living through the prequel to The Giver.
Ooh, you can read an excerpt from Tanaz Bhathena's upcoming novel set in medieval India, Hunted by the Sky.
Short fiction recommendations from April by Alex Brown.
CBS has announced a new Star Trek series: Strange New Worlds. A little more information here.
To celebrate the anniversary of Mad Max: Fury Road, Charlize Theron posted some of her behind the scenes memories… including her first sight of her war rig. Also, there's going to be a prequel about Furiosa.
I had not heard about The Old Guard before now, but it's a fantasy action movie with a female director and an all-female cast and I am here for it.
On the occasion of Gargoyles coming to Disney+, an epic interview with Greg Weisman, in which I learned that Lexington was always meant to be gay.
Glitter worms at the bottom of the ocean!
Scientists make the world's first liquid metal lattice – "It's like the Terminator, only much less murdery."
On Book Riot
Percy Jackson TV series coming to Disney+.
You could win a copy of Superman Smashes the Klan
You can enter to win $50 at your favorite indie book store and/or a 1-year subscription to Kindle Unlimited.
---
See you, space pirates. You can find all of the books recommended in this newsletter on a handy Goodreads shelf. If you'd like to know more about my secret plans to dominate the seas and skies, you can catch me over at my personal site.