Sponsored by Lit Stitch: 25 Cross-Stitch Patterns for Book Lovers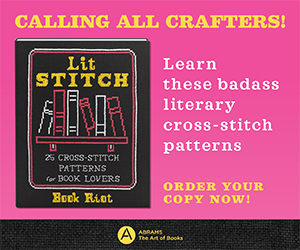 Inside Book Riot's Lit Stitch, you'll find a number of badass, bookish cross-stitch patterns. Some of these are for bookmarks, others are for wall decor, and still others can take on a whole host of finished outcomes. What they have in common is their literary bent—the patterns speak to all manner of literary-minded book lovers, who are happy to display their nerdier sides. And what better way than through your own cross-stitch art to hang on your wall, prop on your desk, or even gift to friends and family. And most, if not all, are beginner friendly and can be completed in a few hours—instant stitchification! So grab yourself some excellent embroidery floss, hoops, and needles, and pick out one or more of these great cross-stitch patterns for your next project.
Hey YA Readers!
Let's talk YA books and food, shall we?
We're in the midst of a pandemic, and you can't spend ten seconds on the internet without hearing about someone's latest bread or baking project. Personally, I love seeing it, especially as I currently do not have a functioning oven and cannot participate. Call it enjoyment from afar.
That got me thinking about how many great recent-ish YA books there are about food.
I know I've talked food in YA before and specifically about YA books with recipes included. But let's take a peek at some more YA books featuring food, cooking, and baking in some way.
I've read many of these, which I'll indicate with a * as one I super recommend. But since I've not read all of them, I'm using 'zon descriptions since I can't talk about them any better.
Grab your favorite snack because you're going to work up an appetite.
Seventeen-year-old Carter Lane has wanted to be a chef since she was old enough to ignore her mom's warnings to stay away from the hot stove. And now she has the chance of a lifetime: a prestigious scholarship competition in Savannah, where students compete all summer in Chopped style challenges for a full-ride to one of the best culinary schools in the country. The only impossible challenge ingredient in her basket: Reid Yamada.
After Reid, her cute but unbearably cocky opponent, goes out of his way to screw her over on day one, Carter vows revenge, and soon they are involved in a full-fledged culinary war. Just as the tension between them reaches its boiling point, Carter and Reid are forced to work together if they want to win, and Carter begins to wonder if Reid's constant presence in her brain is about more than rivalry. And if maybe her desire to smack his mouth doesn't necessarily cancel out her desire to kiss it.
*Darius The Great Is Not Okay by Adib Khorram (Darius is obsessed with tea, so obviously, he gets included here!)
Darius Kellner speaks better Klingon than Farsi, and he knows more about Hobbit social cues than Persian ones. He's a Fractional Persian—half, his mom's side—and his first-ever trip to Iran is about to change his life.
Darius has never really fit in at home, and he's sure things are going to be the same in Iran. His clinical depression doesn't exactly help matters, and trying to explain his medication to his grandparents only makes things harder. Then Darius meets Sohrab, the boy next door, and everything changes. Soon, they're spending their days together, playing soccer, eating faludeh, and talking for hours on a secret rooftop overlooking the city's skyline. Sohrab calls him Darioush—the original Persian version of his name—and Darius has never felt more like himself than he does now that he's Darioush to Sohrab.
Since she was seven years old, Yvonne has had her trusted violin to keep her company, especially in those lonely days after her mother walked out on their family. But with graduation just around the corner, she is forced to face the hard truth that she just might not be good enough to attend a conservatory after high school.
Full of doubt about her future, and increasingly frustrated by her strained relationship with her successful but emotionally closed-off father, Yvonne meets a street musician and fellow violinist who understands her struggle. He's mysterious, charming, and different from Warren, the familiar and reliable boy who has her heart. But when Yvonne becomes unexpectedly pregnant, she has to make the most difficult decision yet about her future.
A shy teenager attempts to express how she really feels through the pastries she makes at her family's pasteleria. A tourist from Montenegro desperately seeks a magic soup dumpling that can cure his fear of death. An aspiring chef realizes that butter and soul are the key ingredients to win a cooking competition that could win him the money to save his mother's life.
Welcome to Hungry Hearts Row, where the answers to most of life's hard questions are kneaded, rolled, baked. Where a typical greeting is, "Have you had anything to eat?" Where magic and food and love are sometimes one in the same.
Told in interconnected short stories, Hungry Hearts explores the many meanings food can take on beyond mere nourishment. It can symbolize love and despair, family and culture, belonging and home
Aspiring chef Isa's family life has fallen apart after the death of her Cuban abuela and the divorce of her parents. She moves in with her dad and her new stepmom, Margo, in Lyon, France, where Isa feels like an outsider in her father's new life. Isa balances her time between avoiding the awkward, "why-did-you-cheat-on-Mom" conversation with figuring out how a perpetually single woman can at least be a perpetually single chef.
The upside of Isa's world being turned upside-down?
Her father's house is located only 30 minutes away from the restaurant of world-famous Chef Pascal Grattard, who runs a prestigiously competitive international kitchen apprenticeship. The prize job at Chef Grattard's renowned restaurant also represents a transformative opportunity for Isa who is desperate to get her life back in order—and desperate to prove she has what it takes to work in an haute kitchen. But Isa's stress and repressed grief begin to unravel when the attractive, enigmatic Diego shows up unannounced with his albino dog.
How can Isa expect to hold it together when she's at the bottom of her class at the apprenticeship, her new stepmom is pregnant, she misses her abuela dearly, and things with the mysterious Diego reach a boiling point?
Ever since she got pregnant freshman year, Emoni Santiago's life has been about making the tough decisions – doing what has to be done for her daughter and her abuela. The one place she can let all that go is in the kitchen, where she adds a little something magical to everything she cooks, turning her food into straight-up goodness.
Even though she dreams of working as a chef after she graduates, Emoni knows that it's not worth her time to pursue the impossible. Yet despite the rules she thinks she has to play by, once Emoni starts cooking, her only choice is to let her talent break free.
---
Delicious! I hope you're as eager to enjoy these books as I am to catch up on the ones I haven't yet read.
Stay healthy, and we'll see you on Thursday!
— Kelly Jensen, @heykellyjensen on Instagram and editor of Body Talk, (Don't) Call Me Crazy, and Here We Are.