Sponsored by Lit Stitch: 25 Cross-Stitch Patterns for Book Lovers.
Inside Book Riot's Lit Stitch, you'll find a number of badass, bookish cross-stitch patterns. Some of these are for bookmarks, others are for wall decor, and still others can take on a whole host of finished outcomes. What they have in common is their literary bent—the patterns speak to all manner of literary-minded book lovers, who are happy to display their nerdier sides. And what better way than through your own cross-stitch art to hang on your wall, prop on your desk, or even gift to friends and family. And most, if not all, are beginner friendly and can be completed in a few hours—instant stitchification!
Welcome back to Tuesday, readers. It's time for new books! At the top of my list of today's titles that I want to read are The Black Cabinet: The Untold Story of African Americans and Politics During the Age of Roosevelt by Jill Watts, House of Dragons by Jessica Cluess, and Gastronogeek: 42 Recipes from Your Favorite Imaginary Worlds by Thibaud Villanova and Maxime Léonard. *sigh* I also want to read every other book too. WHERE IS MY FREEZE RAY?!
You can hear about some of the amazing new books coming out that I did get to read on this week's episode of the All the Books! Vanessa and I discussed A Deadly Inside Scoop, Stealing Thunder, The Shapeless Unease, and more!
It has been a quiet couple of months for book mail with everything going on, but I recently purchased several books from indie bookstores around the country and the books are starting to trickle in. It's like Christmas in May! (No, really, it snowed here the other day.) I have read and loved most of them in galley form, so I wanted to purchase finished copies to keep on my shelves. (And by shelves, I mean floor, because all my shelves are full hahahahaha.) TL;DR: YAY, BOOKS!
As always, I am wishing the best for all of you in whatever situation you find yourself in now. Please stay inside as much as you can, but don't forget that fresh air is good for you, so be sure to open your windows now and then. (And be sure to watch your pets and small children around them when they're open.) And please reach out to your friends and family if you're having a hard time – talking on the computer or phone is a great way to communicate right now! I wish you all wonderful reading during this hard time.
And now, it's time for everyone's favorite gameshow: AHHHHHH MY TBR! Here are today's contestants: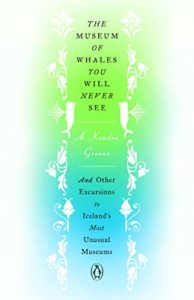 The Museum of Whales You Will Never See: And Other Excursions to Iceland's Most Unusual Museums by A. Kendra Greene
Hello, wheelhouse! This is a beautiful little read about Greene's exploration of unusual museums in Iceland. The country has more than 265 museums and public collections that's nearly one for every ten people who live there! Greene observed some very unusual things on her travels, like a stuffed whooper swan and a chastity belt for rams, and learned a lot about the country in the process. I loved it – armchair travel is my favorite kind of travel!
Backlist bump: Atlas Obscura: An Explorer's Guide to the World's Hidden Wonders by Joshua Foer, Dylan Thuras, Ella Morton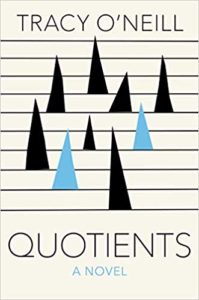 Quotients by Tracy O'Neill
I am a big fan of O'Neill's first novel, which was about a skating champion hopeful, so I was eagerly anticipating a new novel from her! This one is very different, but also excellent. It's about a couple, each with past secrets and aliases, who are struggling to make a new life together in the face of invasive technology and digital footprints. It's an interesting take on spying, data, and our inability to remain unknowable in the 21st century.
Backlist bump: The Hopeful by Tracy O'Neill
York: The Map of Stars by Laura Ruby
Okay, so this is the last book in this amazing middle grade trilogy, so I am not going to tell you any spoilers. Instead, I am going to once again HIGHLY recommend that you pick up the first book. It's about a group of kids that set out to solve a famous puzzle left behind by missing brothers in order to save their building. It's so fun and clever, and it gives off wicked Westing Game vibes like whoa, and I would love to see an adaptation of this on a screen, big or little. I loved this series so much!
Backlist bump: York: The Shadow Cipher by Laura Ruby
Thanks for subscribing! xx, Liberty