Sponsored by Holiday House.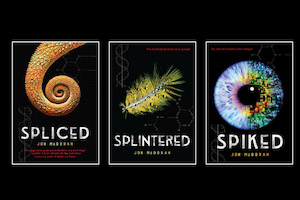 Getting spliced used to be a fashion statement. Now, it's a death sentence. Welcome to a near-future reality filled with chimeras: people with animal features, gained by splicing animal genes into their own DNA. In the thrilling conclusion to Jon McGoran's timely and heavy-hitting Spliced series, extremists on both sides square off in an escalating battle between competing visions of the future of humanity, and of the Earth. Set in a society where science is both celebrated and vilified, the Spliced series tackles weighty questions about genetic manipulation, artificial intelligence, population control—and when, if ever, revolution is worth a life.
Happy Friday, shipmates! It's Alex, with some news items, and this time I've got even more new releases for you! No, I promise, it's definitely Friday and not Tuesday. This week, the spotlight is on five indie or self-published books that came out recently that I'm super mad weren't in the database of new releases I normally haunt. Stay safe out there, space pirates!
News and Views
Cover reveal for Sarah Gailey's upcoming book,The Echo Wife.
Tor.com has an excerpt from The Angel of Crows by Katherine Addison.
Excellent essay: Knowing Uncertainty: How Science Fiction Helps us Make Sense of the Pandemic
On her Patreon, N.K. Jemisin gave us the good news that not only is The City We Became a bestseller, the TV/Film rights have sold.
Twitter thread of the week: Onion headlines but make them Lord of the Rings
Names and Vocabulary in The Goblin Emperor
The Ghibli Museum is conducting virtual tours during the pandemic!
On Book Riot
Daniel Radcliffe leads all-star Harry Potter read-along
5 of the best books to read for Star Wars Day 2020
Midnight Sun is coming: Stephenie Meyer announces new (old) book
Quiz: Which member of Dumbledore's Army from Harry Potter are you?
You can enter to win $50 at your favorite indie book store and/or a 1-year subscription to Kindle Unlimited.
Free Association Friday: Recent Indie Book Spotlight
Rather than my normal free-wheeling list of books that have an element I've pulled out of thin air in common, I wanted to take a moment this week to look at a few new releases that I missed over the last month because they were self-published or indie and I'm just lucky that I got to hear about them by word of mouth! (And indie writers, if you're reading this newsletter, please feel free to drop me a line when you have a book coming out. I can't make any guarantees, but if I don't ever hear about your awesome book, I can't yell about it to other people.)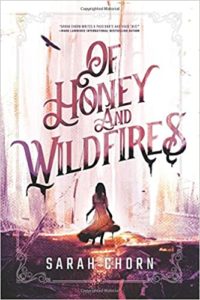 Of Honey and Wildfires by Sarah Chorn – Shine Territory is a place of magic, forever changed when the first settler started digging a well and hit a Shine lode instead of just finding water. Arlen is the son of a powerful Shine mogul, kidnapped and forced to face some very uncomfortable truths about his family and way of life. Cassandra is the daughter of a saboteur and outlaw, steeped in her own dangerous secrets. The two of them have the fate of Shine Territory in their hands whether they realize it or not, and the only way to save the people they love is to find truth in a place built on secrets and lies.
The Sign of the Dragon by Mary Soon Lee – Herein lies the tale of Xau, chosen by the dragon to be King. An epic fantasy with Chinese and Mongolian elements, told in over 300 poems. You can hear the opening poem of Xau's story, Interregnum, here.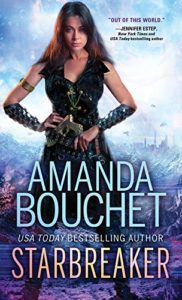 Starbreaker by Amanda Bouchet – Captain Tess Bailey and Shade Ganavan of the Endeavor are two of the galaxy's most wanted, but there's no rest for the hunted. They're given a mission by rebel leaders to break into a starbase, free a scientist, and maybe give the rebellion the edge it's been needing for decades. But as they plan this prison break and try to manage one crisis at a time, Tess and Shade have to decide if they trust each other… and what to do about their growing attraction.
Unreal Alchemy by Tansy Rayner Roberts – At Belldonna U, Australian witches study both the real and the unreal. Like most university students, on Friday nights they're down at the pub, drinking and playing hard. There are geeky rock bands, college students secretly (and not-so-secretly) crushing on each other, and trolls to fight.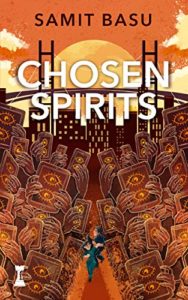 Chosen Spirits by Samit Basu – In very near future Delhi, a city smog-choked, water-starved, and always on the edge of revolution, Joey is in charge of the livestream of a very popular–and even more problematic–celebrity, a job that's gotten him the title Reality Controller. When he rescues his childhood friend Rudra from the difficult fate his family has chosen, she unleashes a series of events that disintegrate the barriers between their public and private selves in a city where the walls have eyes.
---
See you, space pirates. You can find all of the books recommended in this newsletter on a handy Goodreads shelf. If you'd like to know more about my secret plans to dominate the seas and skies, you can catch me over at my personal site.