Sponsored by The audiobook edition of Sigh, Gone written and read by Phuc Tran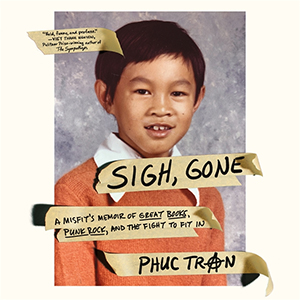 For anyone who has ever felt like they don't belong, the Sigh, Gone audiobook shares an irreverent, funny, and moving tale of displacement and assimilation. This coming-of-age memoir, written and read by Phuc Tran, explores one man's bewildering experiences of abuse, racism, and tragedy and reveals redemption and connection in books and punk rock. In 1975, Tran and his family immigrated to America. He found solace and kinship in the wisdom of classic literature, and in punk rock, he found affirmation and echoes of his disaffection. Listen to Tran tell his story in the audiobook of Sigh, Gone.
Hola Audiophiles! Do you hear that clapping sound? That's me giving you big props for making it through another week. Thank you for joining me for some audio love, regardless of whether you're getting any reading done of your own. Like I keep saying, we're all just doing our best.
This week brings with it SO many great new audiobooks, it was hard to pick just a few! Let's get straight to it then, shall we?
Let's audio!
---
New Releases – May 5  (publisher descriptions in quotes)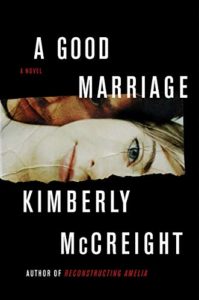 A Good Marriage by Kimberly McCreight, narrated by Sarah Zimmerman, Karissa Vacker, George Newbern (mystery/thriller) – Lizzie is working late one night at the elite law firm that pays her well but demands grueling hours. She gets a call from an inmate at Rikers, and it turns out the inmate is her old friend Zach. He needs her help, and that's an understatement: his wife Amanda was found brutally murdered in the couple's Park Slope brownstone and he's the prime suspect. Lizzie decides to get involved and guess what: Zach and Amanda gots lots of shady-shade secrets and fo sho are not who they seem,
Narrator Note: Sarah Zimmerman reads N.K. Jemisin's Dreamblood duology and Erica Ruth Neubauer's Murder at the Mena House, a new cozy set in Egypt that I mentioned a few weeks back. Karissa Vacker reads several Debbie Macomber titles and is part of the ensemble cast for One of Us Is Next, and George Newbern's most recent project is Val Kilmer's memoir I'm Your Huckleberry.
Clap When You Land by Elizabeth Acevedo, narrated by Elizabeth Acevedo and Melania-Luisa Marte (YA fiction) – Elizabeth Acevedo is back to bless us with another novel in verse! Camino and Yahaira are 16-year-old sisters; Camino lives in the Dominican Republic and Yahaira lives in New York City. Their paths collide when their father is killed in a plane crash that killed almost 300 people only a couple of months after 9/11 while en route from JFK to the DR. Just when they each feel like they've lost everything, Camino and Yahaira learn about each other.
Narrator Note: It's Elizabeth Acevedo, baby! You already know. I'm excited to listen to Melania-Luisa Marte, the writer, poet, and performer whose poem "Afro Latina" is one you should immediately look up.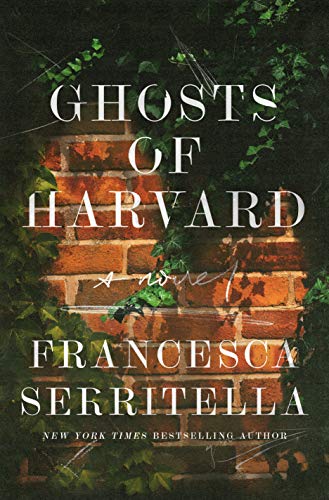 Ghosts of Harvard by Francesca Serritella, narrated by Karissa Vacker (mystery/thriller) – Cady Archer is starting her freshman year at Harvard, following in the footsteps of her brother Eric who developed paranoid schizophrenia and then died by suicide in his final year. Already overwhelmed with the pressure and demands of her academic life, she hopes to find a sign or bit of information that could have prevented her brother's death. Armed with a notebook of his scribblings, she starts an investigation and then begins to hear the voices of three ghosts herself. Does Cady share her bother's mental illness, or is this something else?
Narrator note: This is the second week in a row that I unknowingly pick two books in the same newsletter that are narrated by the same person! I already mentioned Karissa Vacker, but here's even more of her work: Once and for All by Sarah Dessen, Red Clocks by Leni Zumas, and Krysten Ritter's Bonfire.
The Imperfects by Amy Meyerson, narrated by Cassandra Campbell (fiction) – Three estranged siblings find themselves under the same roof for the first time in many years when their eccentric grandmother passes away and are shocked to find a secret inheritance among their her possessions: a BIG ol' diamond. Funny story! It's no ordinary giant jewel, but the Florentine Diamond: a 137 carat yellow diamond that went missing a century ago and hasn't been seen since. As they race to determine whether they are even the rightful heirs to this thing and the sizable fortune that comes along with it, they uncover their granny's tragic and powerful past, forever changing their connection to their heritage and to one another. (Side note: the Florentine Diamond is a real thing!)
Narrator Note: Cassandra Campbell makes a pretty regular appearance in this newsletter: a lot of you loved her narration of Delia Owens' Where the Crawdads Sing and Celeste Ng's Everything I Never Told You.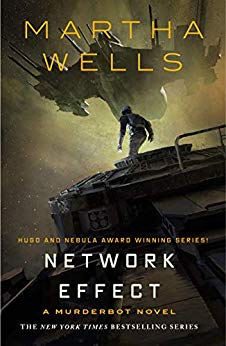 Network Effect by Martha Wells, narrated by Kevin R. Free (science fiction) – Hey now! A standalone Murderbot book! For those who don't know, and I'm partially reading myself here because these books have been on my TBR for years, the Murderbot books are a four-novella series about a rogue, self-aware security robot who hates emotions and humans, yet also wants to help humans. But really, it just wants to be left alone to watch its shows. "When Murderbot's human associates (not friends, never friends!) are captured and another not-friend from its past requires urgent assistance, Murderbot must choose between inertia and drastic action. Drastic action it is, then."
Narrator Note: Kevin R. Free narrates the Murderbot novellas and is back for this standalone read. I love his voice! I could almost believe there is a little bit of robot in him, it's so clean and crisp.
Latest Listens
I haven't finished my current listen because I'm deep in reading for next week's episode of All the Books, so I'll have to report back next week with my full review. So far though, I am loving Sabriel by Garth Nix! This is my first Garth Nix book, suggested to me by Managing Editor Sharifah when I told her I have a thing for sassy cat sidekicks (i.e. Salem from the TV version of Sabrina the Teenage Witch). It's a work of fantasy narrated by Tim Curry, methinks I am going to like it a lot.
From the Internets
AudioFile shares five new fantasy audiobooks to escape into now.
Also from AudioFile: SYNC Audiobooks for Teens 2020 Is Here!
You can read and/or listen to Audible's interview with Samantha Irby
The #SocksforBinc campaign raised over $28k!
Over at the Riot
4 Under 4: Fast & Fabulous Audiobooks Under 4 Hours
5 Under 5: Audiobooks Under 5 Hours for One-Day Listening
6 of the Best Audiobooks by Karen American Women Writers
5 Graphic Novels and Memoirs That Are Also Outstanding Audiobooks
---
Thanks for hanging with me today! Shoot me an email at vanessa@riotnewmedia.com with your burning book club questions or find me on Twitter and the gram @buenosdiazsd. Sign up for the Audiobooks newsletter, catch me once a month on the All the Books podcast, and watch me ramble about even more new books every Tuesday on our YouTube channel.
Stay bad & bookish, my friends.
Vanessa