Sponsored by Ship of Fates by Caitlin Chung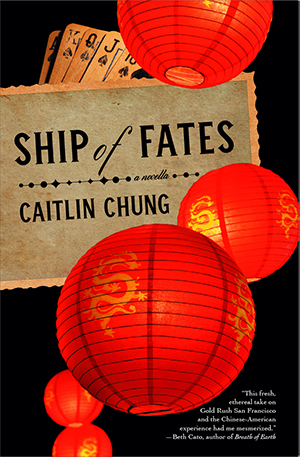 In the gridlocked harbor of San Francisco's Barbary Coast, a ship hung with red paper lanterns draws crowds eager to gamble and drink. Aboard this red-lit ship, the fates of two young women will be altered irrevocably—and tied forever to that of an ancient lighthouse keeper who longs to be free. Caitlin Chung's captivating debut transforms the myth of the California Gold Rush into a subversive fairy tale."
Happy Tuesday, shipmates! And it is, for certain, Tuesday. I promise. It's Alex, with new releases and some fun links to hopefully brighten your day. Stay safe out there, space pirates!
But first, I can't be the only one dreaming of taking advantage of this: you can invite a llama or a goat to your next Zoom meeting and help an animal sanctuary.
New Releases
Note: The lists of new releases I have access to didn't include any authors of color this week.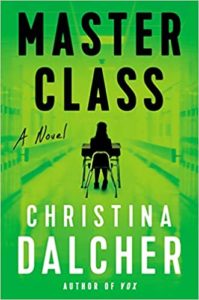 Master Class by Christina Dalcher – In a strictly tiered education system where a child's entire future is determined by their Q score, the high fliers go to elite institutions and the unsuitable are sent to federal boarding schools. Supposedly, it's better for everyone; costs are down, teachers focus on the most promising students, and the parents are much happier. Elena is a teacher at one of the elite schools… until her daughter bombs one of her monthly assessments and disappears into the boarding school system. Now Elena must confront the monstrous system she has been part of as she tries to get her daughter back.
You Let Me In by Camilla Bruce – Cassandra Tipp, a notoriously reclusive novelist with a bloody past that includes a disemboweled husband and an infamous acquittal at trial, might be dead. Or she might not be. Dead or alive, she has a story to tell, about what really happened… if the listener is willing to pay the price.
The Heron Kings by Eric Lewis – Sister Alessia leaves her cloister after she learns of her parents' death at the hands of a warlord. While outwardly she seeks to heal other victims of an increasingly brutal conflict, she struggles with the rage she feels over their deaths. When she uncovers evidence of a foreign conspiracy behind the conflict, she must risk the lives of those she saved to try to end the war.
Repo Virtual by Corey J. White – Neo Songdo is the ultimate smart city, a place meant to be viewed through augmented reality that hides many layers of starvation and desperation under a facade of corporate perfection. By night, the stars are hidden behind a virtual space war conducted by millions of players online. Enter a repoman and thief who is tasked with liberating one small item from a tech billionare. A job that already wasn't easy gets a thousand times more complicated when he realizes he's stolen the world's first sentient AI.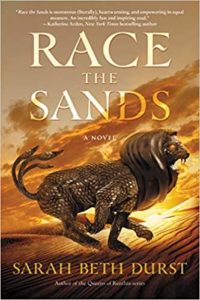 Race the Sands by Sarah Beth Durst – Kehok are monsters, the reincarnated souls of people whose lives were so dark, they could find no redemption. Those who wish to change their fates can join the Races, where people ride kehok in an attempt to win a better life for themselves. A beaten-down former professional trainer and a new rider desperate to escape her domestic situation join forces to tame a new, strange kehok in the hopes that they can change their destinies.
The Girl and the Stars by Mark Lawrence – Yaz is born into a people where being different means being cast off. She is thrown into the Pit of the Missing, and fights to survive in the tunnels of ice that branch from it. Her journey takes her to communities of the lost, people who were judged to be broken, and brings her to dangers lurking under the ice. She learns that there are many kinds of strength, and the seemingly logical calculation of survival her people have made for countless years is not the only way–and deserves to be challenged.
News and Views
Check out the long list for the 2020 Nommo Awards!
Cover reveal for C.L. Polk's forthcoming fantasy novel, which I need injected directly into my veins: The Midnight Bargain
Marlon James on winning the Ray Bradbury Prize for Black Leopard, Red Wolf in our current times.
Real aliens be like… (an amazing TikTok)
10 of the best birds in fantasy
Alex Brown has whipped up a list of must-read short fiction from March.
Demolition Man's writer wasn't trying to be prescient, he just wanted to make a funny movie.
The second issue of Imaginary Papers is available.
ConZealand now has registration information for attending memberships to the now-virtual convention.
Scientists develop a new enzyme for breaking down plastic bottles in hours.
Harry Potter buses are transporting NHS staff now.
Cate Blanchett shows off her movie props to Stephen Colbert.
On Book Riot
5 dystopian reads that remind us things could be worse
Bitpunk Books: Your guide to this 80s-tastic genre
Quiz: Which Hogwarts professor from Harry Potter are you?
You can enter to win a $250 Barnes and Noble gift card
---
See you, space pirates. You can find all of the books recommended in this newsletter on a handy Goodreads shelf. If you'd like to know more about my secret plans to dominate the seas and skies, you can catch me over at my personal site.