Sponsored by our Debbie Macomber prize pack giveaway! Enter here.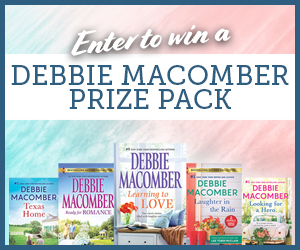 Looking for some cozy romance reads? We've got you covered! Book Riot is teaming up with Harlequin.com and Read Bliss to offer up a Debbie Macomber prize pack to one lucky winner, titles include: Texas Home, Learning to Love, Laughter in the Rain, Looking for a Hero, and Ready for Romance! Enter here.
Welcome back to Tuesday, readers. It's time for new books! At the top of my list of today's titles that I want to read are The Silence of Bones by June Hur, Little Secrets by Jennifer Hillier, Ronan the Librarian by Tara Luebbe & Becky Cattie, Warhol by Blake Gopnik, Shorefall, the second book in Robert Jackson Bennett's Founders Trilogy. 
You can hear about some of the amazing new books coming out that I did get to read on this week's episode of the All the Books! Tirzah and I discussed How to Pronounce Knife, On These Magic Shores, If I Had Your Face, and more!
And remember how I said last week how I can't resist an enormous book? WELP. Akashic Books was kind enough to send me an e-galley of the upcoming Arthur Nersesian novel, The Five Books of (Robert) Moses, which clocks in at a hefty 1,504 pages! I look forward to sinking my teeth in it soon.
As always, I am wishing the best for all of you in whatever situation you find yourself in now. Please stay inside as much as you can, but don't forget that fresh air is good for you, so be sure to open your windows now and then. (And be sure to watch your pets and small children around them when they're open.) And please reach out to your friends and family if you're having a hard time – talking on the computer or phone is a great way to communicate right now! I wish you all wonderful reading during this hard time.
And now, it's time for everyone's favorite gameshow: AHHHHHH MY TBR! Here are today's contestants: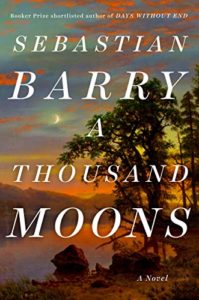 A Thousand Moons by Sebastian Barry 
Much like I was delighted to see that the new Paulette Jiles novel, Simon the Fiddler, was set around the same time as her last book, News of the World, I am over the moon (over a thousand moons?) that Sebastian Barry is continuing the amazing story from Days Without End. It's about the orphaned Lakota Indian girl who grows up with the two main characters from the first book. I am not going to go into detail, because I really, really recommend reading the first book. Or, if you're saying to yourself, "Liberty, I *did* read the first book," then this next message is for you: OMG GET THIS ONE NEXT.
Backlist bump: Days Without End by Sebastian Barry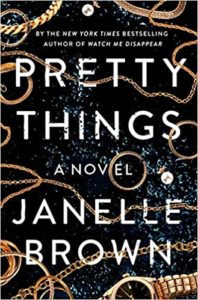 Pretty Things: A Novel by Janelle Brown
I'm always down for a fun thriller! Nina is a young woman who takes over the family business of grifting after her mother becomes too sick to work. Vanessa is an heiress and Instagram It Girl with a troubled past. These two women are going to cross paths in Tahoe, where the both wind up for a little R&R: rest and robbery! Vanessa is the target of Nina's latest scam – but things don't always go according to plan, do they?
Backlist bump: Watch Me Disappear by Janelle Brown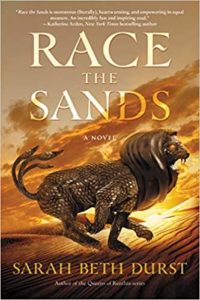 Race the Sands by Sarah Beth Durst
I couldn't pass up a new fantasy novel for adults by SBD being pitched as "National Velvet with monsters!" (Does anyone even read National Velvet anymore?) In the world of Becar, individuals can pretty much manage what they come back as in each of their lives by being on their best behavior. But if you're badly behaved and come back as a kehok, a monster, you're stuck a monster for the rest of your lives. Tamra needs to win the deadly Becaran Races so she can use the prize money to get her daughter back. Unable to ride herself after a tragic accident, she hires Raia to ride a promising new kehok, hoping the unlikely pair will win. But there are a lot of surprises in store for the team.
Backlist bump: The Queen of Blood: Book One of The Queens of Renthia by Sarah Beth Durst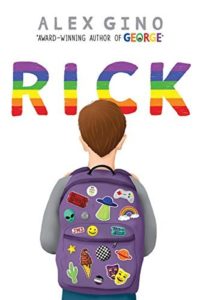 Rick by Alex Gino
Rick is starting middle school along with his best friend, Jeff, who isn't really much of a friend. Rick's dad is sure he's going to meet a lot of girls he will want to date, but Rick doesn't enjoy having those discussions with his dad. Instead, when he gets to his new school, he discovers the school's Rainbow Spectrum club, where the members are kids of many genders and identities, and suddenly Rick feels like he's finally found a place for him. But it might mean letting go of the relationships he had in the past that aren't working for him. This is a wonderful middle grade novel about bullying, identity, and finding your own path.
Backlist bump: George by Alex Gino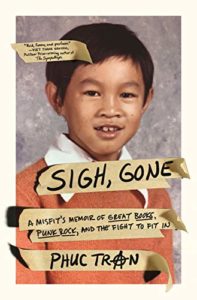 Sigh, Gone: A Misfit's Memoir of Great Books, Punk Rock, and the Fight to Fit In by Phuc Tran
Tran immigrated to America along with his family in 1975 during the fall of Saigon. They ended up in a small town in Pennsylvania, where they had to learn the ways of their new home. Tran's memoir is about his family's assimilation in an often racist and unfriendly environment, and his later rebellion against his strict parents, where he found solace in classic literature and punk rock music, the salvation of the lost teen. I loved this book and I give it +5 Maine author cred! (Which is a point system I just made up.)
Backlist bump: Dharma Punx: A Memoir by Noah Levine
Thanks for subscribing! xx, Liberty