Sponsored by our Debbie Macomber prize pack giveaway! Enter here.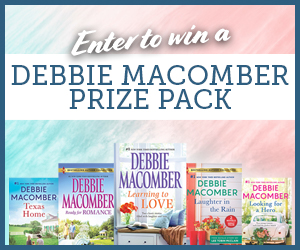 tk
Budget Cuts And COVID-19 Challenges For Libraries
San Diego's library system has 36 branches that have been closed since March 13th, due to the COVID-19 pandemic. Now they're facing budget cuts due to the "$250 million budget gap caused by plummeting tax revenue during the pandemic." The proposed budget cuts, which include closing on Sundays and Mondays, would affect reopenings, along with tough questions like, "How will the open libraries operate if social distancing continues as a requirement?" You can expect this to be an issue for more public libraries dependent on local economies.
Free Coronavirus Picture E-Book Gets Tons Of Downloads
Head teacher of London's Arnham Wharf Primary School, Sara Haynes, and children's publisher, Kate Wilson, released a free picture e-book to help children deal with the fear of COVID-19. Coronavirus is illustrated by Axel Scheffler (The Gruffalo) and written by Elizabeth Jenner, Wilson, and Nia Roberts. Within a day of its release it had already been downloaded 640,000+ times in the U.K.
We Have A Premiere Date!
While Disney has postponed many of its upcoming film releases, like Mulan and Black Widow, Artemis Fowl will release on Disney+ June 12th. The film is adapted from Eoin Colfer's fantasy series, following a 12-year-old criminal mastermind, and we've also got a new trailer!