Sponsored by our Debbie Macomber prize pack giveaway! Enter here.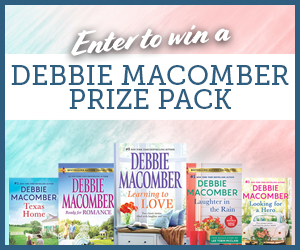 Looking for some cozy romance reads? We've got you covered! Book Riot is teaming up with Harlequin.com and Read Bliss to offer up a Debbie Macomber prize pack to one lucky winner, titles include: Texas Home, Learning to Love, Laughter in the Rain, Looking for a Hero, and Ready for Romance! Enter here.
Hey YA Readers!
I think we can all agree it's a hard year for books. With no end in sight of the current COVID-19 pandemic, which brings with it numerous cancelations of giant book events, as well as publication date shifts left and right, not only are readers left confused about the state of the books they were anticipating but authors, too, aren't entirely sure how or where they can definitively promote their new work.
Debut authors have it especially hard — it's their first book, meaning it might not hit as many radars as those by already-established authors. For marginalized writers, as well as stories centering marginalized characters, it's likely even more challenging.
So today, let's take a peek at some of the books which are coming out during an extremely tough time and yet….will mean so much to so many readers. These are queer YA books by debut authors. Most, though not all, are #OwnVoices books, meaning the creator shares the queer identity with their main character.
This newsletter will be a bit longer than normal because there are a number of great queer debut YA books in 2020. I'm pulling descriptions from the 'zon, since I've read only a few so far. Please note: this is likely not comprehensive, and it uses "debut" in the most pure sense. These are authors who have never published before, be it in another age category or genre.
In a series of personal essays, prominent journalist and LGBTQIA+ activist George M. Johnson explores his childhood, adolescence, and college years in New Jersey and Virginia. From the memories of getting his teeth kicked out by bullies at age five, to flea marketing with his loving grandmother, to his first sexual relationships, this young-adult memoir weaves together the trials and triumphs faced by Black queer boys.
Both a primer for teens eager to be allies as well as a reassuring testimony for young queer men of color, All Boys Aren't Blue covers topics such as gender identity, toxic masculinity, brotherhood, family, structural marginalization, consent, and Black joy. Johnson's emotionally frank style of writing will appeal directly to young adults.
Raised in isolation at Heavenly Shepherd, her family's trailer-dealership-turned-survival compound, Ami Miles knows that she was lucky to be born into a place of safety after the old world ended and the chaos began. But when her grandfather brings home a cold-eyed stranger, she realizes that her "destiny" as one of the few females capable of still bearing children isn't something she's ready to face.
With the help of one of her aunts, she flees the only life she's ever known and sets off on a quest to find her long-lost mother (and hopefully a mate of her own choosing). But as she journeys, Ami discovers many new things about the world…and about herself.
Yadriel has summoned a ghost, and now he can't get rid of him.

Bestowed by the ancient goddess of death, Yadriel and the gifted members of his Latinx community can see spirits: women have the power to heal bodies and souls, while men can release lost spirits to the afterlife. But Yadriel, a trans boy, has never been able to perform the tasks of the brujas – because he is a brujo.
When his cousin suddenly dies, Yadriel becomes determined to prove himself a real brujo. With the help of his cousin and best friend Maritza, he performs the ritual himself, and then sets out to find the ghost of his murdered cousin and set it free.
However, the ghost he summons is not his cousin. It's Julian Diaz, the resident bad boy of his high school, and Julian is not about to go quietly into death. He's determined to find out what happened and tie off some loose ends before he leaves.
Left with no choice, Yadriel agrees to help Julian, so that they can both get what they want. But the longer Yadriel spends with Julian, the less he wants to let him leave.
Everyone knows about the dare: Each week, Bryson Keller must date someone new–the first person to ask him out on Monday morning. Few think Bryson can do it. He may be the king of Fairvale Academy, but he's never really dated before.
Until a boy asks him out, and everything changes.
Kai Sheridan didn't expect Bryson to say yes. So when Bryson agrees to secretly go out with him, Kai is thrown for a loop. But as the days go by, he discovers there's more to Bryson beneath the surface, and dating him begins to feel less like an act and more like the real thing. Kai knows how the story of a gay boy liking someone straight ends. With his heart on the line, he's awkwardly trying to navigate senior year at school, at home, and in the closet, all while grappling with the fact that this "relationship" will last only five days. After all, Bryson Keller is popular, good-looking, and straight . . . right?
Living in a small town where magic is frowned upon, Sam needs his friends James and Delia—and their time together in their school's magic club—to see him through to graduation.
But as soon as senior year starts, little cracks in their group begin to show. Sam may or may not be in love with James. Delia is growing more frustrated with their amateur magic club. And James reveals that he got mixed up with some sketchy magickers over the summer, putting a target on all their backs.
With so many fault lines threatening to derail his hopes for the year, Sam is forced to face the fact that the very love of magic that brought his group together is now tearing them apart—and there are some problems that no amount of magic can fix.
Seventeen-year-old cynic Saoirse Clarke isn't looking for a relationship. But when she meets mischievous Ruby, that rule goes right out the window. Sort of.
Because Ruby has a loophole in mind: a summer of all the best cliché movie montage dates, with a definite ending come fall—no broken hearts, no messy breakup. It would be the perfect plan, if they weren't forgetting one thing about the Falling in Love Montage: when it's over, the characters have fallen in love…for real.
Shady Grove is her father's daughter, through and through. She inherited his riotous, curly hair, his devotion to bluegrass, and his ability to call ghosts from the grave with his fiddle.
That cursed instrument drowned with him, though, when his car went off the road, taking with it the whispering ghosts, nightmares, and the grief and obsession that forced her daddy to play.
But Shady's brother was just accused of murder, and so she has a choice to make: unearth the fiddle that sang her father to the grave and speak to the dead to clear her brother's name, or watch the only family she has left splinter to pieces.
The ghosts have secrets to keep, but Shady will make those old bones sing.
Cal wants to be a journalist, and he's already well underway with almost half a million followers on his FlashFame app and an upcoming internship at Buzzfeed. But his plans are derailed when his pilot father is selected for a highly-publicized NASA mission to Mars. Within days, Cal and his parents leave Brooklyn for hot and humid Houston.
With the entire nation desperate for any new information about the astronauts, Cal finds himself thrust in the middle of a media circus. Suddenly his life is more like a reality TV show, with his constantly bickering parents struggling with their roles as the "perfect American family."
And then Cal meets Leon, whose mother is another astronaut on the mission, and he finds himself falling head over heels–and fast. They become an oasis for each other amid the craziness of this whole experience. As their relationship grows, so does the frenzy surrounding the Mars mission, and when secrets are revealed about ulterior motives of the program, Cal must find a way to get to the truth without hurting the people who have become most important to him.
Nishat doesn't want to lose her family, but she also doesn't want to hide who she is, and it only gets harder once a childhood friend walks back into her life. Flávia is beautiful and charismatic, and Nishat falls for her instantly. But when a school competition invites students to create their own businesses, both Flávia and Nishat decide to showcase their talent as henna artists. In a fight to prove who is the best, their lives become more tangled—but Nishat can't quite get rid of her crush, especially since Flávia seems to like her back.
As the competition heats up, Nishat has a decision to make: stay in the closet for her family, or put aside her differences with Flávia and give their relationship a chance.
Two years ago, a misunderstanding between the leaders of Earth and the invading Ilori resulted in the deaths of one-third of the world's population.
Today, seventeen-year-old Ellie Baker survives in an Ilori-controlled center in New York City. With humans deemed dangerously volatile because of their initial reaction to the invasion, emotional expression can be grounds for execution. Music, art and books are illegal, but Ellie still keeps a secret library.
When young Ilori commander M0Rr1S finds Ellie's library, he's duty-bound to deliver her for execution. The trouble is, he finds himself drawn to human music and in desperate need of more.
Humanity's fate rests in the hands of an alien Ellie should fear, but M0Rr1S has a potential solution—thousands of miles away. The two embark on a wild and dangerous journey with a bag of books and their favorite albums, all the while creating a story and a song of their own that just might save them both.
Pony just wants to fly under the radar during senior year. Tired from all the attention he got at his old school after coming out as transgender, he's looking for a fresh start at Hillcrest High. But it's hard to live your best life when the threat of exposure lurks down every hallway and in every bathroom.
Georgia is beginning to think there's more to life than cheerleading. She plans on keeping a low profile until graduation…which is why she promised herself that dating was officially a no-go this year.
Then, on the very first day of school, the new guy and the cheerleader lock eyes. How is Pony supposed to stay stealth when he wants to get close to a girl like Georgia? How is Georgia supposed to keep her promise when sparks start flying with a boy like Pony?
Audrey and Clare may be twins, but they don't share a school, a room, a star sign, or even a birthday. Ever since their brother Adam's death, all they've shared is confusion over who they are and what comes next.
Audrey, tired of being seen as different from her neurotypical peers, is determined to return to public school. Clare is grappling with her gender fluidity and is wondering what emerging feelings for a nonbinary classmate might mean. Will first crushes, new family dynamics, and questions of identity prove that Audrey and Clare have grown too different to understand each other—or that they've needed each other all along?
There are two things that Corinne Parker knows to be true: that she is in love with Maggie Bailey, the captain of the rival high school's cross-country team and her secret girlfriend of a year, and that she isn't ready for anyone to know she's bisexual.
But then Maggie dies, and Corinne quickly learns that the only thing worse than losing Maggie is being left heartbroken over a relationship no one knows existed. And to make things even more complicated, the only person she can turn to is Elissa — Maggie's ex, and the single person who understands how Corinne is feeling.
As Corinne struggles to make sense of her grief and what she truly wants out of life, she begins to have feelings for the last person she should fall for. But to move forward after losing Maggie, Corinne will have to learn to be honest with the people in her life… starting with herself.
Liz Lighty has always believed she's too black, too poor, too awkward to shine in her small, rich, prom-obsessed midwestern town. But it's okay — Liz has a plan that will get her out of Campbell, Indiana, forever: attend the uber-elite Pennington College, play in their world-famous orchestra, and become a doctor.
But when the financial aid she was counting on unexpectedly falls through, Liz's plans come crashing down . . . until she's reminded of her school's scholarship for prom king and queen. There's nothing Liz wants to do less than endure a gauntlet of social media trolls, catty competitors, and humiliating public events, but despite her devastating fear of the spotlight she's willing to do whatever it takes to get to Pennington.
The only thing that makes it halfway bearable is the new girl in school, Mack. She's smart, funny, and just as much of an outsider as Liz. But Mack is also in the running for queen. Will falling for the competition keep Liz from her dreams . . . or make them come true?
---
Thanks for hanging out, and we'll see you again on Thursday!
— Kelly Jensen, @heykellyjensen on Instagram and editor of Body Talk, (Don't) Call Me Crazy, and Here We Are.