Sponsored by Clover Press.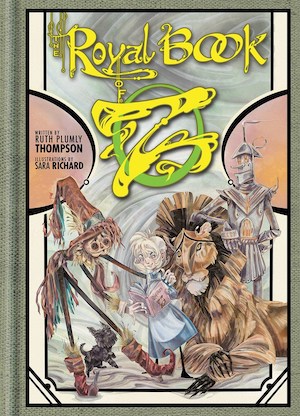 A new edition of the original 1921 OZ book written by Ruth Plumly Thompson, featuring a new cover and set of interior illustrations by Sara Richard. The Royal Book of Oz is about the Scarecrow's search for his family tree and how it leads to him discovering that he's the long-lost Emperor of the Silver Island. It is significant in that it is the first book in the Oz series written by Ruth Plumly Thompson, who would go on to write an additional 20+ books in the series.
Hello readers!
I wanted to start off this week by telling you about a free book about the Coronavirus. It's been produced by the British publisher Nosy Crow and is illustrated by Axel Scheffler – familiar to anybody who's got a tiny fan of the Gruffalo! Coronavirus: A Book For Children is a great, sensitive and really well-pitched guide to the virus and it's free. I really recommend it if you need some support for your young readers at this time.
Don't forget that we're collating all the COVID-19 news from the literary world. I also enjoyed this round-up of free coloring pages and also the fact that Dolly Parton is sharing bedtime stories (honestly, Dolly Parton is my literary hero).
To the books!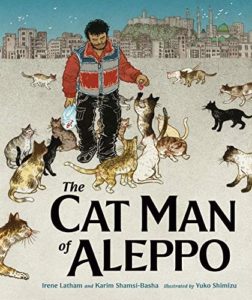 The Cat Man of Aleppo by Irene Latham and Karim Shamsi-Basha, illustrated by Yukio Shimizu
This is the true tail (sorry) of Mohammad Alaa Aljaleel, who set up a cat sanctuary in the middle of the Syrian Civil War. It's often very difficult to understand events as big and terrifying as war, until you find the stories of the people caught within. And this does that with a lot of care, sensitively balancing the moments of hope against the raw, ragged edge of conflict. A powerful introduction to a complex topic.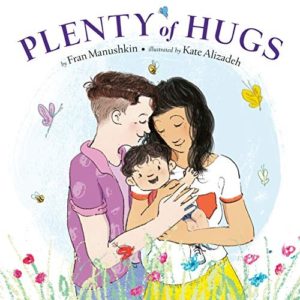 Plenty of Hugs by Fran Manushkin, illustrated by Kate Alizadeh
Hugs. Love. Illustrations full of life and heart. Honestly, what more do you need?
(If you do need more: this is the story of two mommies and a day in the life of their family. Told in round, delicious rhyme, we follow them through a day together before it's time for bath, book and bed. It's cosy, lovely and a genuine delight).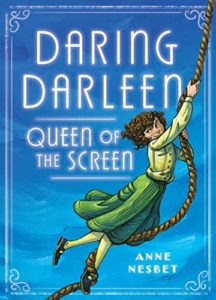 Daring Darleen: Queen of the Screen by Anne Nesbet
Twelve-year-old Darleen Darling is a star of the silent movie era. And when a publicity stunt goes horribly wrong, it's up to Darleen to defeat villains both on and off the screen.
You don't often see books about young film actresses set in 1914, let alone ones that involve kidnappings and Perilous Situations alongside some solid historical research. It's a treat and perfect for budding film stars.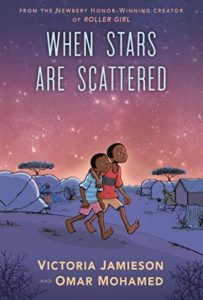 When Stars Are Scattered by Victoria Jamieson and Omar Mohamed, color by Imman Geddy
Omar and his younger brother Hassan live in Dadaab, a refugee camp in Kenya. Life is hard and the medical care that nonverbal Hassan needs is non-existent. One day Omar gets the chance to change their future – the only problem is that it means leaving Hassan behind, every day.
Told to Jamieson by Omar Mohamed, the Omar at the centre of this true story, When Stars Are Scattered follows the two brothers through fifteen years in the camp. It is a remarkable graphic novel for middle grade readers, and one that celebrates the power of education and family.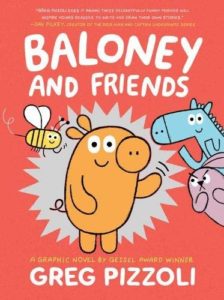 Baloney and Friends by Greg Pizzoli
Meet Baloney the pig and his best friend Peanut, the horse. There's also Bizz the bumblee and Krabbit – the rather grumpy looking chap on the far right hand side of the cover.
An adorable graphic novel for young readers, this sees Baloney go swimming. perform some rather questionable magic and deal with a case of the blues. Charming, fun and really lovely, there's also tips on how to draw all of the characters. This is perfect for the newly independent reader and also those wanting to step into comics.
Okay. That's it for this week. I hope you find something of joy here – let me know! I'll be back next week with more picks, but in the meanwhile you can catch up with me on social media (come and chat with me about endpapers), on my website, or over on the biweekly literary fiction podcast Novel Gazing.
Louise.