Sponsored by Dreamscape Media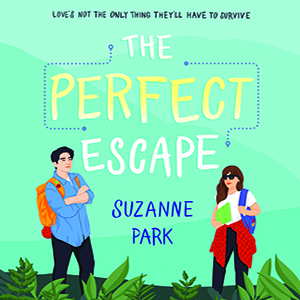 Love is a battlefield in this hysterical rom-com debut. Worlds collide when Nate and Kate meet at the zombie-themed escape room where they both work. As sparks fly, fate steps in: a local tech company is hosting a weekend-long survivalist competition with a huge cash prize that could solve all their problems. The real challenge? Making it through the weekend with their hearts intact….
Hola Audiophiles! Are you tired of all the "what day is it?" jokes yet? Because I'm honestly still note sure of the answer to that half the time. I'm overall in good spirits though and the sun in Portland probs has something to do with that. My face mask, Libby and Libro apps, and I have been going for walks in the sunshine every day and it's glorious! I hope you're all staying strong, safe, and healthy, too.
Ready? Let's audio.
---
New Releases – April 7, 2020  (publisher descriptions in quotes)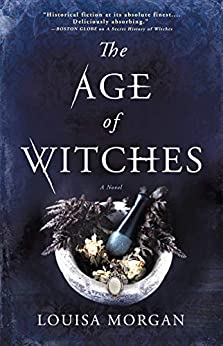 The Age of Witches by Louisa Morgan, narrated by Polly Lee (historical fiction) – This story of a centuries-long clash between two magical families is historical fiction set in Gilded Age New York. Harriet, descended from a long line of witches, uses her magic to help women with a variety of needs. Her cousin Frances, who used her wiles and witchcraft to claw her way out of poverty and then married full rich, is now scheming to arrange a glorious aristocratic match for her stepdaughter Annis, too. Dun dun DUN: she'll do so by any means necessary.
Narrator Note: Polly Lee reads Louisa Morgan's A Secret History of Witches and popular series like the Queen of the Tearling books.
Chosen Ones by Veronica Roth, narrated by Dakota Fanning (fantasy) – Fifteen years ago, an evil force knows as the Dark One leveled cities and killed thousands. Five teens singled out by a prophecy take him down, giving everything they have to do so. Everything goes back to normal for everyone but the chosen ones, who feel sort of lost in the aftermath after years of living and breathing this quest. Then on the 10th anniversary of the Dark One's defeat, something unthinkable happens: one of the Chosen Ones dies. It turns out the Dark One's ultimate goal was much bigger than anyone could have foretold.
Narrator Note: Oh hey, Dakota Fanning! My, how you've grown.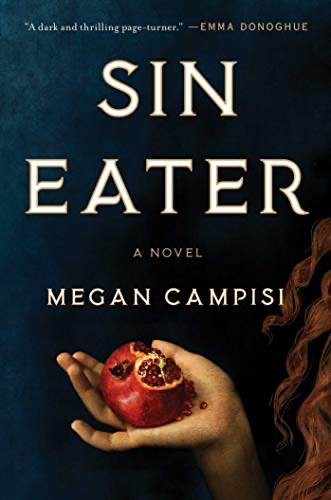 Sin Eater by Megan Campisi, narrated by Shiromi Arserio (fantasy) – In this historical novel, fourteen-year-old May is serving a life sentence as a Sin Eater—a shunned woman who must hear the final confessions of the dying, then eat foods that are symbolic of those sins (um eww). This act is seen as an absolution of the confessors and allows their souls access to heaven. Sweet deal, bruh. When the Sin Eater that May is apprenticed to is imprisoned, tortured, and killed for refusing to eat a deer heart that appears on the coffin of someone who didn't confess to the awful sin it represents (whew, what a mouthful), May sets out to figure out where the heart came from and why.
Narrator Note: Shiromi Arserio reads all sorts of things! Most recently, her work has included Sandhya Menon's Of Curses and Kisses and Thorn: Dauntless Path by Intisar Khanani.
The Southern Book Club's Guide to Slaying Vampires by Grady Hendrix, narrated by Bahni Turpin (horror) – This work of horror set in the 90s is pitched as Steel Magnolias meets Dracula… just take my money then! Patricia's one bit of escape from her ho-hum life is her book club, a group of Charleston women who love them some true crime. One evening after book club, Patricia is viciously attacked by an elderly neighbor, and the attack brings that neighbor's nephew James into Patricia's life. She's sort of besotted with him until children on the other side of town start to go missing and she suspects James is involved. Patricia realizes James may be a little less Brad Pitt and little more Ted Bundy.
Narrator Note: Bahni-Bahni-Bahni-Bahni… BAHNI! (Sung to the tune of The O'Jay's For the Love Of Money, of course).
Latest Listens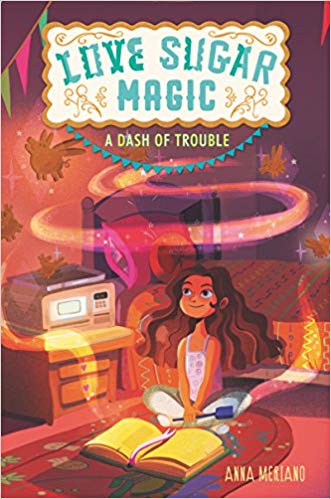 I'm so excited to share an adorable middle grade read called Love Sugar Magic: A Dash of Trouble by Anna Meriano, narrated by Kyla Garcia. Funny story: I recommended this to a friend and told her to read "Love Sugar Sex Magic," because my brain thought it was a good idea to mash up a lovely, sugary-sweet book about a young bruja and her family's panaderia with an album from the 90s by the Red Hot Chili Peppers. Moving on!
This is the first book in the Love Sugar Magic series and our main character is Leonora "Leo" Logroño, an 11-year-old girl who feels left out of everything (no fair!). She decides she's had enough when she's excluded from a meeting at the family business, Amor y Azucar Panadería (Love and Sugar Bakery), so she goes there to spy on her five sisters, aunt, and parents. And wouldn't you know it: she finds out her family is magical, and that she herself is a witch! Eager to prove that she's grown and not the child everyone acts like she is, she tries to help her BFF at school with a boy problem. Pero… turns out she's not so great at this magic thing yet and she mucks it all up.
I want to pass this book out to young girls everywhere, and to hop in the time machine and give myself this book when no one looked or sounded like me in the books I was reading. I love how much Spanish is woven into the story and all the beautiful bits of Mexican culture tossed into what's ultimately a universal story about wanting to belong. The Dia de Los Muertos celebration and the descriptions of all the scrumptious creations whipped up at the bakery were so soothing (and hungry-making). It was just lovely and delicious comfort for my anxious soul.
Narration is actually pretty great, though I do (once again) have a tiny quibble with Kyla Garcia's pronunciation. In one of the recipes, it sounds like she's saying arena over and over instead of harina, which would mean the recipe calls for sand instead of flour. Argh! Overall though, she does a great job of voicing all the different roles, from the five sisters to the mother to Leo's bestie with a strawng Texas accent.
From the Internets
Reminder that Libro.fm hosts monthly audiobook clubs! Select titles go on sale for under $10, some as little as $3.99. Click here for a breakdown of the clubs offerings or on the image below!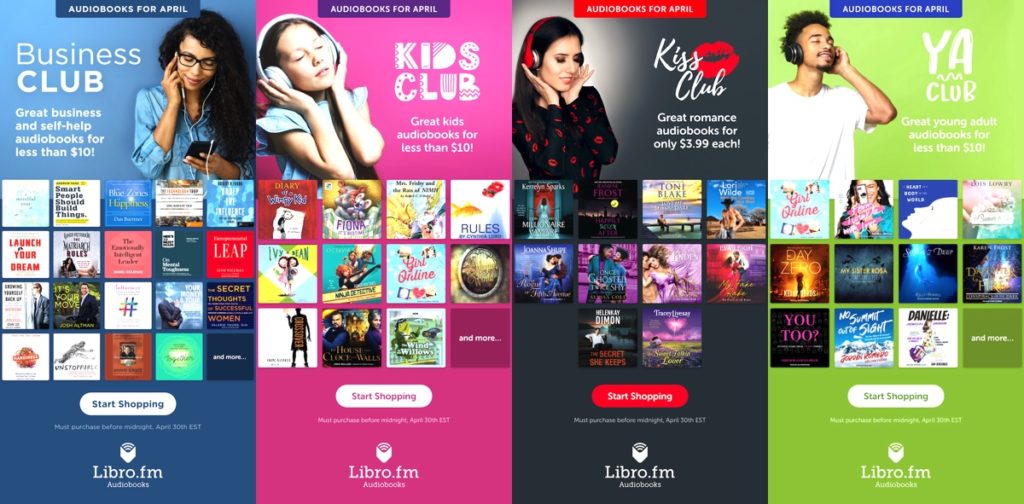 Over at the Riot
Don't forget about Book Riot's hub for continued updates on COVID-19 updates from the bookish world. Of particular interest: Scribd's catalog is free for 30 days and Audible is offering lots of free content for kids and teens.
Check out these audiobooks by Canadian women authors.
How audiobooks are getting this reader through COVID-19. Saaaaame, sister. Same.
---
That's all I got today! Shoot me an email at vanessa@riotnewmedia.com with audiobook feedback & questions or find me on Twitter and the gram @buenosdiazsd. Sign up for the In The Club newsletter, peep the Read Harder podcast, and watch me booktube every Tuesday and Friday too!
Stay bad & bookish, my friends.
Vanessa