Sponsored by Baen Books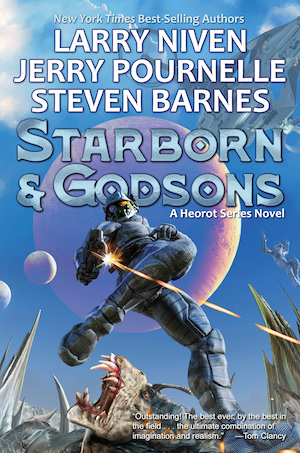 Avalon was thriving. The cold sleep colonists from Earth had settled on a verdant, livable world. The fast and cunning predators were under control, humans had power and the ability to make for all the necessities for life. They would survive. Or would they? Unbeknownst to the planet-bound humans, something was moving in the stars. "…this work thoughtfully builds on the vision of the future…to the thrilling climax." —Publishers Weekly; "…gritty, realistic, and exciting storytelling from authors who matched Michael Crichton back in the day for page-turning suspense." —Booklist
Happy Tuesday, shipmates! It's new release day, the most wonderful time of the week. (For me, it's also Geeks Who Drink day, since the wonderful people at GWD have taken their quiz into streaming so my trivia team still has an excuse to hang out, if virtually.) C'est Alex, with a selection of the new books coming out this week and a few bits of news that will hopefully be entertaining.
A couple of non-SFF things that made me smile–and will hopefully work for you too!
Episode 2 of Some Good News was really good if you love Hamilton
Bagpipes meet bhangra in the snowy Canadian wilds
New Releases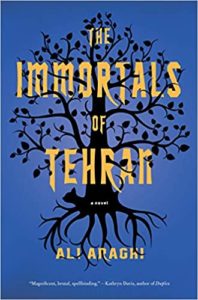 The Immortals of Tehran by Ali Araghi – Ahmad listens raptly to the stories of his seemingly immortal great-great-great-great-grandfather. And on the day his father dies, the story is about a family curse, and Ahmad's role in it. Ahmad's life goes through constant transformation and reinvention as he tries to keep his family safe through the decades of famine, violence, and social disruption that happen around the Revolution.
Now, Then, and Everywhen by Rysa Walker – When the paths of two time-traveling historians cross, their timelines go horribly awry. Madison founds CHRONOS in the 22nd century, determined to investigate the past of her own family. But when she returns from that fateful trip, millions of lives have been erased from her timeline. Tyson is a CHRONOS agent from the 24th century, sent to study the 20th century civil rights movement… and he finds that history isn't happening as it should now. They must work together to figure out which of them–or some other nefarious force–broke the timeline.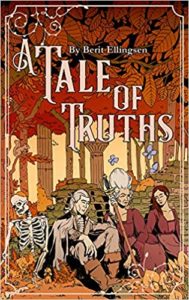 A Tale of Truths by Berit Ellingsen – An unlikely band made of an elf who created himself from pure thought, a dissident scientist, and the scientist's granddaughter are on a quest to convince their world that the planet orbits around their sun rather than the other way around. Their journey takes them to a massive vertical conch that houses a tiered city. But traveling is far simpler than convincing anyone to change their world view…
Shadows of the Short Days by Alexander Dan Vilhjalmsson – Watched over by a flying fortress, Reykjavík is a city whose people do as they're told, follow the rules, and keep their heads down… because if they don't, they'll end up in the dungeons of the Nine. A student of magic and an outcast artist unite to ask more of their beloved home city–and they're willing to fight the police and legions of masked sorcerers to change their home forever.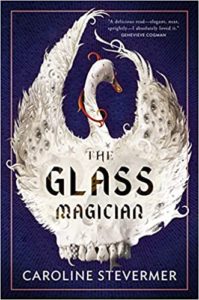 The Glass Magician by Caroline Stevemer – Thalia is a stage magician, trying to make a living in Gilded Age New York City, performing her breathtaking tricks for dazzled audiences… until one of those tricks goes horribly wrong and to save herself, she discovers she has the ability to shapeshift. In the aftermath, she finds it's also an ability that could unlock her way into the upper echelons of society–if she can learn to control it.
So This is Love: A Twisted Tale by Elizabeth Lim – In a what-if fairy tale world, Cinderella never tried on the glass slipper and was never found by the prince. Instead, in desperation she finally escapes her wicked stepmother and becomes a seamstress at the palace. Only she's drawn back into the world she thought she escaped when she bears witness to a conspiracy to take the king–and the prince–out of power.
News and Views
Congratulations to the winners of this year's Kitschies!
The Hugo Award nominees for this year will be announced… today. Which means I can't tell you about them until Friday. But if you want to see it live instead of waiting for the newsletter, keep an eye on the ConZealand twitter account. Looks like they're planning a YouTube livestream. In the lead up, they've announced who will be designing the awards!
You can download one free Doctor Who story a week from Big Finish now.
Cathy Yan is plotting the Birds of Prey sequel and hold onto your butts, people… Poison Ivy is involved
There are a few SFF adjacent shows in this collection of 35 TV writers on how they'd do a coronavirus episode for their show
Moment of cute: penguins getting their weigh in
On Book Riot
5 books in which space isn't all its cracked up to be
7 books about magic schools for every reader
---
See you, space pirates. You can find all of the books recommended in this newsletter on a handy Goodreads shelf. If you'd like to know more about my secret plans to dominate the seas and skies, you can catch me over at my personal site.